Cabaret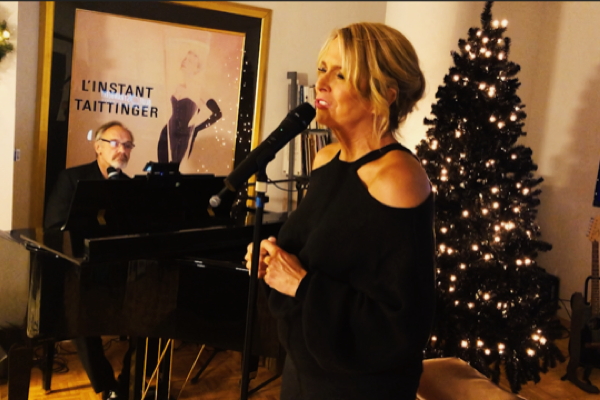 Review: Katie McGrath's new show combined country heart with urban smarts
Written by

Chuck Lavazzi
Since she moved to the Big Apple and became a cabaret star, our own "trusty and well-beloved" Katie McGrath has been making regular pilgrimages back home to perform for local friends and fans. The pandemic cancelled plans to bring "Friends in Low Places," her latest show, to Jim Dolan's Blue Strawberry club, but it takes more than a virus to stop the intrepid Ms. McGrath. And so the Strawberry made the show available as a live webcast on the day after Christmas.
Broadcast from Ms. McGrath's Manhattan apartment with music director (and well-known singer/songwriter) Rick Jensen at the piano, "Friends in Low Places" was a tribute to the many country artists from whom Ms. McGrath has drawn inspiration and consolation during her life. It's not a genre that has ever held much interest for me, but her complete investment in every lyric and her magnetic stage presence and vocal polish made even the occasionally banal sentiments of some of these songs compelling. She's a performer who can spin anything into gold and invariably does.
Katie McGrath
"Who I Am," the title track from a 2000 album by Jessica Andrews, opened the show with a strong assertion of self-awareness and connection with friends and family: "My momma's still my biggest fan / Sometimes I'm clueless and I'm clumsy / But I've got friends who love me / And they know just where I stand." In Ms. McGrath's skilled hands, it became a powerful personal anthem and set the intimate, warm, and often witty tone for the evening.
It was also a reminder that Ms. McGrath is a master of the sub-genre I have come to think of as "This is My Life" cabaret, in which the song choices and the patter linking them draw heavily on details of the performer's personal history. Unlike some who dip so deeply into that well that they risk drowning the audience, Ms. McGrath and her director, cabaret legend Lina Koutrakos, are far too good at what they do to commit such an error. However intimate and revealing some of her stories were, they always served as perfect introductions to the songs that followed, often giving them a depth they might not have in other hands.
So, for example, Garth Brooks and Kent Blazy's "If Tomorrow Never Comes" radiated a moving mix of sincerity and heartbreak, while the 1969 Elvis Presley hit "Suspicious Minds" (originally recorded by its author Mark James the previous year), sung as a duet with Mr. Jensen, had a dramatic force that transcended its origins.
There were genuinely funny moments as well, such as Brad Paisley's "Me Neither," with its droll description of fumbling attempts at bar pickup lines. It was the opening song in a set inspired by first-hand experience with what Ms. McGrath, recalling her years living in Dallas, described as "natives in their traditional ensembles practicing their mating rituals in Ft. Worth." From that comic start, the music moved on to more serious emotional engagement with Hank Cochran and Dean Dillon's "The Chair" (recorded by George Strait in 1985) before finally bringing us to a genuine cri de coeur with Billy Joel's "Shameless," which became a No. 1 hit for Garth Brooks.
Comedy, romance, and something approaching self-abasement in one three-song set. That, my friends, is cabaret.
Mr. Jensen's elegant and well-tailored arrangements contributed greatly to the success of the evening, as did Ms. Koutrakos's sure direction and Chet Whye Jr.'s sharp videography.
Unfortunately, the sound was not up to the level of either the video or the performances. Tinny, bass-shy, and sometimes distorted, it did real injustice to the rich lower register of Ms. McGrath's voice and the power of Mr. Jensen's pianism. It rendered the show nearly unlistenable at times, which is a pity, to say the least. Technology, alas, is not foolproof.
Indeed, the negative impact of factors beyond the control of the show's creators highlighted the kinds of issues cabaret faces during an uncontrolled pandemic. On the one hand, it's an intimate form of performance that can easily be broadcast from one's own home. On the other hand, that intimacy is at its most effective when the performer and the audience are in close proximity and the connection between them is palpable.
Cabaret's ideal venue is a small club like The Blue Strawberry. Unfortunately, a small space is also the ideal venue for the spread of the coronavirus. There are measures clubs can take to sharply reduce the risk of that spread (and the Strawberry has apparently taken all of them), but even so, many artists and audience members see the game as not being worth the candle.
All of which may explain why, for me, the most effective moment in the entire evening came at the end, with a song written by Ms. McGrath and Mr. Jensen. "George and Greta" is inspired by a famous Life Magazine photograph taken by Alfred Eisenstaedt during a V-J Day celebration in Times Square. In it, according to the original caption, "a white-clad girl clutches her purse and skirt as an uninhibited sailor plants his lips squarely on hers." George Mendoza and Greta Zimmer Friedman later claimed to be the couple in question, and while both claims have been disputed, it's plenty good enough for a song title.
Today, of course, such a display of spontaneous intimacy between strangers would be insane. The song is a nostalgic and moving look back at a time when we could shake hands instead of touching elbows, when we could embrace those whom we loved but with whom we didn't live, and when, to quote one of Ms. McGrath's lyrics, we could "hold hands and sway / In a packed cabaret." It's a reminder of what (and whom) we lost this past year due to the spread of a virus that was enabled by a combination of incompetent (if not outright malicious) government and social media that actively encouraged the denial of reality and the spread of misinformation.
It made me sad and angry at the same time. I loved it.
Writing this review required some reflection on my part (another point in the show's favor), which is why it's being published on New Year's Eve. As we put 2020 behind us, let us hope 2021 starts us on a path towards a world in which "George and Greta," like the photo that inspired it, can become a valuable historical artifact. And in which we can see artists like Katie McGrath, Rick Jensen, and Lina Koutrakos in person once again. Meanwhile, virtual hugs and a happy 2021 to all.
Related Articles