Cabaret
Cabaret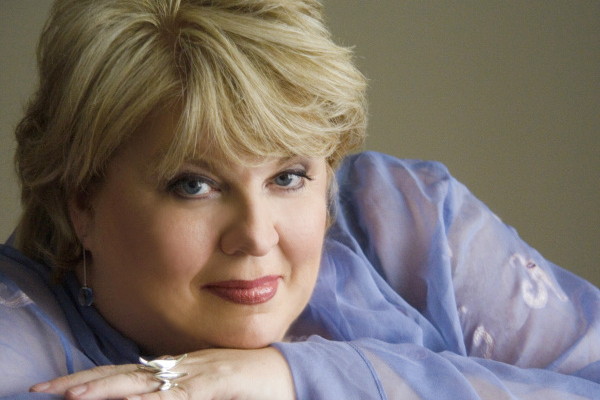 Review: A rich and happy evening with soprano Christine Brewer at the Blue Strawberry
By Steve Callahan
The Blue Strawberry is bringing us icon after icon. The echoes of Steve Ross's evening of cabaret had barely dissipated when the room rang again, filled with the astonishing voice of operatic super-star Christine Brewer. It was a packed house.
Ms. Brewer is a local girl (well, from ninety miles south) who made it really, really big. Born in the tiny river town of Grand Tower, Illinois (population 900), she went almost ninety miles away to the big city of . . . Lebanon (population 3,500) for a college degree in Music Education.
Now I generally feel that local cabaret artists spend far too much time talking about their own lives, rather than the lives of the songs that they're singing. But such a life as Ms. Brewer has led is well worth our attention. It's a fascinating tale of a simple, bright-spirited girl being lofted out of a rural village up to the musical skies by the gift of a gorgeous voice—and perseverance and hard work—and the happenstance of meeting great mentors at just the right moment—and the guts to "fake it when necessary"—and just plain luck. Her utter, happy personal charm could not have been a hindrance.
Her childhood was filled with singing—in church choir and school—and people always told her, "Christine, your voice is almost as beautiful as your mother's." Well, from teaching music she went to singing with the St. Louis Symphony Chorus, to the chorus at Opera Theatre of St. Louis, to major roles there. And then off she went! She applied the "left pedal" to her career while her daughter was in school, but after that—well, the title role in Ariadne auf Naxos at the Met! She's sung in many of the greatest opera companies around the world, and is a regular in BBC concerts. The BBC named her one of the world's twenty greatest sopranos. She is far too personable and—well, adorable—to be called a "diva", yet diva she is—in the best sense.
She opened her evening at The Blue Strawberry with an aria from Tannhäuser (perhaps the first time this tune has been heard in the venue). Her voice is powerful and pure, sweet and agile. The great Birgit Nilsson once advised her to "sing a lot of Mozart. It will keep your voice healthy and youthful." Christine Brewer obviously followed that advice, because (despite the decades) her voice is still young and fluid.
Her ebullient merry spirit filled the hall as completely as her voice did. She sang mostly seated (a memory, perhaps, of an old "war wound"—a knee injury a dozen years ago that forced her to withdraw from a production of the Ring Cycle at the Met). But that seemed not to restrain her voice in the least. From time to time as she chatted with us she glanced at her notes. In various ways it was not a typical evening of cabaret. (Well, there was just no presence at all of The Great American Song Book.) But it was wonderful!
For a while she sang gospel songs—"Go Tell It on the Mountain", "He's Got the Whole World in His Hands", "Sweet Beulah Land", "I'll Fly Away". She would throw her head back and pour out that joyous voice. I glimpsed a few rafters rising.
Her "Oh, Holy Night" was simply perfection.
Of course there were arias: the Contessa's "Mirror Song" from Marriage of Figaro, Dvořάk's "Song to the Moon" from Rusalka
Some numbers were from the long-ago era of the "parlor song": "If I Could Tell You" (the old Firestone radio theme), "Vilia" from The Merry Widow, "and a delightful Victor Herbert novelty "I Want to Be a Prima Donna". I really miss those lovely old pieces!
As a young student she once asked her teacher if she could work on one of Richard Straus's "Four Last Songs". The reply was: "First study the poetry for twenty years." Well, twenty years have passed, so she sang us one of those songs. It was sweet, peaceful, lyrical. (It was the only time that I, seated near the bar, was really bothered by the noise of the blender. Such a song wants—deserves—absolute silence.)
Oh, I told a lie. There was one song from the Great American Songbook: Johnny Mercer and Harold Arlen's "I Had Myself a True Love" (1946). The lady can sing that kind of stuff too. Really well!
She bid us farewell with, "When I Have Sung My Songs", an American art-song by Ernest Charles. Then Jeremiah Rankin's "God Be With You 'Til We Meet Again". As an encore she reflected her own story in a song from the musical Carnival, in which she sings "I come from the town of Mira . . . where everybody knew my name."
It was a rich and happy evening! The great Christine Brewer sang and enchanted us at The Blue Strawberry last Friday (December 3).
Related Articles