Cabaret
Cabaret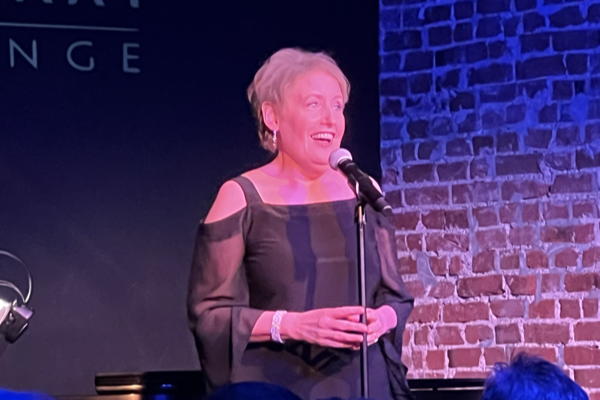 Review: Liz Callaway and Alex Rybeck celebrate Sondheim at the Blue Strawberry
By
On Tuesday and Wednesday, January 24th and 25th, Liz Callaway and Alex Rybeck brought "To Steve With Love: Liz Callaway Celebrates Sondheim" to The Blue Strawberry in St. Louis. And there was much rejoicing.  End of review.
Just kidding. But the reality is that the combination of Callaway, Rybeck, and Sondheim is, like "Tinker to Evers to Chance," a classic triple play. You can't go wrong. And they didn't.
Alex Rybeck and Liz Callaway
Photo courtesy of Liz Callaway
Full disclosure: I have been an unabashed admirer of Callaway and Rybeck for many years now, both as performers and as teachers. I've had a chance to see both their performances and their processes. So I'll have to admit to not being entirely objective.
That said, the rest of the audience and the other members of our party at the Blue Strawberry on the 25th were just as enthusiastic as I was, so I think I'm on safe ground saying that "To Steve With Love: Liz Callaway Celebrates Sondheim" was pretty darn fine cabaret regardless of any pre-existing conditions on my part.
One of the things that stood out about the show was the seamless way in which Callaway's anecdotes about her long association with Sondheim and his music were woven in with the songs. The standard cabaret format of alternating songs and patter works just fine most of the time. But "To Steve With Love" created a more theatrically satisfying experience  by combining music and musings into a single coherent story. I have always felt that cabaret can be seen as a form of musical theatre. "To Steve With Love" is an excellent demonstration of why that's the case.
This was apparent within the first ten minutes, starting with an unlikely medley of the title tune from "Company," "Rich and Happy" (from "Merrily We Roll Along"), "I Know Things Now" (from "Into the Woods"), and "Someone in a Tree" (from "Pacific Overtures"). With a little lyrical tweaking here and there, it became all about Callaway's discovery of the greatness of Sondheim's music and its importance in her life both on stage and off.
It's a point driven home by the next number, in which "Broadway Baby" (from "Follies") is woven into the story of her first job in a Sondheim musical—the legendary but ill-fated "Merrily We Roll Along." It ran for a total of two weeks in 1981, despite a Sondheim score, a book by George Furth (based on the play of the same name by Kaufman and Hart), and direction by Hal Prince. It was a flop, but for Callaway it marked the start of a personal and professional relationship with one of the giants of American musical theatre.
The remaining 90 minutes roll along merrily in that same vein, mixing familiar favorites like "The Miller's Son" ("A Little Night Music"), "Not While I'm Around" ("Sweeney Todd"), and of course, "Send in the Clowns" with more obscure gems. Two examples of the latter are "What Do We Do? We Fly!" (from "Do I Hear a Waltz?", an ill-advised 1965 collaboration between Sondheim and Richard Rodgers)  and "What More Do I Need?" (from "Saturday Night," written in 1955 for Broadway but not performed until over forty years later in London).
The acidic lyrics of  "What Do We Do? We Fly!" need only minor adjustments to make them relevant over fifty years later, while "What More Do I Need?" ironically juxtaposes of the woes of New York apartment life with the joy of first love:
My windowpane may not give much light,
But I see you, so the view is bright.
If I can love you, I'll pay the dirt no heed!
With your love, what more do I need?
Liz Callaway and Jeff Wright
Photo: Chuck Lavazzi
There are many more choice moments in this show, but rather than list them all here I'm going to direct you to Spotify for the live recording of the June 2022 performances at New York's 54 Below, where "To Steve With Love" had its premiere in March of that year.
A great cabaret show (which this certainly was) is nearly always a team effort. The success of this show's integration of song and story must be credited not only to Callaway's strength as a singer and actress, but also to the contributions of her co-writer and husband of nearly forty years, theatre producer and director Dan Foster. Rybeck's impeccable arrangements, played with his usual finesse, insured a solid musical foundation.
For the Blue Strawberry engagement of "To Steve With Love," Team Callaway included a performer no doubt familiar to local theatre audiences: Jeff Wright. He sang the George role in the duet "Move On" (from "Sunday in the Park With George"), a part taken by Callaway's son Nicholas in the original 54 Below production of the show. If you have seen Wright on stage, you know he's a consummate actor who combines "leading man" charisma with a classic crooner's voice. Both served him very well in this song's emotional journey from self-doubt to affirmation.
And, yes, full disclosure: I have appeared on stage with Wright more than once. But that is one of the reasons I hold his professionalism in such high regard.
Liz Callaway's St. Louis gig is over, but her upcoming performances include appearances in New York City, Fort Lauderdale, and Philadelphia, among many others. Check out her web site for details. Meanwhile, music and comedy continue at The Blue Strawberry; visit that site for a complete performance calendar.
Related Articles