Cabaret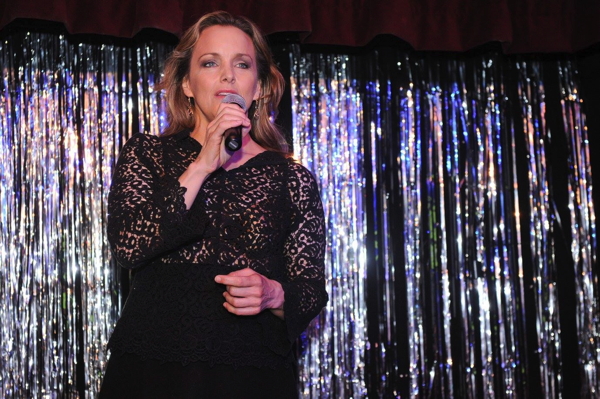 Broadway star Alice Ripley's fearless new show at the Gaslight
Broadway star Alice Ripley strikes me as fiercely courageous performer. Back in 2010 at the Fox in a tour of Next to Normal, her Diana (a role she created on Broadway), was a dynamic and deeply troubled force of nature despite Ms. Ripley's audible vocal fatigue. You can argue about whether performing under vocal stress was a good idea or not, but there's no question that it took real guts.
I saw that same "go for broke" bravery in the opening number of her latest cabaret show, which had its world premiere at the Gaslight Cabaret Festival this weekend (Friday and Saturday, October 21 and 22). It was Leon Russell's soulful "A Song for You," expanded and extended to include volcanic outbursts of passion and even some idiosyncratic scatting. This was a kind of post-Wagnerian elaboration that left me wondering where the heck she was going with it and then being impressed with the destination. She broke the rules, took chances, and ultimately succeeded -- which was essentially what she did for the entire evening.
At around ninety minutes, that evening was maybe a bit longer than it should have been, and if I were directing this show I'd suggest possibly making cuts in the first half, which consisted of dramatically charged renditions of pop songs from the sixties and beyond. Sometimes, as in a fiercely vulnerable version of Aaron Neville's 1966 "Tell It Like It Is," the results were gripping. But ultimately there were too many deeply felt ballads in a row for me and I began to tune out.
I tuned back in, though, for Ms. Ripley's chatty and engaging patter, which related the songs to her life without descending into the kind of embarrassingly personal details that sometimes mars that approach. At no point did I want to shout, "Too much information!" Good for her.
And I really tuned in for the second half, which consisted of pianist and music director Brad Simmons's beautifully arranged medleys from some of the many hit Broadway shows in Ms. Ripley's impressive resume. I was particularly taken with the three numbers from Sunset Boulevard, the show in which she played the role of Betty when it opened on Broadway in 1994. She said she'd love to play Norma Desmond now, and if the powerful way she delivered "With One Look" and "As If We Never Said Goodbye" is any indication, she is definitely ready for her close-up.
The collection of tunes from the 1992 stage version of Tommy bubbled with raucous joy, and Ms. Ripley's heartfelt performance of "I Miss the Mountains" -- Diana's first big number in Next to Normal -- was a reminder of why she got that 2009 Tony award.
Mr. Simmons, it should be noted, contributed not only impeccably well-tailored arrangements but great vocals as well. When he and Ms. Ripley sang close harmony -- as they did several times -- it was such a thing of beauty that I was willing to ignore the fact that they were facing each other and not actively involving the audience. That should have been a turn-off, but wasn't. Their performance chemistry was irresistible.
So, yeah, this new show (the working title of which would appear to be "The Ripley Prescription") needs some fine tuning, but it's an impressive, theatrically potent piece already. For Ms. Ripley's fans, who were present in force the night I saw the show, The Ripley Prescription was just what the doctor ordered. For me, it was a demonstration of her vocal versatility and substantial acting chops. I expect that the show will be another feather in her already highly decorated cap before long.
The Gaslight Cabaret Festival continues through November 11 at the Gaslight Theatre in the Central West End.
Related Articles