Classical
Classical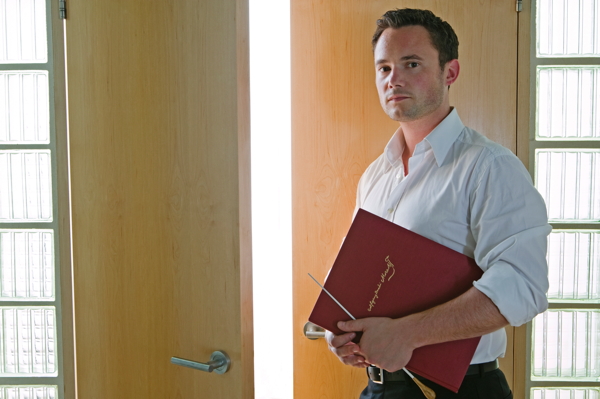 Review: A bracing program of young Romantics by the St. Louis Symphony Orchestra
By Chuck Lavazzi
The accent was on youth this past Sunday (February 18, 2018) as guest conductor Matthew Halls made his St. Louis Symphony Orchestra debut with a program of music by a trio of early 19th-century composers who flourished early, died young, and left behind a sizeable body of music.
The concert opened with "Symphony No. 3 in D major" by Franz Schubert, dashed off in July 1815, when the composer was 18 years old. It opens with a slow, majestic introduction but the mood quickly turns sunny with a lilting main theme on the clarinet and remains cheerful for the next 25 minutes or so.
Conducting without a baton (as he did for the entire concert), Mr. Halls summoned those dramatic opening chords with a big, sweeping two-armed gesture and took the Adagio maestoso introduction at a relaxed pace that made the brisk first appearance of that main theme, expertly played by Associate Principal clarinet Diana Haskell, that much more energizing. It's marked Allegro con brio, which roughly translates as "quickly with energy," and it had energy in abundance.
In fact, his entire approach to the symphony made the most of the strong contrasts in the score. The Allegretto second movement was gracefully balletic, with a folksy charm in the contrasting middle section, while the Menuetto third movement danced along with subtle shadings of tempo and dynamics. The Presto vivace finale, with its tarantella-style 6/8 rhythm, raced along with fleet-footed playing by the strings and a satisfying sonic blend overall. Mr. Halls had Ms. Haskell stand for well-earned applause at the end along with her fellow woodwind leaders Philip Ross (Associate Principal oboe) and Andrew Gott (Associate Principal bassoon), but the fact is that everyone played extremely well.
The first half of the concert concluded with the "Clarinet Concerto No. 1 in F minor," which Carl Maria von Weber wrote in 1811 at the age of 24. As befits a composer best known for his operas, the concerto is a work that often feels like it should be sung, with a dark and technically challenging first movement, a second that could pass for an opera aria, and a flashy Rondo finale.
SLSO Principal Clarinet Scott Andrews was the soloist, delivering a performance that had plenty of heart and soul (to cite an old song title) along with an easy virtuosity that allowed him to sail through the concerto's many difficult passages with an Astaire-like grace. He had a sensitive, singing tone in the lyrical second movement and approached the Rondo finale with a playful joy. He got great support from Mr. Halls and the orchestra, including some lovely playing from Roger Kaza and his fellow horns.
The concert ended with big, passionate interpretation of the "Symphony No. 1 in C minor" by Felix Mendelssohn from 1824. The composer was only 15 when he wrote it, but as he already had a dozen string symphonies to his credit at that point you could hardly call it the work of a beginner. It has, in fact, a maturity that belies Mendelssohn's youth, and Mr. Halls gave it a sense of weight and majesty that I have not always heard in other interpretations.
Conducting without a score, he drew a muscular, bold sound from the orchestra from the dramatic opening right through to the dynamic final movement with its powerful sense of momentum and sophisticated double fugue. There were many wonderful moments here, such as the almost inaudibly soft string pizzicati in the final movement and the elegant woodwind chorale in the Andante second movement. The sharp contrast between the vigorous outer sections and the gentle center of the third movement Menuetto was especially striking, generating a kind of tension that called to mind the transition into the finale of the fifth symphony of Beethoven, whose final symphony appeared the same year as Mendelssohn's first.
One could take issue with some of Mr. Halls' choices, but the sheer power of the overall result spoke for itself. As SLSO conducting debuts go, this one was pretty auspicious, and I look forward to seeing more of Mr. Halls in the future.
Next at Powell Hall: Kevin McBeth conducts the St. Louis Symphony IN UNISON Chorus and soloist Oleta Adams in "Lift Every Voice", a concert commemorating the 50th anniversary of the assassination of Dr. Martin Luther King, Jr., on Friday, February 23, at 7:30 pm; note that as this is being written, the concert is standing room only. On Saturday at 7 pm and Sunday at 3 pm, February 24 and 25, the SLSO presents a showing of the Alfred Hitchcock classic "North by Northwest" with the score performed live by the orchestra. All concerts take place at Powell Symphony Hall, 718 North Grand in Grand Center.
Related Articles