Classical
Classical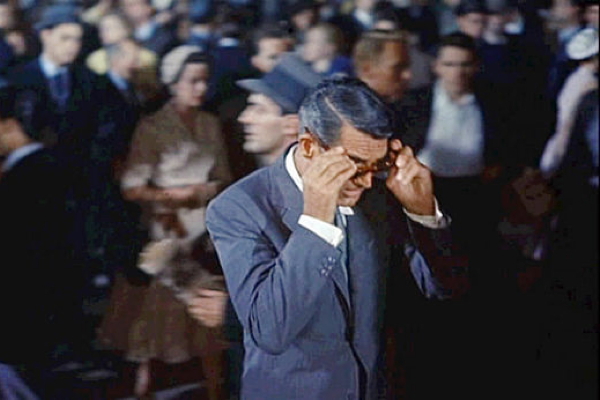 Review: Less is more with Bernard Herrmann's music in 'North by Northwest'
By Chuck Lavazzi
I don't know whether Alfred Hitchcock's 1959 thriller "North by Northwest" ever played Powell Hall back when it was a movie theatre. If so I doubt that Bernard Herrmann's score ever sounded as good as it did this past Saturday (February 24, 2018) when the St. Louis Symphony Orchestra performed it live to accompany a showing of the movie.
Herrmann had a long and productive relationship with Hitchcock, scoring seven of the director's films, including hits such as "Vertigo," "Psycho," and the 1956 remake of "The Man Who Knew Too Much." His score for "North by Northwest" is remarkable, though, for its economy. There are basically only three themes: a triple-meter "action" theme first heard in the main title sequence and repeated whenever the tension ratchets up; a lyrical love theme that could almost have been written by Richard Strauss; and a short "suspense" motif that shows up primarily in low strings and brass now and then. Some of the most memorable sequences have no music at all, such as the famous "crop duster" chase scene in which besieged New York advertising executive Roger Thornhill (Cary Grant) is pursued by a biplane with murderous intent across an Illinois cornfield. The score doesn't kick in until the very end, when a giant orchestral crash underscores the explosion of the plane.
Herrmann gets a lot of mileage out of those themes, making small changes in orchestration and tempo to mirror the action in the film. A notable example is the way he changes the love theme. We first hear it when Thornhill, on the run from mysterious thugs and from the police for a murder he didn't commit, encounters Eve Kendall (Eva Marie Saint) on the 20th Century Limited to Chicago. In that first version, it's played mostly by a single clarinet and then later by solo oboe and flute. Later, when Kendall is apparently getting ready to betray Thornhill to spy Phillip Vandamm (James Mason), the orchestration is darker. It's subtle but effective.
Herrmann's orchestra is also economical, at least in comparison to the massive ensembles that have become typical of suspense/adventure films in the last few decades. "North by Northwest" has a beefed-up brass section, a contrabassoon, and two harps, but on the whole it's a band that wouldn't look out of place in the late 19th century.
Resident Conductor Gemma New was at the podium, delivering a crisp reading of the music, which was performed with the virtuosity that I have come to expect from the SLSO musicians. The brass section had impressive power and the woodwinds delivered the love theme with a swooning beauty. Ms. New looked entirely comfortable with the daunting process of conduting in synch with the film, just as she was with the orchestra's "Jurassic Park" showing last November.
I have been to most of the SLSO's film evenings since they started showing silent movie classics many years ago, and have nearly always fond them to be vastly entertaining. They seem to attract sizeable crowds, which is certainly good for the orchestra's bottom line. My only complaint remains the tinny sounds of film dialog tracks on Powell Hall's sound system. I'm starting to think that the companies that produce the prints for these live film events might want to give serious consideration to adding captions.
Next at Powell Hall: Christian Arming conducts the St. Louis Symphony Orchestra and piano soloist Rémi Geniet in works by Smetana, Tchaikovsky, and Schumann on Friday and Saturday at 8 pm March 2 and 3. Gemma New conducts the St. Louis Symphony Youth Orchestra on Sunday, March 4, at 3 pm in Britten's "Soirées musicales," Tchaikovsky's "Capriccio Italien," and Sibelius's Symphony No. 2. Members of the SLSO will also perform chamber works by Miyoshi, Britten, and Takemitsu Tuesday and Wednesday at 7:30 pm, February 27 and 28.
Related Articles