Classical
Classical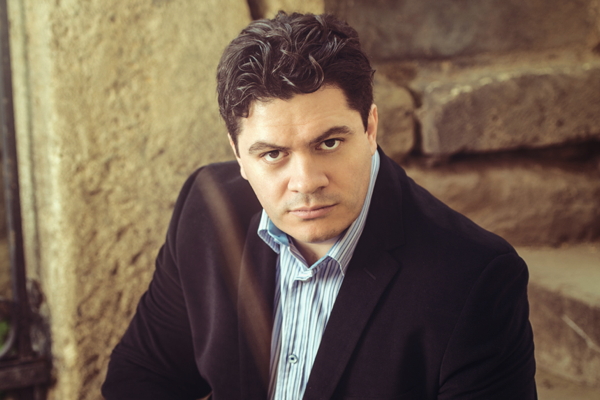 Symphony Preview: War, what is it good for?
By
That most pernicious of human inventions, organized warfare, lurks in the background of the three major works that Cristian Macelaru will conduct in this weekend's St. Louis Symphony Orchestra concerts. It was the direct inspiration for one, indirectly responsible for another, and may (or may not) have been the idea behind the third.
The piece that opens this weekend's concerts, Benjamin Britten's 1940 "Sinfonia da requiem," is the most directly related to war. That's because, as Richard Freed points out in program notes for the Kennedy Center, "Britten was a dedicated pacifist, and actually a conscientious objector during World War II. In composing this work he undertook to register his personal feelings about war by calling his symphony a requiem and giving its three movements headings taken from the Roman Catholic Mass for the Dead--looking ahead, in a sense, to the War Requiem he would compose several years after the end of that war." Britten himself left no doubt about this when he was quoted in an April 27, 1940, piece in the New York Sun (quoted in Mervyn Cook's "Britten: War Requiem"): "I'm making it just as anti-war as possible ... I don't believe you can express social or political or economic theories in music, but by coupling new music with well-known musical phrases, I think it's possible to get over certain ideas ... all I'm sure of is my own anti-war conviction as I write it."
That didn't sit well with the Japanese government, which had commissioned the work (along with several others) as part of a celebration of the 2600th year of its reigning dynasty, and they ultimately rejected it. Given that they had already invaded China and would soon ally themselves with Germany and Italy, that's perhaps not too surprising.
It's certainly a powerful piece of music, opening with a dramatic bang on the tympani that sets the pace for the relentless death march of the first movement, subtitled "Lacrymosa" (all three movements take their titles from sections of the Catholic requiem mass). The "Dies irae" second movement is an eerie dance of death, and it's only in the final movement, "Requiem aeternam," that the mood turns to peace and (to quote Mr. Freed again) "balances the outrage and grief of the opening slow movement with a gesture of consolation and peace." We could certainly use some of that right now.
Unlike the "Sinfonia," Saint Saëns's Violin Concerto No. 3 in B minor, op. 61, wasn't written as a response to the horror of war, but it does indirectly owe existence to a particular conflict: the Franco-Prussian War of 1870-71. The conflict ended with a French defeat which, in turn, led to a nationalist movement among French composers, as discussed in Aspen Music Festival program notes:
Following the shock of French defeat in the Franco Prussian War (including months of a debilitating siege of Paris in late 1870 and early 1871), Saint Saëns was one of the leaders of a movement to reestablish French art, particularly with the aim of promoting musical forms that seemed to have been dominated for decades by German composers. This meant the abstract instrumental forms of symphony and concerto. Since the early part of Berlioz's career forty years before, there had been virtually no French composers interested in large form concert music, instead the opera and ballet attracted the attention of composers and audiences. Shortly after the Siege of Paris had been lifted, Saint Saëns founded the Société Nationale de Musique, with the motto "ars gallica," to promote new French music, especially in the abstract genres. In addition to Saint Saëns himself, the Society included in its organizing committee Fauré, Franck, and Lalo. Over the years the Society sponsored premieres of important new works by leading French composers.

By this time Saint Saëns had already composed three piano concertos and two violin concertos, but these early works were relatively light in character with frivolous finales that suited the prevailing mood of the frivolous Second Empire so well characterized by the flippant operettas of Jacques Offenbach. The later concertos--including the last two for piano, the Cello Concerto, and the Third Violin Concerto, are altogether more serious.
The Concerto No. 3 declares its dramatic nature from the first notes, as the soloist enters with a forceful, ascending theme over tremolo strings; no conventional orchestral introduction here! The second theme offers some lyrical contrast, but overall this is a movement that displays what the Aspen Festival notes describe as "a careful gradation of intensity and brilliance that was rare in French scores of the day."
The second movement is a gently rocking barcarolle that concludes with a delicate duet for clarinet and violin harmonics (that flute-like sound produced by lightly touching the strings instead of fully depressing them) that's a classic example of Saint Saëns's skill as an orchestrator. The finale has a Spanish flair that reminds us of the fact that the work was written with the great composer and violin virtuoso Pablo de Sarasate in mind.
It is, in short, a concerto that calls for both technique and artistic sensitivity. I look forward to seeing what Canadian violinist James Ehnes, this weekend's soloist, , does with it. Reviewing his 2009 recording of the complete Paganini "Caprices," "The Times" (London) said that he displayed "playing of phenomenal control, allied to musicianship of the highest order," which certainly bodes well.
Finally, a few words about the Symphony No. 4 in F minor, written in 1931 by Ralph Vaughan Williams. It's a harsh, angry, and unapologetically dissonant work that took many listeners by surprise, particularly when compared with the apparent tranquility of his Symphony No. 3 ("A Pastoral Symphony") from 1921. As World War II began to heat up in the years following its 1935 premiere, some began to see it as a response to the rise of Fascism, although according to Vaughan Williams's biographer Michael Kennedy (in "The Works of Ralph Vaughan Williams," 1980) the composer himself explicitly disavowed that connection.
Rather than anticipating World War II, many have seen the Symphony No. 4 as a reflection of the composer's experiences in World War I. This point is made tellingly by Byron Adams, in his notes for the American Symphony Orchestra . Pointing out that that "it may take veterans many years to process the horror they have witnessed in combat," he goes on to observe how this apparently played out in music Vaughan Williams wrote after The War to End All Wars:
The returning veteran initially seeks peace and regularity, as the natural response of violent indignation is put off as being too painful. In the case of Ralph Vaughan Williams, his searing experiences as a middle-aged stretcher-bearer and later as an artillery officer in the trenches of the First World War cast a shadow over his life thereafter. In the first years after his demobilization in 1919, he composed a series of scores--the "Pastoral" Symphony, the Mass in G minor and the one-act opera Shepherds of the Delectable Mountains--beneath whose deceptively placid surfaces lies muted but excruciating grief. Only in the1930s, when it seemed as if no one recalled the bitter lessons of the First World War, did Vaughan Williams explode with the controlled fury of his galvanic Fourth Symphony.
The fourth symphony also owes a debt to Beethoven. The composer himself (quoted by Elizabeth Schwartz at WQXR) admitted that he "cribbed ... the opening of my F minor Symphony deliberately from the finale of [Beethoven's] Ninth Symphony." British musicologist Oliver Neighbour, quoted in Mr. Adams's notes, actually suggested that the Vaughan Williams Fourth essentially rewinds the Beethoven Ninth in that "whereas Beethoven is able to dismiss his cacophony and turn to a vision of the brotherhood of man, Vaughan Williams's own Symphony ends where it began."
To me, the Vaughan Williams Fourth has always felt like a kind of aural afterimage of Beethoven's Fifth in that where Beethoven moves, over the course of his four movements, from aggression to triumph, Vaughan Williams proceeds to nihilistic despair. You can hear this most obviously in the transition from the third to the fourth movements. In both cases, the Scherzo fades to a ghostly end and then gradually builds to a big, imposing finale, but while Beethoven's final movement builds to a blaze of glory, Vaughan Williams's finale exhausts itself in what Mr. Adams describes as "a minatory parody of a triumphal march."
Both works are big, dramatic, and compelling, but after listening to the Vaughan Williams, I feel like I have just seen a Shakespearean tragedy in which (to quote Edgar Allan Poe) the hero is "the conqueror worm." That's why my favorite recording of the work is the live 1962 performance by Leonard Bernstein and the New York Philharmonic, which follows up the final angry notes of the symphony with Vaughan Williams's beautiful "Serenade to Music" for vocal soloists and orchestra. With a text taken from the discussion of music from Act V of "The Merchant of Venice," it's the ideal antidote.
The Essentials: Cristian Macelaru conducts the St. Louis Symphony Orchestra and violin soloist James Ehnes Saturday at 8 pm and Sunday at 3 pm, March 10 and 11. Also at Powell Hall this weekend: Grammy Award-winning singer and rapper Wyclef Jean joins the orchestra for "A Night of Symphonic Hip-Hop" on Friday, March 9th, at 7:30 pm. The concerts take place at Powell Symphony Hall, 718 North Grand in Grand Center.
Related Articles