Classical
Classical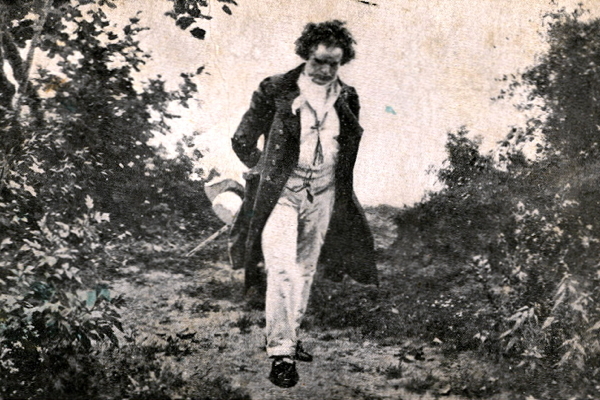 Symphony Preview: A weekend in the country
By
It's a big musical weekend with the St. Louis Symphony Orchestra October 5-7, with two separate concerts. Friday and Saturday the orchestra performs Beethoven's Symphony No. 6 in F major, Op. 68 (the "Pastoral," composed in stages between 1802 and 1808) and Berlioz's dramatic "Harold in Italy" (1834), Op. 16, for solo viola and orchestra. Then Sunday the SLSO Chorus and vocal soloists join the orchestra for a 100th birthday tribute to the Muny.
There's probably not much I can tell you about the "Pastoral" that you don't already know, but I'll give it a try with a few possibly Fun Facts.
FF #1: The first performance of the Symphony No. 6 took place at a concert on December 22nd 1807 at Vienna's Theater an der Wien, with the composer as both soloist and conductor. It wasn't a huge success. The hall was freezing cold, the musicians poorly prepared, and the program was a four-hour monster, including the premieres of not only the Symphony No. 6 but also the Piano Concerto No. 4, the "Choral Fantasy" for piano, chorus, and orchestra (a work often seen as a kind of "first draft" for the finale of Beethoven's Symphony No. 9), and the Symphony No. 5. No record survives of what the lines at the toilets were like.
FF #2: As the program annotator for the City of London Philharmonia reminds us, Beethoven used the third movement to poke fun at inept rural musicians (something Mozart also does in his "Musical Joke"). "Beethoven knew the efforts of amateur country bands well and was rather amused at the way they played. In the third movement, entitled 'peasants' merrymaking', he makes the oboe come in on the wrong beat and the bassoonists contributions comically mechanical."
FF #3: Many of Beethoven's compositions have subtitles, and nearly all of them were tacked on after the fact by other people. Not so the Symphony No. 6. The full title Beethoven gave the work translates as "Pastoral Symphony, or Recollections of Country Life."
There's more background on the 6th in a symphony preview article I wrote for the SLSO's last performance of it back in 2015. Rather than repeat it all here, you can just check out the original post.
Berlioz in 1832
Painting by
Nature plays a big part in Berlioz's "Harold in Italy" as well. The "Harold" of the title is the protagonist in Lord Byron's "Childe Harold's Pilgrimage," an epic narrative poem published between 1812 and 1818. Harold is, as Thomas May points out in his program notes for the SLSO, "a melancholy young man who wanders through the Mediterranean seeking escape from his disillusionment with life," so it's not surprising that the highly romantic Berlioz found himself attracted to the character. As Peter Gutmann writes in an article for classicalnotes.net:
Berlioz must have closely identified with Byron's title character, a melancholy dreamer who visits and comments upon sites of classical antiquity in search of meaning to counter his own world-weary disillusionment. Although Berlioz desperately had sought the Prix de Rome, once he got to Rome he wrote in his Mémoires that his life there was "a continual martyrdom"...His boredom soon turned to wanderlust, as he fled his residency to wander the Italian countryside, gathering impressions, dreams and inspirations that would infuse his new work.
The structure of "Harold in Italy" is fairly straightforward, with four movements that correspond to those of the traditional 19th-century symphony. Berlioz described the work as "Symphonie en quatre parties avec un alto principal" ("Symphony in Four Parts with Viola Obbligato") rather than a concerto and, in fact, the viola isn't so much a standout soloist as a partner with the orchestra. That's why the great virtuoso Niccolò Paganini, who originally asked Berlioz to write the work for him, rejected it when he got a look at a first draft and realized how often the violist wasn't playing.
Like his more popular "Symphonie Fantastique," Berlioz's "Harold in Italy" has an idée fixe--a recurring theme that's associated with Harold and which pops up repeatedly throughout the piece. In the "Symphonie Fantastique" the theme changes with the character of each movement. In "Harold," though, the theme remains (to quote Mr. Gutmann) "a fixed point of reference for the changing scenes through which the hero passes, coloring them with his poetic awareness, exuberance, introspection and anxiety."
Here's what Harold's theme looks like when we first hear it, after a long orchestral introduction:
 Trivia point: yes, that's neither the familiar bass nor treble clef but rather the alto clef. Unless you have played the viola at some point in your life (which I once attempted, without much success), you've probably never seen it before. And probably never will again.
Playing that alto clef music will be SLSO Principal Viola Beth Guterman Chu. When the symphony's board polled the musicians about works they'd like to see on the 2018/2019 season, a number of them suggested both "Harold in Italy" and Ms. Chu as the soloist. I'm told she was very pleased and touched by the tribute from her fellow musicians.
Conducting Ms. Chu and the orchestra will be Bramwell Tovey, last seen here back in February when he conducted a highly theatrical version of Orff's "Carmina Burana" and a moving "Chichester Psalms" (Leonard Bernstein). A composer as well as a conductor, Mr. Tovey is the Principal Conductor of the B.B.C. Concert Orchestra and Music Director Emeritus of the Vancouver Symphony Orchestra where he was formerly music director from 2000 to 2018. As of last month, he is also Artistic Advisor of the Rhode Island Philharmonic.
The final program for Sunday's Muny birthday party will be announced from the stage on Sunday afternoon. The SLSO press release, however, promises selections from "Annie Get Your Gun" (Irving Berlin), "Girl Crazy" (George and Ira Gershwin), "Show Boat" (Jerome Kern and Oscar Hammerstein II), and "The Pirates of Penzance" (Gilbert and Sullivan; huzzah!) as well as tunes from lesser-known musicals like "Eileen" (Victor Herbert), "The Desert Song" (Sigmund Romberg), "Of Thee I Sing" (George and Ira Gershwin; the first American musical to win the Pulitzer Prize for Drama) "The Student Prince" (Romberg again), and "Sweet Adeline" (Kern and Hammerstein).
Yes, I know: some of these are actually operettas rather than musicals, but let's not be picky.
Joining the orchestra and chorus will be vocal soloists Justin Michael Austin, Daniel Berryman, Keith Boyer, Cree Carrico, Debby Lennon, Elizabeth Stanley, and Phil Touchette, who will perform favorites by Cole Porter, George Gershwin, Jerome Kern, Victor Herbert, and others. Ben Whiteley conducts.
The Essentials: Bramwell Tovey conducts The St. Louis Symphony Orchestra and viola soloist Beth Guterman Chu Friday at 10:30 am and Saturday at 8 pm, October 5 and 6. The program consists of Beethoven's Symphony No. 6 ("Pastoral") and Berlioz's "Harold in Italy." Then Ben Whiteley conducts the orchestra, chorus, and vocal soloists in "A Celebration of Muny at 100" on Sunday, October 7, at 3 pm. The concerts take place at Powell Hall in Grand Center.
Related Articles