Classical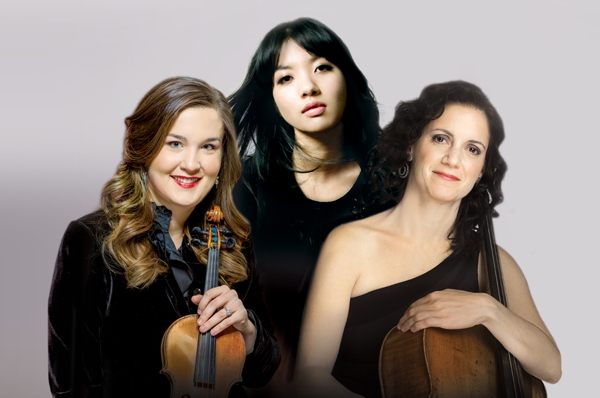 Review: Elegant Beethoven and powerful Wagner with Jun Märkl and the St. Louis Symphony
Written by

Chuck Lavazzi
There were only two works on the program Friday night (October 19, 2018) at the St. Louis Symphony Orchestra. They were both from the 19th century German repertoire, and they could hardly have been more different.
[Find out more about the music with my symphony preview.]
The concert opened with what may be Beethoven's least often heard concerto, the Concerto in C major for Violin, Cello, Piano and Orchestra, op. 56, a.k.a the "Triple Concerto." Composed between 1803 and 1804, when Beethoven was also working on (among others) the Symphony No. 3 ("Eroica") and the Piano Sonata No. 32 ("Appassionata"), the Triple Concerto tends to get overlooked and even dissed as second rate.
I think that's unfair to this engaging work. Yes, there's not much of the Olympian Beethoven of legend here--the work is more genial than it is a work of genius--but it's still delightful to hear, at least when it's presented with the kind of elegance and virtuosity I heard Friday night.
Soloists Celeste Golden Boyer (SLSO Second Associate Concertmaster) and Melissa Brooks (SLSO Associate Principal Cello) joined pianist Elizabeth Joy Roe (who made such a splash here in 2016) in a performance that was stylish, bracing, and altogether irresistible. The violin and cello do most of the heavy lifting in the work, and Ms. Boyer and Ms. Brooks carried their respective parts off with great finesse and concentration. I thought Ms. Brooks was especially touching in the tender second movement but, in truth, all three performers were in fine form. Up on the podium, guest conductor Jun Märkl neatly sculpted phrases and found plenty of variety in Beethoven's music.
After intermission, the number of players on stage increased from around 50 to well over 100 as Mr. Märkl conducted the orchestra in the local premiere of his own arrangement of orchestral excerpts from Wagner's operatic tetralogy "Der Ring Des Nibelungen" ("The Ring of the Nibelungs"). The full "Ring" cycle runs over 15 hours and is usually performed over the course of four days, so producing a distillation that runs around 45 minutes is no mean feat, but Mr. Märkl has done it quite effectively.
Condutor Jun Märkl
Photo by Christian Hohne
Titled "The Ring: An Orchestral Journey," the suite consists of nine movements, played without pause. It leans heavily on selections associated with the love story of the hero Siegfried and the Valkyrie Brünnhilde, but even so listeners familiar with the original operas will find most of the "greatest hits" here. That includes the opening sequence at the bottom of the Rhine, the descent into Nibelheim with its tuned anvils, the "Ride of the Valkyries," Siegfried's Rhine journey and funeral music, and the final moments of Brünnhilde's "immolation scene," in which Valhalla burns down and the Age of the Gods ends.
Hearing some of these selections so close to each other also highlighted the thematic unity of Wagner's work--something that is not always quite as obvious in a three-hour opera. "I made this arrangement," notes Mr. Märkl in the SLSO program book, "to present the colorful and rich orchestral structures that are easily overlooked in opera performances, and to allow audiences to appreciate this great music in the concert hall." I'd say he succeeded completely in that goal. Even if your only knowledge of the "Ring" operas comes from "What's Opera, Doc?" ("Kill da waaaabit!"), I think you'll find this orchestral synthesis powerful and totally engrossing.
Wagner's massive orchestra makes equally massive demands on all the musicians, and on Friday night the SLSO proved more than equal to the challenge. The large brass section--18 players, including nine horn players, four of whom doubled on Wagner tubas--performed as heroically as Siegfried himself, and so did the percussionists. The dark sonorities of the Wagner tubas (Todd Bowermaster, Tricia Jöstlein, Cara Kizer, and Young Kim), in combination with Cally Banham's English horn and Tzuying Huang's bass clarinet, added weight to Siegfried's funeral music. The orchestra shouted, in short, as beautifully as it whispered. This really was one of those performances that could only be appreciated live.
Next at Powell Hall: Jim Hynes conducts the St. Louis Symphony Orchestra and jazz trumpeter Chris Botti on Friday, October 26, at 7:30 pm. Then Nicholas McGegan conducts the orchestra, chorus, and vocal soloists in a performance of Haydn's oratorio "The Creation" on Saturday at 8 pm and Sunday at 3 pm, October 27 and 28. The performances take place at Powell Hall in Grand Center.
Related Articles