Classical
Classical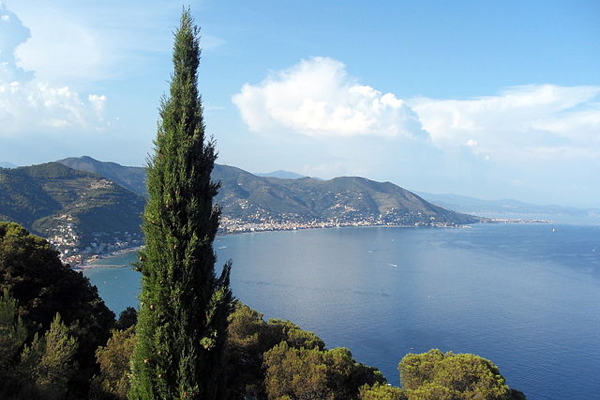 Symphony Preview: Holidays in the sun
By
The big solo work on the St. Louis Symphony Orchestra program Thanksgiving weekend may be German, but the prevailing musical mood is British, with major works by Edward Elgar and Ralph Vaughan Williams opening and closing the concerts.
Edward Elgar, circa 1900
en.wikipedia.org
The evening will open with Elgar's "In the South (Alassio)," a bold, sweeping tone poem that is the composer's love letter to Italy in general and in particular to the Italian Rivera town where the composer and his wife were vacationing in the winter of 1903-1904. In a February 1904 letter to Percy Pitt and Alfred Kalisch (cited in Jerrold Northrup Moore's "Edward Elgar: A Creative Life," 1986) the composer recalled his sources of inspiration:
The shepherd with his flock and his home-made music: the massive bridge and road still useful, and to a reflective mind awe-inspiring: the music developed to paint the relentless and domineering onward force of the ancient day and give a sound-picture of the strife and wars ('the drums and tramplings') of a later time: streams, flowers, hills; the distant snow mountains in one direction and the blue Mediterranean in the other.

In a flash it all came to me - the conflict of the armies on that very spot long ago, where now I stood - the contrast of the ruin and the shepherd - and then, all of a sudden, I came back to reality. In that time I had composed the overture - the rest was merely writing it down."
One notable aspect of the overture is a long serenade for viola in the quiet central section. It's irresistibly beautiful. Elgar liked it so much that he re-used it later in 1904 for the song "In Moonlight" (to a text by Shelley) and made several arrangements of the tune for various combinations of instruments.
As Wayne Reisig writes at allmusic.com, inspiration for the overture came at a time when "the public was eagerly awaiting the composer's first symphony, but Elgar's self-criticism led him to put a partially completed symphony on hold. He then offered up the present work, the longest single symphonic movement he had written up to that point." He might have been wise to wait; when he finally premiered that first symphony in 1908 it was, according to The Musical Times, an "immediate and phenomenal success." The colorful orchestration and subject matter inevitably led to comparisons with Richard Strauss's "Aus Italien" from two decades earlier but ultimately this music could only have come from Elgar.
Ralph Vaughan Williams
in 1922
This weekend's concerts conclude with another vivid evocation of a specific place, Vaughan Williams's "A London Symphony." Originally composed in 1912 and then revised multiple times (the version you'll hear this weekend dates from 1934), the work was inspired, as René Spencer Saller relates in her program notes, by a conversation with Vaughan Williams's fellow composer George Butterworth. Here's how Vaughan Williams recalled the event:
"We were talking together one day when he said in his gruff, abrupt manner: 'You know, you ought to write a symphony'. I answered... that I'd never written a symphony and never intended to... I suppose Butterworth's words stung me and, anyhow, I looked out some sketches I had made for... a symphonic poem about London and decided to throw it into symphonic form.... I can never feel too grateful to him for all he did for me over this work, and his help did not stop short at criticism."
Although the work strongly evokes specific locations in London and even includes a quote of the Westminster chimes, the composer strongly resisted the idea that it was programmatic music. "The title A London Symphony may suggest to some hearers a descriptive piece," wrote the composer in a program note for the first performance of the work in 1920, "but this is not the intention of the composer. A better title would perhaps be 'Symphony by a Londoner,'; that is to say, the life of London has suggested to the composer an attempt at musical expression; but it would be no help to the hearer to describe these in words. The music is intended to be self-expressive, and must stand or fall as 'absolute' music. Therefore, if listeners recognize suggestions of such things as the 'Westminster Chimes' or the 'Lavender Cry,' [a tune sung by lavender sellers in London] they are asked to consider these as accidents, not essentials of the music."
It is, in any case, a tremendously appealing work with, as David Cox writes in "The Symphony" (Penguin Books, 1967) a wide emotional range that runs "from raucousness to quiet brooding, from bright pageantry to sinister undertones--and the musical ideas are as copious as in Elgar." Personally, I have always found the tranquil Lento second movement to be a truly beautiful thing. The composer, in a 1925 program note, wrote that the movement "has been called 'Bloomsbury Square on a November afternoon'" but then went on to note that this "may serve as a clue to the music, but it is not a necessary 'explanation' of it."
Fair enough. Great music can be described in words, but the words can never fully capture the experience of hearing the music itself. "A London Symphony" is ultimately its own creature--and a very fine one it is.
Max Bruch
en.wikipedia.org
Concluding the first half of the concerts will Max Bruch's 1866 Violin Concerto No. 1. It's Bruch's most popular work which, as I wrote in my preview article for the last performance of the piece here in 2014 is a pity, since he never made a dime from it. It is, in any case, a warm, heartfelt, and utterly irresistible work that marries virtuoso flash with genuine emotion. The Adagio second movement, in particular, is a piece of almost heartbreaking beauty.
In 2014 the soloist was our own Concertmaster David Halen, with Leonard Slatkin on the podium. This time around the soloist is Joshua Bell who is, as his biography in the program reminds us, "one of the most celebrated violinists of his era." He last appeared here September 2015, playing Lalo's popular "Symphonie espagnole." On the podium will be Michael Francis, the Music Director of The Florida Orchestra and San Diego's Mainly Mozart Festival, who is making his local debut.
The Essentials: Michael Francis conducts the St. Louis Symphony Orchestra and violinist Joshua Bell Friday and Saturday at 8 pm and Sunday at 3 pm, November 23 - 25. The program consists of Elgar's overture "In the South (Alassio)", Bruch's Violin Concerto No. 1, and Vaughan Williams' "A London Symphony". Performances take place at Powell Hall in Grand Center.
Related Articles