Classical
Classical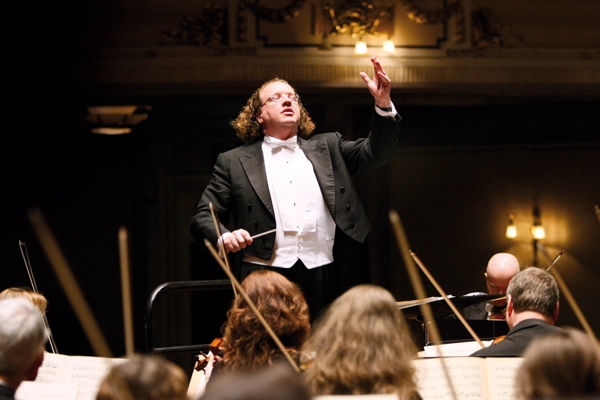 Review: Denève builds musical and temporal bridges with the St. Louis Symphony
By Gary Scott
The Muse who inspired Sergei Prokofiev draped the composer with a coat of many colors--pounding rhythms, surging melodies that morph into moments of passion and tenderness, epic vision--all brought to life with every timbre capable in the modern orchestra. Conductor Designate of the Saint Louis Symphony Orchestra, Stephane Deneve, assembled a panoramic program last weekend (February 15 and 16) demonstrating Prokofiev's vivid and masterful gifts.
[Find out more about the music with the KDHX symphony preview.]
From the very beginning of the program, it became evident that Deneve brings to St. Louis a passion and enthusiasm that will surely rejuvenate our already ample cultural life. In his introductory remarks, Deneve declared, "I don't like Prokofiev--I love him!" Regardless of where a listener's own opinions might stand, it is nevertheless refreshing to see such thorough commitment. Deneve opened with a suite of his own compiling from Prokofiev's ballet "Cinderella," premiered in 1945. Although the Cinderella story has been retold again and again across many generations and cultures, Prokofiev's bold rhythmic and percussive imaging injected new life into the story, transforming what has become for many an overworked fairy tale. Deneve milked the driving forcefulness of the score with a skill that enabled the music to breathe, yet he did so without sacrificing his control as director.
Legendary Russian-Israeli pianist Yefim Bronfman joined forces with the SLSO and Deneve for Prokofiev's Piano Concerto No. 2 in G Minor. The challenges posed by the work are enormous, and any pianist who even attempts its performance should be crowned with laurels. Bronfman, as one might expect, seemed perfectly at ease with the task. His hands maneuvered effortlessly wherever Prokofiev's flights of musical fancy directed. The only question one might raise is that perhaps a concerto as formidable as this should not appear quite so effortless. It is a work of power and intense energy. Although the piano projected well through Powell Hall, at times it seemed that an even bolder and stronger projection would have highlighted this work--and Bronfman's unparalleled technical skills--even more. At times it seemed that Bronfman's hands worked almost apart from his body. That is a remarkable accomplishment, yet musicians, like dedicated athletes, know they must engage the entire body in their performance, not just the hands or lungs. Bronfman was certainly applying every particle of his physical being to this performance, but given the stark visceral beauty of this concerto, it might have been effective to apply even greater force.
A program of such heroic proportions as this concluded with a tribute to a hero, Prokofiev's oratorio "Alexander Nevsky," culled from his film score for Sergei Eisenstein's 1938 movie. As the leader who overcame invaders from Western Europe, the film biography of Nevsky's life was designed to inspire confidence and courage in the Russian people, who were poised to begin the bloodiest conflict in their history in World War II.
Prokofiev created chants and hymns of his own to include in his music for the film, and the oratorio has earned an honored position in 20th century music. Although the oratorio has been performed several times by the SLSO, Deneve's interpretation captured an edge of realism that made it easy to imagine oneself witnessing the fierce wintertime battle on the River Neva in the 1200s. Deneve held nothing back, adding an excitement that forged nonstop to the glorious ending.
Amy Kaiser, Director of the SLSO Chorus, has guided the large ensemble through this work more than once. Russian diction, although not as difficult as one might imagine, is still very foreign to the ears of most English speakers. Each time the chorus has performed this work, though, they have sung with the boldness and confidence required by the score. Kaiser's tailored phrasing--of melodies that were sometimes fast and furious, at other times eloquent and gut-wrenching--kept the vocal passages focused so that Deneve could further sculpt them to dramatize the harsh reality of war.
Mezzo soprano Dolora Zajick joined the chorus and orchestra as soloist in the mournful "Field of the Dead" movement of the oratorio. Her voice is rich and steady, exuding an aura of calmness and contemplation in the presence of death, precisely what Prokofiev seemed to have in mind.
One of the primary benefits to having symphony orchestras in our midst is their educational value. How many of our citizens have even heard of Alexander Nevsky and know that he led Russian forces against overwhelming odds so many centuries ago? A work such as this not only brings history to life, but it also shows Russia not as a shape on a map, but a nation of people who hold deep commitments and a deep sense of history. Moreover, if the curiosity of the listener is stimulated, he/she might delve further and learn about the Bolshevik Revolution and Prokofiev's own conflicts and divided loyalties as he wrestled with his loyalty to his homeland yet also maintained his belief in democracy. Seeing Russia portrayed in this manner somehow makes it easier to understand our own core commitments to our own nation, and those of others to their respective countries.
Next at Powell Hall: Kevin McBeth conducts the St. Louis Symphony IN UNISON Chorus, along with soloists Jermaine Smith and Denise Thimes, in "Lift Up Every Voice and Sing: A Black History Month Celebration" on Friday, February 22, at 7:30 pm. He will also conduct St. Louis Symphony Orchestra and guest vocalist Sutton Foster on Saturday, February 23, at 7:30 pm.
Related Articles