Classical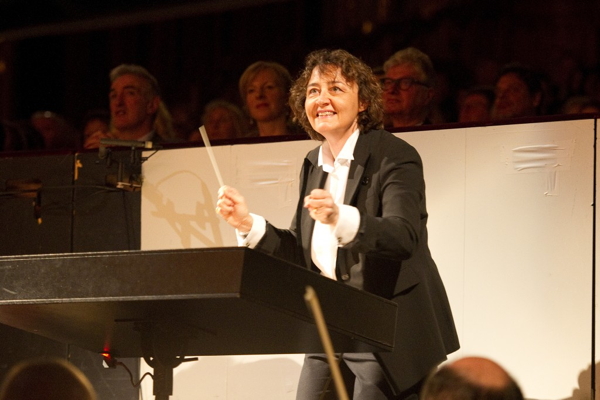 Symphony Preview: Old Mortality
Written by

Chuck Lavazzi
Last weekend's St. Louis Symphony Orchestra concerts were dominated by Mahler's Symphony No. 9, a work that is often seen as being having its genesis in the valley of the shadow of death. The theme of mortality seems to have spilled over to this weekend (March 9 and 10, 2019), when Nathalie Stutzmann will conduct the orchestra and chorus in a pair of memorial works: the "German Requiem" by Brahms and Igor Stravinsky's "Funeral Song."
Amy Kaiser
stlsymphony.org
The Brahms was last seen here back in October 2014. I wrote about it then, and rather than plagiarize myself here, I'll just refer you to my original article. In the program notes for that concert, SLSO Chorus Director Amy Kaiser called it "a major work, full of challenges: complex fugues, expressive segments, rich in harmonic details. It's a choral symphony, really." That's as good a capsule description as any.
A major inspiration for "German Requiem" was the death of Brahms's friend and mentor Robert Schumann. A similar tragedy was the impetus for the young Stravinsky to write his "Funeral Song" in 1908. In Stravinsky's case, it was the death earlier that year of his teacher, the great Russian composer and master orchestrator, Nikolai Rimsky-Korsakov.
First performed in 1909 in a concert conducted by Felix Blumenfeld at the St. Petersburg Conservatoire (where Rimsky-Korsakov had taught), the original score for the work was generally believed to have been lost in the revolutions of February and October 1917, although Stravinsky himself believed that the score was simply buried somewhere in the archives at the Conservatoire.
As it turned out, he was right.
The rediscovery of the "Funeral Song" in 2015 was the happy result of a combination of good luck and dogged persistence by Stravinsky scholar Natalya Braginskaya. As Stephen Walsh wrote in The Guardian:
Natalya Braginskaya...mounted a series of unsuccessful searches helped by willing Conservatoire archivists. But it was only when the whole building had to be emptied last autumn to make way for a long-delayed overhaul that piles of previously hidden manuscripts emerged from behind rows of stacked piano and orchestral scores, undisturbed for decades, and a librarian found herself staring at the missing orchestral parts which she remembered as precisely the work that Braginskaya had been looking for.
Stravinsky in 1903
en.wikipedia.org
It would take another year for a performance of the rediscovered work to materialize. Aside from the fact that the full score had to be reconstructed from the newly discovered orchestral parts, there were rights arguments between the Stravinsky estate and the late composer's publisher, Boosey and Hawkes. Finally, the highly regarded (albeit politically controversial) conductor Valery Gergiev conducted the Mariinsky Theatre Orchestra in "Funeral Song" for the first time since its 1909 premiere on Friday, December 6, 2016. It was, as The Guardian's Walsh recounts, a Very Big Deal:
The Russian audience, deprived of their greatest composer for so many Soviet years, were rightly thrilled that a substantial piece of his had turned up on their home ground and that they were the first to play it and hear it. The applause as Gergiev held up the score was thunderous, and whatever scholars make of the work in due course, it deserved every minute of it. Stravinsky remembered Funeral Song as one of his best early pieces (though he forgot nearly everything else about it) and he was right.
What does the piece sound like? Well, it's somber, dark, dramatic, and feels only a little bit like the work of the man who would astonish the world with his ballet "The Firebird" only a year later. If I didn't know it was Stravinsky, I'd be tempted to assume it was Rimsky-Korsakov or one of the lesser early 20th-century Russian composers like Lyadov or Glazunov. You can listen to it yourself and draw your own conclusions, fortunately; Gergiev's performance is available on YouTube.
At the podium this weekend will be the French singer/conductor Nathalie Stutzmann. When she made her first appearance here in 2016, I was impressed by the way her direct emotional connection to the familiar works on the program that weekend made me hear them in different ways that shed new light on old favorites. You can find more information on Ms. Stutzmann in the preview article I wrote for her 2016 appearance and see her in action on her YouTube channel.
The Essentials: Nathalie Stutzmann conducts the St. Louis Symphony Orchestra and Chorus, along with soprano Siobhan Stagg and baritone Stephen Powell, Saturday at 8 pm and Sunday at 3 pm, March 9 and 10. The concerts take place at Powell Symphony Hall, 718 North Grand in Grand Center.
Related Articles