Classical
Classical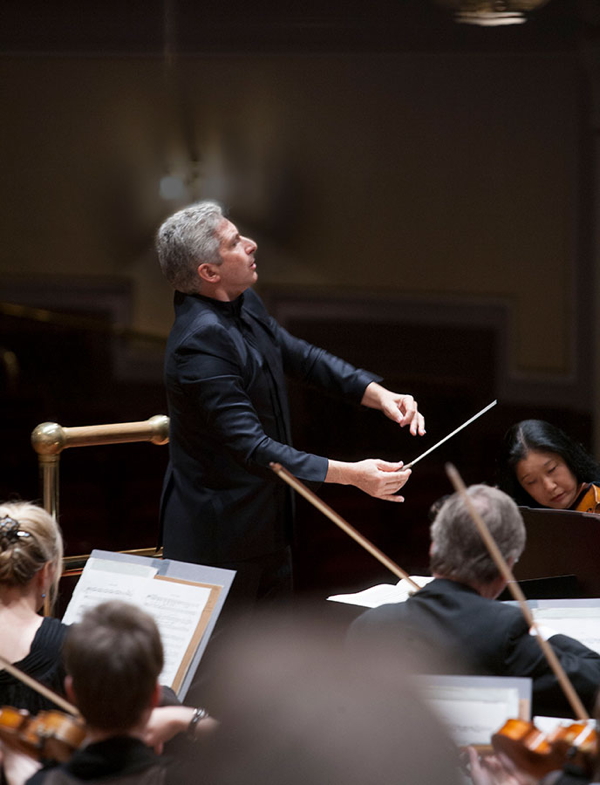 Review: Transcendent Mahler with Peter Oundjian and the St. Louis Symphony
By
In an increasingly ugly and paranoid culture, moments of transcendent beauty are rare, which is why I appreciate one all the more when I encounter it at a St. Louis Symphony concert, as I did this past Saturday (March 2nd, 2019).
[Find out more about the music with my symphony preview.]
It was more than a moment, actually, since "transcendent beauty" describes pretty much all of guest conductor Peter Oundjian's interpretation of Mahler's Symphony No. 9, which clocked in at around eighty minutes. Written towards the end of the composer's life (he died within two years of completing it and never heard it performed), the Ninth is often seen as Mahler's farewell to life. Mr. Oundjian's impassioned reading certainly honored that sense of departure, but did so in a way that suggested calm acceptance more than resigned despair.
That may not be a majority view of the work these days. The predominant idea of the Mahler Ninth for the past several decades seems to have been colored by Leonard Bernstein's contention, in the fifth of a series of six 1973 lectures at Harvard, that Mahler was anticipating not only his own death but the "death of music itself." Bernstein's own performance with the Vienna Philharmonic reflects that, wringing every last bit of angst out of the music. But, as Tom Service notes in a 2014 article for The Guardian, "there is another way of thinking about this music, and there's another way of conducting it, hearing it, and experiencing it. It turns on whether you think of this piece as a hymn to the end of all things, or instead, as an ultimately affirmative love-song to life and to mortality."
To my ears, Mr. Oundjian's approach was closer to the "ultimately affirmative" end of the spectrum, beginning with a first movement that had a strong rhythmic pulse and a kind of lilting lyricism that contrasted well with the first of the three massive orchestral climaxes the punctuate the rest of the movement. The tempo marking is Andante comodo, and Mr. Oundjian's tempo choices seemed to honor the fact that "andante" literally means "at a walking tempo." The orchestra played beautifully, with admirable solo moments such as the lovely duet with Principal Flute Mark Sparks and Principal Horn Roger Kaza that recalls Mahler's "Resurrection" Symphony.
The second movement, which is both an affectionate tribute to and parody of that rustic waltz known as the Landler, had all the requisite gusto and raucous humor. Musical jokes need to be played with consummate skill if they are to work, and the SLSO musicians certainly did not disappoint here. The final cheeky notes from Andrew Cuneo's bassoons and Ann Choomack's piccolo were perfect.
There's humor in the Rondo-Burleske third movement as well, but it's more along the lines of the snarling sarcasm you find in the works of Shostakovich. Mahler's tempo marking includes the words "sehz trotzig" (roughly "very defiant") and some have suggested that the mix of complex counterpoint and musical aggression here were the composer's angry response to critics who suggested, erroneously, that he couldn't write contrapuntal music. It was, in any case, performed with spectacular precision by the musicians, with a special nod due to Associate Principal trumpet Thomas Drake for the ethereal solo toward the end that, at least to my ears, harks all the way back to the deleted "Blumine" movement from Mahler's Symphony No. 1.
Lars Vogt
Photo by Giorgia Bertazzi
The final movement of Mahler's Ninth is perhaps one of the most moving things you can hear in a concert hall. It can be, at various points and to varying degrees, anguished, resigned, hopeful, or tranquil, but it's nearly always beautiful. Mr. Oundjian's interpretation reflected an ideal balance of the music's many moods, with powerful climaxes and moments of beatific stillness. This movement largely belongs to the string section, the SLSO players came through brilliantly, especially in the final, hushed pages when the music fades to nothingness.
In his Lucerne Festival Orchestra performance, Claudio Abbado famously held that final silence for a good two minutes. Mr. Oundjian didn't go that far, but the thirty seconds or so of absolute stillness he commanded at the end was a powerful as it was perfect. Amazingly, nobody coughed. Maybe they were all holding their breaths in the quiet: I think I might have been. It was the perfect end to a gripping, beautifully shaped performance by Mr. Oundjian and the orchestra that thoroughly deserved its standing ovation.
The concert opened with an equally intelligent and well-balanced performance of Mozart's Piano Concerto No. 21. First performed in Vienna on March 10, 1785 with Mozart himself at the keyboard, the concerto comes from a time in the composer's life when he was more or less the toast of the town. It radiates youth and optimism, and got an appropriately perky and joyful performance from Mr. Oundjian, the orchestra, and soloist Lars Vogt. I was especially taken with the Andante second movement, which managed to be lyrical without ever becoming sappy, but the noble first movement and jolly finale were gratifying as well.
Mozart was so much in demand when he wrote his concerto that he didn't bother writing down the cadenzas for the first and third movements, probably improvising them in performance. These days, soloists either use cadenzas composed by others or write their own. Mr. Vogt did the latter, deftly managing the trick of writing music that sounded both 18th-century and new at the same time.
Next at Powell Hall: Nathalie Stutzmann conducts the St. Louis Symphony Orchestra and Chorus, along with soprano Siobhan Stagg and baritone Stephen Powell, Saturday at 8 pm and Sunday at 3 pm, March 9 and 10. The program consists of Stravinsky's "A Funeral Song" and Brahms's "A German Requiem." The concerts take place at Powell Symphony Hall, 718 North Grand in Grand Center.
Related Articles