Classical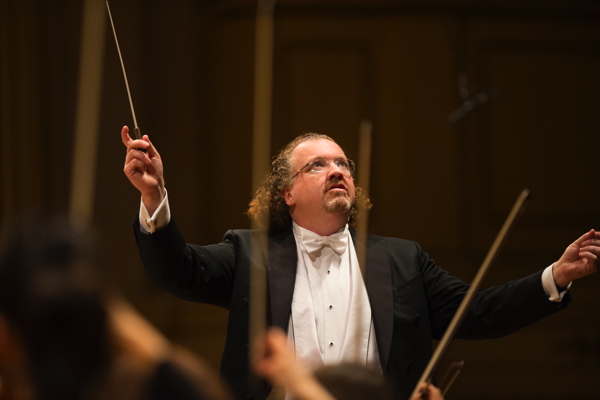 Review: The SLSO celebrates the music of John Williams
Written by

Chuck Lavazzi
A long time ago in a galaxy far, far away, an Imperial battle cruiser swooped down across the screen to the strains of a full symphony orchestra. Movies and movie music have never been quite the same since.
John Williams at the Hollywood Bowl
I was reminded of that when Stéphane Denève conducted somewhat expanded forces of the St. Louis Symphony Orchestra in the familiar (but still awe inspiring) main title from "Star Wars" at the conclusion of an evening of the music of legendary film composer John Williams last Friday (September 13, 2019). As thrilling as it was to hear that big, old-fashioned sound in a theatre back in the day (at a time when both the movies and their soundtracks were shrinking), nothing quite compares with the visceral impact of hearing it performed live by a symphony orchestra of (Richard) Straussian proportions.
That's not to say that Friday's concert didn't include some intimate moments that are very unlike the big, Romantic sound for which Williams is most famous. Yes, there were the usual Greatest Hits, including the "Superman March" and the "Raiders March," but Mr. Denève also included less familiar film music like "Sayuri's Theme" and "Brush on Silk" from "Memoirs of a Geisha" (2005) a mournful, meandering theme from "The Book Thief" (2013), and the moving "Schindler's List" theme. Best of all, at least for me, was the collection of excerpts from "Close Encounters of the Third Kind" (1977) with its remarkably "modernist" opening. The collection of tone clusters, string glissandi, and eerie, dissonant harmonics sound more like Edgar Varèse or Krzysztof Penderecki than John Williams, and are a tribute to the size of the famed composer's toolbox.
Some minor fatigue in the brass section towards the end of the concert not withstanding, the musicians of the SLSO did fine work when we heard the concert. Principal Cello Daniel Lee turned in a virtuoso solo performance of the "Memoirs of a Geisha" selections, backed up by Associate Principal Flute Andrea Kaplan's impressive imitation of the breathy sound of a Japanese Shakuhachi. Associate Concertmaster Erin Schreiber provided a sensitive reading of the "Schindler's List" excerpt and Principal Oboe Jelena Dirks's solo in "The Book Thief" was movingly plaintive.
Daniel Lee
Mr. Denève provided lively commentary during the evening, both live and on brief selections from a video interview he had done with Mr. Williams. At one point he provided a fascinating look at just how much the soundtrack music can enhance a scene by showing the "Barrel Chase" sequence from "Jaws" without and then with the score. It was an excellent illustration of how the music can add without being distracting.
The John Williams concerts were a kind of aperitif for the main SLSO season, which begins this Saturday and Sunday (September 21 and 22) with a big French-themed concert that includes Gershwin's "An American in Paris," Debussy's "La Mer," Ravel's Piano Concerto in G (with Jean-Yves Thibaudet at the keyboard), along with newer works by Kevin Puts, Jennifer Higdon, and Guillaume Connesson. Performances take place at Powell Symphony Hall in Grand Center.
Related Articles