Classical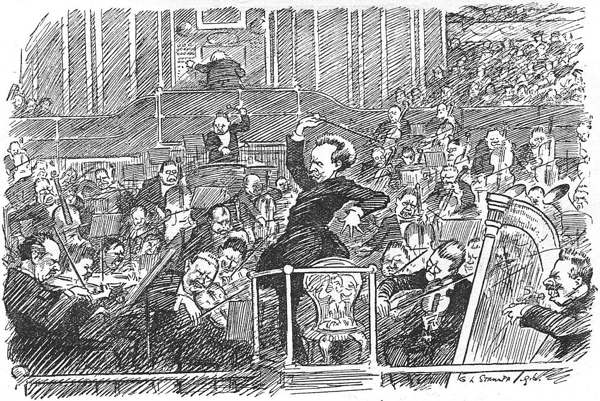 Symphony Prevew: Tales of the unexpected
Written by

Chuck Lavazzi
Former Music Director Leonard Slatkin, who led the St. Louis Symphony Orchestra (SLSO) during what was possibly its period of highest international visibility (and who is now a resident of Our Fair City once again) returns to lead the SLSO this weekend (Saturday and Sunday, October 12 and 13) in an evening of works which all have intriguing histories.
The concert opens with a new version of a piece that Mr. Slatkin originally commissioned in 1996, his final year with the orchestra. As a kind of farewell present, he asked four composers who had been in residence at the SLSO during his tenure--Joseph Schwantner, Joan Tower, Donald Erb, and Claude Baker--to each create a different variation on the "Caprice No. 24" by Niccoló Paganini. Slatkin wrote one of his own as well and titled the result "Yet Another Set of Variations (on a Theme of Paganini)."
Leonard Slatkin
As Mr. Slatkin approached his 75th birthday (which, interestingly, falls on the same date as mine...) he thought a revision might be in order. Here's what he did, from his program notes for this weekend:
I invited five orchestras where I have held a position of artistic leadership to commission five composers with whom I have shared a close collaboration over the course of my career. Specifically, the SLSO invited John Corigliano to contribute a new variation, as it was with that orchestra that I first conducted and recorded John's music. Composer Truman Harris served as assistant principal bassoon in the National Symphony and assisted me in orchestrating several works I wrote for that ensemble. Guillaume Connesson was resident composer with the Orchestre National de Lyon during my tenure. Cindy McTee, aka Mrs. Slatkin, was closely associated with the Detroit Symphony Orchestra. Daniel Slatkin is my son and a composer for motion pictures and television. His variation was commissioned by the Nashville Symphony, one of the most active recording orchestras in the country.
Mr. Slatkin revised his earlier variation and wrote additional material to tie everything together, and we'll hear this result this weekend.
It's worth noting that Paganini's original caprice includes some pretty fancy variations of its own, as you can both see and hear in a YouTube video featuring violinist Salvatore Accardo and including images of the sheet music synched with his performance. The 24th caprice has proved to be irresistible as the basis for more variations by a wide variety of composers from Brahms to Eugène Ysaÿe. Rachmaninoff's "Rhapsody on a Theme of Paganini" is probably the most well known of the lot, even producing a romantic tune (in variation 18) that has had a life of its own, including a brief run as the accompaniment for (if my memory is correct) a Folger's coffee commercial.
Pop and jazz songwriters have gotten into the act as well. Most notably, Andrew Lloyd Webber made Paganini's tune the basis of his 1977 "Variations," recorded in 1978 with his brother Julian Lloyd Webber as the soloist. That set of variations, like Rachmaninoff's, also produced a little earworm of a melody that eventually grew lyrics courtesy of Don Black and got the title "Unexpected Song."
Mozart, as drawn by Doris Stock, 1789
Speaking of things unexpected, for nearly 150 years, nobody expected to hear Mozart's K. 314 Oboe Concerto for the simple reason that it had simply dropped out of sight after Anton Meyer, an oboist in Prince Esterhàzy's orchestra, requested a copy for his own use in 1883. It was chalked up as a lost work until 1920. In notes for the Chicago Symphony Orchestra, Phillip Huscher describes what happened then:
In 1920, Mozart scholar and conductor Bernhard Paumgartner, who was director of the Salzburg Mozarteum archives, discovered a package of old orchestral parts. The bass part was marked "Concerto in C/Oboe Principale" followed by Mozart's name. When Paumgartner recognized the music, however, as the familiar flute concerto in D major--the one flutists had long counted as the second of Mozart's two concertos--a 137-year-old mystery began to unravel. Apparently, sometime during the winter of 1777-78, Mozart had made an arrangement of the oboe concerto in order to make fast work of a commission for the amateur flutist Ferdinand de Jean, probably passing the recycled work off as brand new. By exposing Mozart's fraud, Paumgartner's find simultaneously cut Mozart's flute concerto output in two and handed oboists a concerto they had never expected to play.
This weekend will be the first time the concerto has been played by the SLSO (although the SLSO Youth Orchestra did it in 1987, with Mr. Slatkin conducting). The soloist will be SLSO Principal Oboe Jelena Dirks. In a brief email interview, I asked her if playing a piece written for the somewhat simpler oboe of Mozart's day posed any challenges. Her answer was surprising and educational:
Interestingly enough, the Classical period oboe is much more closely related to the modern oboe than the Baroque oboe. Much of the progress that has been made since Mozart's era lies simply in the addition of keys. While keys are meant to make things easier (especially in the complicated, more adventurous compositions of the Romantic and Contemporary eras) they also have some intriguing consequences. One of the biggest changes which resulted is that they even out the colors of different notes. However, the fact is, even to this day, no two notes sound alike on the oboe. That is one of the best and also one of the trickiest things about the oboe! I learned to revel in the differences of sound, to use it when I think it's effective and to hide it when I don't want it.
So what does that all mean in the context of this particular Mozart concerto? Ms. Dirks elaborated:
[T]he opening phrase is a trill, a scale, and then a high c (a brilliant note on the oboe). It is fun to exercise this note and to explore the open nature of the c- as in allegro aperto (open) from the first movement tempo marking. In the vocal second movement, I try for as close to singing an opera aria as I can get. In the third movement, the writing is such that it portrays the bright joyfulness of C major on the oboe. So, to answer your question the long way around, it is more about embracing the qualities of the oboe than anything else!
Jelena Dirks
Photo courtesy of SLSO
The qualities of the oboe, in fact, are what attracted Ms. Dirks to the instrument in the first place. "I come from a family of professional string players," she notes, "and when my mom hosted a baby shower for one of her friends (yes, an oboist!) I was eager to try something no one else in my family played."
Sometime during the party I remember a conversation in which my mom's friend asked me to try making the embouchure for an oboe, and then told me that "I would make a perfect oboist." I don't remember knowing what an oboe was, my ten year old self simply thought 'wow, can I please play that?'...I think it's safe to say that I continued playing oboe because I do thrive on a challenge and I also fell in love with the sound and the expressive nature of the instrument and repertoire.
"Expressive" is certainly a word you might use to describe the final work on the program, Richard Strauss's 1899 "Ein Heldenleben" ("A Hero's Life"). It's one of the more impressive examples of musical egotism, right up there with Berlioz's "Symphonie Fantastique". Despite the composer's disclaimer that the work was only party autobiographical and that it was intended to be "a more general and free ideal of great and manly heroism," there's not much doubt that Strauss' hero was Strauss. The work is chock full of quotes from Strauss' music and its portrayal of music critics by a gaggle of chattering woodwinds provoked the expected outrage from the composer's detractors.
As Richard Freed observes in program notes for The Kennedy Center, Strauss eventually had to admit the hero in "Ein Heldenleben" was, in fact, himself:
Strauss did concede, after all, in a remark to the writer Romain Rolland, that he found himself "no less interesting than Napoleon," and his gesture of conducting the premiere himself instead of leaving that honor to the respected dedicatee may well be viewed as further confirmation of the work's self-congratulatory character.
That said, "Ein Heldenleben" is such a lavish and dramatic work that it ultimately doesn't matter whether Strauss meant it as a symphonic selfie or not. "A Hero's Life," writes Mr. Freed, "represented in its time a new level in the exploitation of the resources of the modern orchestra, and it remains an outstanding landmark in that respect." It uses a massive orchestra of over 100 players (some of whom will be offstage for the big "battle" sequence, in which The Hero vanquishes his enemies) and includes infrequently heard instruments like the B-flat and E bass clarinets, the tenor tuba, and the contrabassoon. The sheer volume and variety of sound is impressive.
The Essentials: Leonard Slatkin conducts The St. Louis Symphony Orchestra along with Principal Oboe Jelena Dirks in Mozart's Oboe Concerto, K. 314; Richard Strauss's "Ein Heldenleben"; and "Yet Another Set of Variations (on a Theme of Paganini)." Performances are Saturday at 8 pm, and Sunday at 3 pm October 12 and 13 at Powell Symphony Hall in Grand Center.
Related Articles