Classical
Classical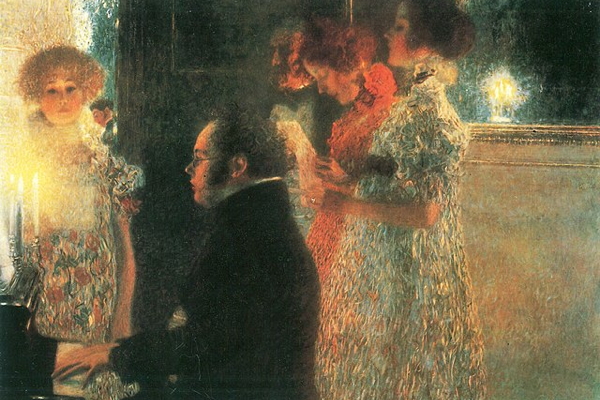 Symphony Preview: It might as well be spring
By Chuck Lavazzi
This weekend (February 29 and March 1), the St. Louis Symphony Orchestra welcomes back early music specialist Nicholas McGegan to conduct works by Haydn, Beethoven, and Schubert that all have a pretty sunny outlook--a welcome thing in these times of what Tom Lehrer called "universal brouhaha."
Haydn circa 1770
Painting by
Ludwig Guttenbrunn
The concerts open with Haydn's Symphony No. 31 in D major. It's known as the "Hornsignal" symphony because of the prominent part played by the horn section. To understand why he gave them that role, we need to take a look at the circumstances under which Haydn composed the piece in 1765.
Back then, Haydn was in the early years of what would prove to be a long-term gig: music director for the rich and powerful Esterházy family. Prince Nikolaus Esterházy was an enthusiastic music lover--so much so that he maintained his own private orchestra, which Haydn was expected to conduct and for which he was expected to write music. Lots of it.
This could pose a challenge since, as Wikipedia reminds us, the personnel of the Esterházy orchestra fluctuated and so the forces Haydn had to work with varied considerably. Prior to 1765 the horn section, in particular, had taken some hits and was down to just two players. When the Prince finally agreed to Haydn's persistent requests to bring the section up to full strength by hiring two more players, the composer celebrated with his Symphony No. 31.
Natural (valveless) horn
of Haydn's time
Public Domain, Link
In a contemporary orchestra, of course, four horns isn't a big group. But the Esterházy orchestra usually had only around 20 players, which meant the expanded horn section made up nearly a quarter of the personnel. In a modern orchestra, which usually puts 80 or more players on the stage, that would be the equivalent of at least 20 horn players. Even Richard Strauss never went that far!
Needless to say, it probably made a glorious noise back at the Esterházy estate. Adding to the jubilant atmosphere was the fact that the key of D major was commonly viewed as a celebratory key because it was so friendly to 18th-century trumpets and horns.
Indeed, in my experience it's impossible to listen to this symphony without a smile, and not just because the horns get to show off. In the course of its four movements, Haydn provides solo passages for flute, oboe, violin, cello, and even the bass. It's like a big orchestral party in which everyone gets a prize.
If I seem to be spending a lot of space on the Haydn, by the way, it's mostly because it hasn't been heard here since its first and only performance in 1973. So I'm assuming many of you won't have heard it before, at least in a live performance.
Beethoven by
Joseph Karl Stieler, 1820
Up next is the Piano Concerto No. 2 in B-flat major, Op. 19. First performed in 1795, the work of Beethoven rather than Haydn, but the latter's influence is easy to hear, especially in the blithe final movement. Written before but published after the Concerto No. 1, it marks the beginning of Beethoven's dual careers as pianist and composer of concerti for his instrument of choice.
Haydn is mostly hiding in this work, though. It's ultimately all Beethoven. That's particularly obvious in the dramatic cadenza, written around 14 years after the concerto.
At the concert grand this weekend will be the young (b. 1994) South Korean virtuoso Seong-Jin Cho. A winner of the 2015 Chopin Competition in Warsaw, he gave his first public recital at the age of 11 and became the youngest-ever winner of Japan's Hamamatsu International Piano Competition in 2009. He already has three recordings with Deutsche Gramophon to his credit, ranging from Mozart sonatas and Chopin's Concerto No. 2 to solo works by Debussy. I look forward to seeing what he does with the Beethoven concerto.
The concerts conclude with Schubert's 1816 Symphony No. 5 in B-flat major, a work which has always had a bright, "spring is here" feel for me. I challenge anyone to listen to the cheerful syncopation of the first movement's main theme without a smile.
Like the Beethoven concerto, the Fifth Symphony pays homage to Haydn and (especially) Mozart. Granted, it has some elements (particularly in the Andante con moto and Menuetto) that look forward to the more overtly Romantic sensibilities of the later Schubert and his successors. But on the whole it stands in marked contrast to his Symphony No. 4 in C minor, known as the "Tragic" because of its sense of high drama. Although written in the same year, the Fifth (as Clive Brown writes in notes for the Hanover Band's recording of the complete Schubert symphonies) "provides a delightful counterweight to the earnestness of its predecessor."
Mr. McGegan's presence on the podium can generally counted upon to add an upbeat element to the proceedings as well. A man who clearly enjoys his work, he has been known to briskly step up to the podium, his face alight with a cherubic smile. His body language shouts: "this is going to be FUN!" And it usually is.
The Essentials: Nicholas McGegan conducts The St. Louis Symphony Orchestra, along with pianist Seong-Jin Cho on Saturday at 8 pm and Sunday at 3 pm, February 29 and March 1. Performances take place at Powell Symphony Hall in Grand Center.
Related Articles