Classical
Classical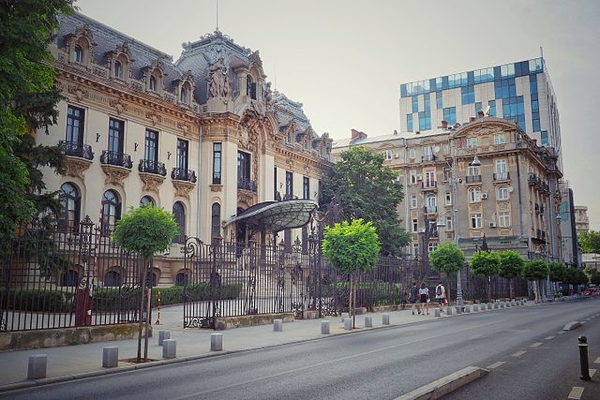 Symphony Notes: Goin' home
By Chuck Lavazzi
The St. Louis Symphony Orchestra's (SLSO) season may have been cut short by the COVID-19 crisis, but that doesn't mean you can't enjoy some of the music scheduled for the next several weeks at home.

The concerts originally scheduled for this weekend (April 24-26) would have featured works that were inspired by folk and popular music from their respective composers' home countries. The program would have consisted of the "Romanian Rhapsody No. 2 by George Enescu, the Violin Concerto in D by contemporary American composer William Bolcom, and Dvořák's popular Symphony No. 9 in E minor, Op. 94, subtitled "From the New World." That gives us music from Romania, The USA, and the USA as experienced by one of the Czech Republic's most famous composers.
George Enescu in 1930
By E. Joaillier, Paris (photographer)
Bibliothèque nationale de France,
Public Domain, Link
If you don't have recordings of all of those pieces readily at hand, fear not; the SLSO has put together a free Spotify playlist of the complete concert that will enable you to recreate the experience right at home, albeit with different performers. It's the ideal listening companion to this article.

Your home concert opens with the "Romanian Rhapsody No. 2." Composed in 1901 and first performed as a set in 1903, Enescu's two Romanian Rhapsodies are probably his best-known works outside of his native land. He was a prolific composer, though, who produced five symphonies, a number of orchestral works, one opera, and a large volume of chamber music. In Romania, in fact, he's so highly regarded that the airport of the city of Bacău was recently renamed the George Enescu International Airport. In Bucharest, there's an Enescu Museum in the Cantacuzino Palace and an annual George Enescu Music Festival presented by the Symphony Orchestra of Bucharest.

The first and second rhapsodies both draw heavily on Romanian folk tunes despite their sharply contrasting moods. The First Rhapsody is the more popular of the two with its faster tempo and lively dances and slam-bang finish. The Second Rhapsody is lyrical, emphasizing song rather than dance.

Based largely on the 19th-century ballad "Pe o stîncă neagră, într-un vechi castel" ("On a dark rock, in an old castle"), the work begins with a soft, warm declaration of the tune in the strings that gradually builds to a full-throated declaration by the orchestra. A minor-key solo on the English horn leads to a more reflective moment or two before building to another grand orchestral declaration. The dance tune, "Sîrba lui Pompieru" ("Sîrba of the Fireman") makes a brief appearance, but it's played by only a handful of strings, as though the party were taking place in another room, or just in one's memory. A brief recollection of the big dance theme from the first rhapsody follows before everything fades out with a last little flute solo marked "très long, extrêment lent" ("very long, extremely slow").

Why are the dynamic marking in French? Probably because both the First and Second Rhapsodies, drenched though they are in Romanian song and dance, were actually composed in Paris, where Enescu would eventually move after World War II and the Soviet occupation of Romania. The first performance of both works, though, took place in Bucharest with the composer at the podium.
William Bolcom
Photo:

Katryn Conlin
Up next on your playlist is the Bolcom Violin Concerto. It counts, I suppose, as "new music," although considering that it was written back in 1983,"new" is only relative. It is, in any case, great fun--a thoroughly enjoyable tribute to American popular music in the first few decades of the 20th century.

The concerto was written expressly for noted virtuoso Sergiu Luca, (born in Bucharest, which gives us a tenuous link back to Enescu) who was at the time "reveling in his newly-acquired jazz technique," according to Derek Bremel the Music Director of the American Composers Orchestra:
Inspired by the playing of the great jazz violinist Joe Venuti (a contemporary of Gershwin with whom Bolcom once jammed), the work is a true hybrid, combining bluesy lyricism with pulsating rhythms and more than a hint of crunchy chromaticism and polytonal clusters. Bolcom is a master orchestrator; just listen to the way he contrasts the colors of winds and strings in the gorgeously lush and moody second movement.
William Bolcom, for those of you who unfamiliar with the name, is an impressively eclectic composer and performer whose work often bridges (and even completely obliterates) the line between "popular" and "classical" music. His operas and concert works have been performed all over the world, but he has also written cabaret songs and piano rags. With his wife, mezzo-soprano Joan Morris, he has recorded many wonderful discs of American popular songs, ranging from Vaudeville-era tunes to the songs of rock and roll pioneers Leiber and Stoller.

It's no surprise, then, that Bolcom's violin concerto is strongly colored by the sounds of ragtime and the kind of "hot jazz" that was pioneered by Venuti, whose career flourished in the 1920s and '30. You can hear that almost immediately in the syncopated, ragtime-style melody on the solo violin that opens the first movement. That shortly gives way to a shorter and more agitated theme that eventually explodes into an angry orchestral outburst. A short virtuoso cadenza for the soloist leads to a kind of drunken waltz melody that returns us, in the final measures, to that original ragtime dance.

The second movement has its anguished moments as well, beginning with a dissonant lament in the winds, but for the most part it's dominated by a tender theme that feels like it wants to turn into a romantic 1940s ballad but never quite makes the transition. Another brief cadenza leads without pause to the lively finale where, as Mr. Bremel notes, the solo line "includes many of Venuti's signature inflections--including sliding sixths and alternating left- and right-hand pizzicato (string plucking)." There are definitely toe-tapping moments here and times when you'll be tempted to hum along with the soloist--which is not something I often find myself saying about newer music.

David Halen would have been the soloist this weekend and it's a pity we won't get to hear him play the piece, but you can at least take solace in the fact that the soloist in the SLSO's Spotify playlist is none other that Sergiu Luca himself, backed up by Mr. Bremel's American Composers Orchestra under the baton of Dennis Russell Davies. And if you don't do Spotify, you can watch a video of a performance by Benjamin Schmid with the Spanish Radio and Television Orchestra, conducted by Carlos Kalmar, courtesy of classical radio station WQXR.

William Bolcom has local connection, by the way. His "Session I" and Symphony No. 4 were recorded by Leonard Slatkin and the SLSO back in 1988. The symphony was commissioned by Slatkin and the SLSO, whose performance of it on March 13th, 1987, was the world premiere.
Dvořák with his friends and family in New York
By Photographer's original name unknown -
www.musicwithease.com,
Public Domain, Link
The Dvořák Ninth closes our virtual visit to Powell Hall. The Czech master wrote it during a visit to America in the early 1890s, and while he never explicitly quotes any American folk material, there's still something about this music that strongly suggests America. From the flute theme in the first movement that seems to echo "Swing Low, Sweet Chariot," to the second movement Largo that has (at least for me) always evoked the majestic solitude of the plains (Dvořák said he wrote it after reading Longfellow's "Hiawatha"), to the "bluesy" flatted seventh chords of the finale, Dvořák's "New World" symphony just shouts "USA"--even if it does so with a strong Czech accent.

Some critics have complained of the symphony's structural weaknesses and its episodic nature, but even they have had to confess that it's never anything less than tremendously appealing. It's one of the first "classical" works I ever encountered (in a memorable recording by Leonard Bernstein and the New York Philharmonic), and I've never lost my affection for it.

The SLSO last performed it in 2014 in what I called a "world class" interpretation by David Robertson. The performance the SLSO has curated for you on Spotify--by the Berlin Philharmonic under Rafael Kubelik--is also a fine piece of work. Those of you with Amazon Prime can hear it for free there as well as part of a complete set of Dvořák symphonies.

The regular SLSO season is scheduled to resume in September. Until then, you can still stay in touch with them at the SLSO Stories web site where, among other things, you can see and hear SLSO musicians performing for you from their homes.
Related Articles