Classical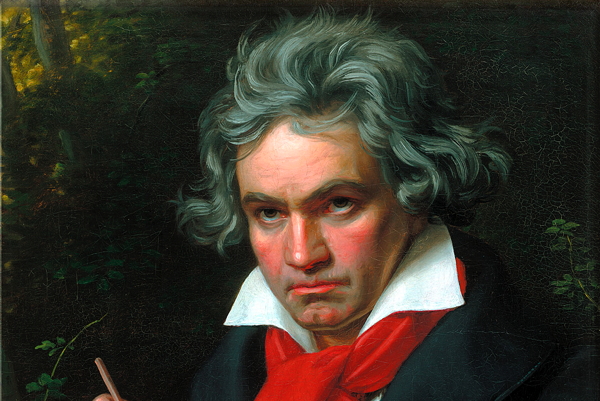 Symphony Preview: Heroics and fireworks
Written by

Chuck Lavazzi
This weekend (Thursday through Sunday, October 15-18), Music Director Stéphane Denève and the St. Louis Symphony Orchestra (SLSO) return to Powell Hall for the first time since the SARS-Cov-19 pandemic broke in March. For the audience, the experience will, as I noted in an earlier article, be a radical change from what used to be considered "normal." One of the two works on the abbreviated program, though, will be familiar.
Beethoven in 1803
Painted by Christian Horneman
That work is the Symphony No. 3 in E-flat major, known as the "Eroica." First performed on April 7, 1805, at the Theater an der Wien in Vienna, the work was a radical departure from Beethoven's earlier compositions. Ironically for such a striking and ultimately triumphant work, that departure had its origins in a "dark night of the soul" brought on the composer's increasing deafness and tinnitus. I caused Beethoven to engage in a re-evaluation of his life, described in an 1802 document now known as the "Heiligenstadt Testament."
The "Testament," as most classical fans will recall, was a letter Beethoven wrote to his brothers Carl and Johann at the town of Heiligenstadt (now part of Vienna) in which he told of his despair over his hearing loss and his struggles with thoughts of suicide. The letter was never delivered (it was found among his papers after his death in 1827) and seems, in retrospect, to have acted as a kind of catharsis for the composer. Before the "Testament" he was a composer/pianist. Afterwards, he would be exclusively a composer.
But not just any early 19th-century composer. He would be Beethoven. Specifically, he would be the Beethoven we now often think of, in somewhat hyperbolic terms, as a heaven-storming, tormented genius. He would be the spark that ignited the Romantic movement in music. It's an attitude towards music that waned in the early 20th century in the face of dogged attacks by serialists and others who seemed to regard music as more of a mathematical exercise than an effort in communication, but it never really died. Indeed, the first work on this weekend's program sounds unquestionably Romantic to my ears.
But I digress.
The important point is that the Symphony No. 3 marked the beginning of the emergence of Beethoven's unique compositional voice. His first two symphonies were clearly in the mold of Haydn and Mozart. But with the "Eroica," as Paul Munro writes in his program notes, "his music decisively shifted to a bold, strange new direction."
You can hear that boldness in the first two big E-flat major chords. They're almost like a pair of gauntlets thrown down to challenge established notions of what a symphony should be, and they set the pattern for not only the first movement, but for the rest of the symphony as well. Indeed as Christopher H. Gibbs writes in an essay for NPR, "[t]he motivic, metric, and harmonic surprises continue throughout this movement of such extraordinary length, unprecedented for its time."
The bold drama continues with the heroic funeral march of the second movement, the restless energy of the third movement scherzo, and the towering finale-a set of elaborate variations followed by a powerful coda. It clocks in at around fifty minutes, which no doubt seemed absurdly excessive to audiences accustomed to symphonies half that length. "One early critic," writes Welsh musicologist David Wyn Morris, "described it as 'a very long-drawn-out daring and wild fantasia' which, at least, reveals a response to its emotive power."
The finale is also a classic example of musical recycling. The theme that serves as the basis for the variations was originally part of a set of twelve "Contredanses" Beethoven wrote between 1791 and 1802. It seems to have been a favorite of his, popping up again in (among other places) his score for the 1802 ballet "The Creatures of Prometheus." Composer and writer Derek Strahan has suggested that Beethoven saw it as a "hero" theme. It certainly becomes heroic in the course of the final movement of the "Eroica."
Violinist and composer
Jessie Montgomery
One aspect of this weekend's "Eroica" that will sound different to many listeners, by the way, will be the size of the orchestra. Physical distancing requirements limit the number of musicians that can be on the stage at any one time, so this "Eroica" will be performed by an ensemble of 40. Modern orchestras typically are much larger, but as Maestro Denève point out in this week's program notes, "when the 'Eroica' was premiered, it was in a very small hall, with a very small orchestra." So this is a chance to hear the work is much the way the composer's contemporaries would have heard it.
The concerts will open with a piece that, although composed back in 2012, will probably be unfamiliar to most of you since this is its first local performance. It's "Starburst" by contemporary violinist and composer Jessie Montgomery. Originally composed for a nine-piece string ensemble (and first performed in the format by the Sphinx Virtuosi in Miami in 2012), it was later expanded by Jannina Norpoth into the chamber orchestra version we'll hear this week.
The composer describes "Starburst" as "a play on imagery of rapidly changing musical colors. Exploding gestures are juxtaposed with gentle fleeting melodies in an attempt to create a multidimensional soundscape." Now that I've had the chance to listen to it a few times, I'd describe it as a sparkling and thoroughly delightful sonic explosion that calls to mind musical depictions of fireworks by composers like Stravinsky and Debussy while still speaking in a sonic voice that is entirely Ms. Montgomery's own. It's "program music" in the best Romantic tradition and great fun. I look forward to hearing what the SLSO players do with it this week.
If you want to sample it yourself in advance, there's a recording of it by the chamber ensemble The Knights on YouTube that's hard to beat. The recording was produced entirely on line last month (September 20th) and includes a lively and informative post-performance chat with the composer and Knights violinist Christina Courtin, who is also a co-producer of the video.
The Essentials: Stéphane Denève conducts the St. Louis Symphony Orchestra in the first of two special chamber orchestra concerts this Thursday and Saturday at 7:30 pm, Friday at 11 am, and Sunday at 3 pm, October 15-18. The program, which will run about an hour with no intermission, consists of Jessie Montgomery's "Starburst" and Beethoven's Symphony No 3 ("Eroica"). Audience size will be limited to 100 for each performance and tickets can only be purchased by calling the SLSO box office at 314-534-1700. Only two tickets can be purchased per household.
Related Articles