Classical
Classical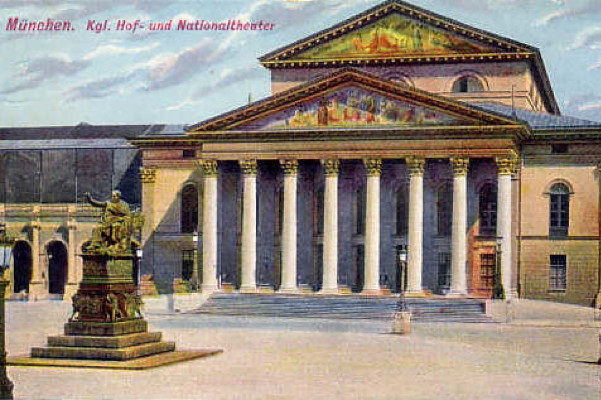 Symphony Preview: Where late the sweet birds sang
By Chuck Lavazzi
This weekend (Thursday through Saturday, October 22-24), Stèphane Denève conducts the St. Louis Symphony Orchestra (SLSO) in a concert of chamber works by Richard Strauss, contemporary Japanese composer Takashi Yoshimatsu, and Antonín Dvořák. It's a program that, in the words of Maestro Denève, "connects to our current world: there is a lot of anxiety, sadness, and division, and this music gives comfort to heal our souls. The complete orchestra appears, but not together—the strings play first, then winds."
Richard Strauss at age 74,
photographed in his garden at his country home
at Garmisch-Partenkirchen, Germany, in 1938
en.wikipedia.org
In that sense, it's rather like the way most of us are living now: physically distanced in our own social "pods," not quite together but not entirely apart.
The concerts open with a pair of works for strings that, although composed over fifty years apart in completely different parts of the world, will be played together as a single unit. The result is a lovely hybrid that touches both the mind and the heart.
The first work is Strauss's "Metamorphosen" for 23 solo strings, first performed in 1946 but written largely between August 1944 and April 12, 1945—a time period that coincided with the ignominious collapse of Hitler's "Thousand-Year Reich." The music is a nearly half-hour lament for the destruction Germany brought upon itself and particularly for the bombing of the National Theatre—the home of the Bavarian State Opera, Orchestra, and Ballet—by the allies in 1943. Beginning with a slow, ascending sigh in the lower strings (violas, cellos, and double basses), the work unfolds over the next 26 minutes or so in a series of hopeful, romantic climaxes that always fall back into an undercurrent of lamentation, like the pleasant memories returning in the moments before death that you hear in Strauss's "Death and Transfiguration" from nearly 60 years earlier. Towards the end, the composer quotes the Marche Funebre from Beethoven's "Eroica" (accompanied by the words "IN MEMORIAM!" in the printed score) before fading to a quiet, resigned conclusion.
If you want to get acquainted with it in advance, there's a recording on YouTube by Antoni Wit and the Staatskapelle Weimar with a synchronized display of the score—very useful for a work with as much counterpoint as this one.
Takashi Yoshimatsu
The quiet conclusion would normally be followed by applause, but in these concerts those final notes will be followed without pause by the gentle opening chords of Yoshimatsu's "And the Birds Are Still..." from 1998. Born in 1953, Takashi Yoshimatsu turned his back on serialism and other "avant garde" techniques, when those forms of modernism were dominant forces in music, and is now, according to his biography at Naxos Records, "regarded as the standard-bearer of Neo-Romanticism in Japan." Birds and their songs are an important source of musical and personal inspiration for Mr. Yoshimatsu, and you can hear that sense of airborne serenity in this work. On his web site, the composer writes that the work "came from an image of birds gathered around a dead comrade" and while that provides a link back to the Strauss's lamentation, the sonic world of "And the Birds Are Still..." is uplifting and soothing rather than funereal.
That makes it a perfect companion for the "Metamorphosen." "In his piece," observes Mr. Denève,"the sound of birdsong gives hope. The world has known many wars, many tragic events, but birds have sung all along." As someone who has been known to take comfort in the sounds of the many songsters attracted to our back garden (which my wife has made very bird friendly by her choice of plants and water features), I couldn't agree more.
But don't take my word for it. You can hear a performance of "And the Birds Are Still..." with a synchronized display of the score on YouTube. It's a lovely thing and well worth getting acquainted with in advance.
Antonín Dvořák, 1882 - This image comes from
Gallica Digital Library  and is available
under the digital ID btv1b8417521d,
Public Domain
To conclude the concert, the strings will clear the stage to make room for ten of the SLSOs wind players (two each of oboes and clarinets, two bassoons, a contrabassoon, and three horns), who will regale us with Dvořák's D-minor Serenade, Op. 44. Composed in only two weeks in January of 1878 (the first movement was completed in one day) just as the 37-year-old composer's career was taking off thanks to a helpful boost from Brahms, the Serenade is, its opening key not withstanding, a warmly cheerful piece. Dvořák was inspired to write it after hearing a Vienna Philharmonic performance of Mozart's Serenade No. 10, K. 371/370a, and while Mozart's influence is clearly audible, especially at the beginning of the Andante con moto third movement, the music is still quintessentially Dvořák.
What does that mean?  Well, the Moderato quasi marcia first movement is a jaunty march to which the minor key imparts an air of mock pomposity. It's like the village band dressing up in deliberately silly costumes and marching through the town square to kick off a festival. The Menuetto second movement is an obvious tip of the hat to Wolfgang Amadeus, but the opening section is more of a Czech sousedská than a minuet, and the zippy central section is obviously a whirling furiant of the sort that pops up often in Dvořák's music. The Andante con moto third movement opens with a tune so similar to the beginning of Mozart's Serenade that it comes close to imitation, but the dramatic central trio is typical of the unexpected sturm und drang that we hear in many of the Czech master's slow movements (the eighth and ninth symphonies are good examples). The finale wraps it all up with a lively polka-like dance with a recapitulation of the opening march that leads to a big, happy finish.
Originally composed for winds alone, the Serenade later got additional parts for double bass and cello (presumably to add more "bottom" to the sound), but this week we'll get the original version without strings. I expect that contrabassoon will give us all the bass notes we need.
The Essentials: Stéphane Denève conducts the St. Louis Symphony Orchestra in the second of a series of special chamber orchestra concerts this Thursday through Saturday at 7:30 pm with an additional performance on Friday at 11 am,  October 22-24. The program, which will run about an hour with no intermission, consists of Richard Strauss's "Metamorphosen" for 23 Solo Strings, TrV 290; Takashi Yoshimatsu's "And birds are still...," op. 72; and Antonín Dvořák's Serenade in D minor, op. 44. Audience size will be limited to 100 for each performance and tickets can only be purchased by calling the SLSO box office at 314-534-1700. Only two tickets can be purchased per household.
Related Articles