Classical
Classical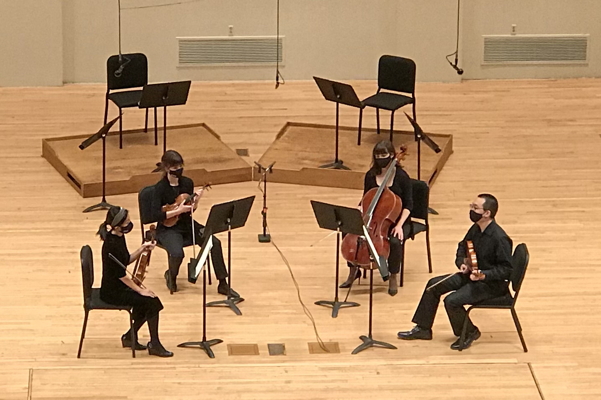 Review: Music for string quartet and octet bring the SLSO chamber music festival to a rousing close
By Chuck Lavazzi
The St. Louis Symphony Orchestra's (SLSO) chamber music festival concluded its second and final week on Sunday, November 8th, with a high-energy afternoon of music for string quartet and octet. The octet was an old favorite by Mendelssohn, while the quartets, by a pair of contemporary composers, could very well become audience favorites once they are better known.
[Find out more about the music with my symphony preview.]
L-R: Jessica Cheng, Asako Kuboki
Andrew Francois, Alvin McCall
perform "Leyendas"
The concert began with "Strum" by Jessie Montgomery, a violinist and composer whose colorful "Starburst" was the first piece to be played on the stage at Powell when it re-opened on October 15th. Like that earlier work, "Strum" bubbles over with exuberance. It's quick to engage your interest with what the composer calls "a kind of narrative that begins with fleeting nostalgia and transforms into ecstatic celebration."
It achieves that by employing a wide variety of techniques, as the string players pluck, strum, and bow in ways that call to mind everything from Appalachian folk tunes to guitar rock. As performed by violinists Xiaoxiao Qiang and Andrea Jarrett, violist Jonathan Chu, and cellist Jennifer Humphreys, it danced its way merrily and expertly off the stage and into the hearts of the physically distanced audience.
Next were three of the six movements of "Leyendas: An Andean Walkabout" by Gabriela Lena Frank, Composer-in-Residence with the Philadelphia Orchestra and a graduate of my alma mater, Rice University. Each movement is a kind of mini tone poem reflecting some aspect of Peruvian history or culture. "Chasqui" represented the titular Incan messenger runners with rapid runs and pizzicati suggesting fleet-footed speed. "Toyos" used gliding melodic lines interspersed with plucked strings to evoke the Andean panpipe. And "Coqueteos" paid homage to Peruvian troubadours known as "romanceros" with grand, sweeping gestures that suggested the open sensuality of the Argentinian tango. It made me think of the songs of Carlos Gardel or the bandoneón music of Astor Piazzolla, even though neither of them are Peruvian.
This time the quartet consisted of violinists Jessica Cheng and Asako Kuboki, violist Andrew Francois, and cellist Alvin McCall. Fine players all, they brought out all of the many moods of this music. I was sorry I couldn't hear them perform the entire piece.
The Mendelssohn Octet
The concert closed with Mendelssohn's Octet in E-flat major, op. 20, written when the composer was only 16 and nearly halfway through his life. It's a remarkable work in that it's scored for, essentially, a double string quartet and, although only around 30 minutes long, it's also music of symphonic proportions. Indeed, the composer said as much, insisting that it be played "in symphonic orchestral style. Pianos and fortes must be strongly emphasized."
They certainly were all of that in a dynamic and well-balanced performance that allowed solo lines to be plainly heard while still projecting all the required power in the large ensemble moments. The big first movement—the most ambitiously symphonic of the four—was a model of clarity. The flowing Andante second movement was beautiful, the third movement Scherzo flew like the spirits inGoethe's Faust that inspired it, and the Presto finale crackled with energy.
Special applause is due Xiaoxiao Qiang in her performance of the difficult first violin part. Mendelssohn wrote it as a tribute to his violin teacher Eduard Rietz, and to judge by the demands it makes on the soloist, Rietz must have been a fiddler of great skill and stamina. Ms. Qiang displayed  plenty of both in her powerful and highly committed performance.
The SLSO's chamber music festival is over but the new fall program continues through November 21st. Audience size for all these concerts is limited to 150 for each performance, and tickets can only be purchased by calling the SLSO box office at 314-534-1700. Only two tickets can be purchased per household. Information on the SLSO's COVID-19 safety protocols is available at the orchestra's web site.
Related Articles