Classical
Classical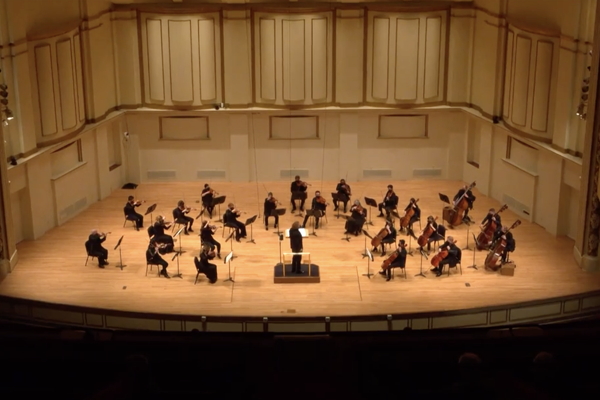 Review: A message of hope opens the St. Louis Symphony's digital season
By Chuck Lavazzi
The pandemic forced the St. Louis Symphony to cancel its regular season but for one brief shining moment last fall they were able to present chamber music concerts in Powell Hall by operating at less than 3% capacity and instituting strict health measures. The experiment had to be called off in November when COVID-19 cases began to rise again, but not before a large number of concerts were presented and recorded in HD audio and video.
Stéphane Denève conducts the SLSO strings
The symphony is now offering six of those recordings for on-demand streaming through May 22nd, beginning with a program of works by Richard Strauss, Takashi Yoshimatsu, and Dvořák originally performed last October 22nd through 24th. The theme of the concert,  as Music Director Stéphane Denève notes in his opening remarks, is a message of mourning followed by one of hope. Given the current state of the world at large and our nation in particular, that feels very apt.
The concert opens with Ricard Strauss's "Metamorphosen" for 23 solo strings a work written in the wake of the destruction Germany brought upon itself during World War II.
The prevailing mood is one of lamentation, although there are moments of near-joy and even hope, including some glorious passages for the entire ensemble rendered with stunning power and beauty by the SLSO strings, but in the end the work fades to a quiet, resigned conclusion.
Spread out across the full width of the Powell Hall stage,  the 23 string players create a clear web of sound in which the individual musical lines were clearly audible and easy to follow. Primary credit for that resplendent result goes to the skill of the musicians in the string section and to Maestro Denève's masterful command of Strauss's intricate musical structure.
The next piece, played without a pause, is Takashi Yoshimatsu's "And the Birds Are Still..." from 1998. At only 8 minutes it's short but packs a lot of striking imagery into that brief period.  To my ears, it sounds like a day in an avian friendly garden, with awakening birds suggested by the violins playing soft triplet motifs over a drone in the lower strings that conjures up images of a world slowly emerging from sleep. Combined with the Strauss, it all adds up to an ultimately blissful 35 minutes or so that provides a welcome respite from the madness that dominates our media these days.
Stèphane Denève conducts the SLSO winds
The concert concludes with a nuanced and good-humored rendition of Anton Dvořák's D-minor Serenade, Op. 44. Composed in only two weeks in January 1878 just as the 37-year-old composer's career was taking off, the Serenade is a warmly cheerful piece. Mr. Denève highlights and enhances the work's good cheer without neglecting its more poetic moments.
I saw and reviewed this concert for KDHX last October.  Revisiting it now on a 4K HDTV with a surround sound system, I found myself thoroughly impressed by the audio and video quality. The videography, in particular, adds a lot to the experience, with close-up views of Maestro Denève and the musicians that simply aren't available at a live performance. The video includes short but enlightening introductory remarks by Maestro Denève.
If the rest of the concerts in this series keep up that same level of technical excellence—and there's no reason to assume they won't—I'd recommend subscribing to the series even if you managed to catch them all live the first time around. And if you missed them, this is the next best thing to having been there.
This video of the October 22-24 concert runs just over one hour and is available through February 27th. More information is available at the SLSO web site.
Related Articles