Classical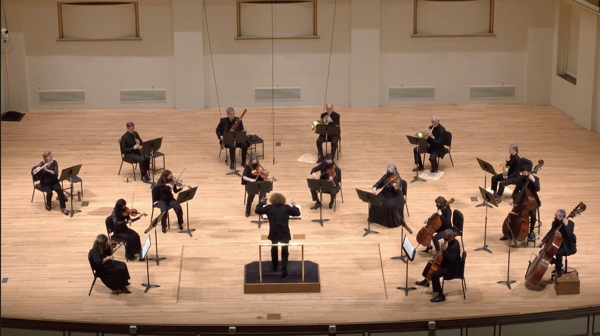 Review: Musical light from the darkness in the St. Louis Symphony digital series
Written by

Chuck Lavazzi
The pandemic forced the St. Louis Symphony Orchestra (SLSO) to halt its 2020 season last spring. Last fall they were able to resume concerts in Powell Hall by enforcing small houses and strict health measures. A local rise in COVID-19 cases forced them to cancel public performances of the last two concerts, but the SLSO performed them as scheduled to a house empty of everyone except the audio and video techs.
Stéphane Denève conducts Stravinsky
The resulting digital concerts are being offered on demand at the SLSO web site. The program from last November 13th and 14th went live on March 11th, and it's a winner on all counts, with SLSO Music Director Stéphane Denève leading the band in superb renditions of music by Russian composers Igor Stravinsky and Pyotr Tchaikovsky and Pulitzer Prize-winning African-American composer George Walker, who died at the age of 96 in 2018.
The concert opens with the "Dumbarton Oaks" concerto by Stravinsky. Written on commission for Robert Woods Bliss and Mildred Barnes Bliss and first performed at a private concert at their Dumbarton Oaks estate, this chamber concerto is a sprightly and cheerful homage to the Brandenburg Concertos of Bach in general and the third concerto in particular.
The lighthearted tone of the piece hides a sad truth, though. The year before its 1938 premiere, Stravinsky's wife and eldest daughter died of tuberculosis—the same disease that would put the composer in the hospital for five months and prevent him from conducting that first performance. It's a reminder of how little correlation there can be between a composer's life and their work.
Because the piece is scored for only 16 musicians, it demands prodigious playing from all concerned, and the that's exactly what Stravinsky's music gets in this exemplary performance. Even the most rhythmically tricky passages are crystal clear and Maestro Denève's interpretation bubbles with piquant energy.
The concerto asks a lot of the solo wind players—flute, clarinet, and bassoon—if only because they are solo parts and therefore more visible. They're done with real elan here by Jennifer Nichtman, Scott Andrews, and Andrew Cuneo, respectively. The multi-camera videography lets the viewer get close enough see their expertise as well as hear it.
Stéphane Denève conducts the SLSO strings
Up next is Walker's "Lyric for Strings". Inspired by the death of the composer's grandmother, the piece is both elegiac and uplifting. The ethereal beauty of the strings combines with Maestro Denève's conducting to produce an intensely moving experience.
The orchestra also has an impressive version of Walker's "Lyric" for a chamber ensemble of nine players on their YouTube channel as part of the "Songs of America" series. Former SLSO resident conductor Gemma New conducts that one, which was recorded at the Soldier's Memorial downtown.
The concert concludes with Tchaikovsky's popular Serenade for Strings in C major, Op. 48. Inspired by the composer's love of Mozart, the Serenade mixes elegance, melodic beauty, and more than a touch of melancholy, especially in third movement Élégie.
Stéphane Denève's nuanced interpretation, with the wide dynamic and expressive range I have come to expect from him, does full justice to Tchaikovsky's many moods. The famous Valse second movement was delightfully graceful and romantic, and the crackling energy of the final movement would surely have guaranteed a standing ovation, had there been an audience present.
The St. Louis Symphony Orchestra's irresistible mix of Stravinsky, George Walker, and Tchaikovsky runs just over one hour and is available on demand through April 10th. For information on the rest of the SLSO's digital series as well as the new spring series of live concerts: slso.org.
Related Articles