Classical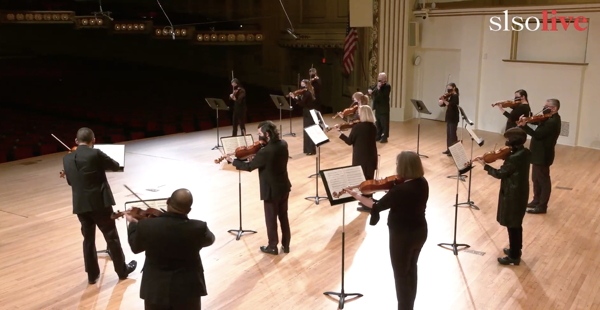 Review: Live from Powell Hall, it's SLSO Sunday Afternoon (and a jolly one)
Written by

Chuck Lavazzi
When the pandemic shut the doors at Powell Symphony Hall a year ago, the St. Louis Symphony Orchestra (SLSO) was quick to enhance its presence on the Internet, not only with informational and educational videos, but also with projects like its "Songs of America" music video series. The orchestra has also created a digital video concert series, which will run parallel with its new series of live concerts this spring.
The live and digital worlds came together on Sunday, March 14th, when the SLSO presented an hour of music by Prokofiev, Mozart, and Richard Strauss as reimagined by violinist/composer Franz Hasenöhrl performed in and live-streamed from an audience-free Powell Hall. It was a program in which wit and good cheer were the order of the afternoon, along with some fine musicianship.
Mozart Divertimento
That was most apparent in the two small-group pieces that opened the concert, beginning with Richard Strauss's "Till Eulenspiegels lustige streiche" ("Till Eulenspiegel's Merry Pranks") retooled and retitled "Till Eulenspigel, einmal anders!) ("Till Eulenspiegel Another Way!)". Cut to half its original length and reorchestrated for five players, Hasenöhrl's work is rather like viewing Strauss's big, splashy original through the wrong end of a telescope. Still, all the snarky, rambunctious fun of the original survives intact, even if it does create a real workout for the five musicians.
The players were up for it, though. Associate Principal Second Violin Kristin Ahlstrom and bassist Sarah Hogan Kaiser impressively represented the entire string section while clarinetist Ryan Toher, horn player Victoria Knudtson, and Principal Bassoon Andrew Cuneo carried the flag for the winds. Ms. Knudtson knocked the infamously difficult opening solo right out of the park, while Mr. Toher and Mr. Cuneo turned in equally praiseworthy performances of their many solo passages.
Up next was Prokofiev's Quintet in G minor, op. 39. Written in Paris in 1924, this music was originally intended as the score for "Trapeze," a circus-themed ballet that was to be performed by a dance troupe of fellow Russian émigrés. The ballet never happened, but you can hear more than a hint of the Big Top in what Second Associate Concertmaster Celeste Golden Boyer, in her spoken introduction with Principal Clarinet Scott Andrews, called the "technical acrobatics" of the score.
There are times, especially in the second and fourth movements of this six-movement work, when the music turns wistful, grim, and even a bit creepy, but on the whole the Quintet is all bright lights, greasepaint, and reckless abandon. It was fun to hear, and fascinating to watch as the performers did, indeed, execute some musical high-wire acts. At one point the camera zoomed in on Ms. Boyer's fingers rapidly dashing up and down the strings; at another you could see Principal Bass Erik Harris working at the extremes of his instrument's range. Mr. Andrews, Cally Banham (on oboe rather than her usual English horn), and violist Shannon Farrell Williams provided copious amounts of dazzling moments as well.
Violist Jonathan Chu
The most thoroughly jolly work was saved for the end. Mozart wrote his Divertimento in D major, K.136, when he was only 16—"probably," as SLSO Communications Manager suggests in her program notes, as "party music for the nobility of Salzburg, where he was concertmaster of the court orchestra." If so, it surely served its purpose well.
With just three short, eminently danceable movements and a running time of around 11 minutes, the Divertimento would be easy to shrug off as high-end background music (which, for its original audience, it probably was) but, as John Mangum writes in program notes for the Los Angeles Philharmonic, its thoroughgoing craftmanship actually makes it "a fine example of Mozart's ambitious work in a genre traditionally designated as 'light' music."
It certainly got a polished and highly animated reading by the ensemble of 19 members of the symphony strings. As would have been the case back in Mozart's day, there was no conductor. Instead, the members of the ensemble took their cues from (if memory serves) first violinist Jessica Cheng, with admirable results.
I don't know whether or not the SLSO's digital livestream concert was a "one off" event or a trial balloon for future real-time concert streams. It was, in any case, well up to the high technical and artistic standards that have been set by the rest of the orchestra's online projects. More information on these as well as on the spring live Powell Hall concert series is available at the SLSO web site.
Related Articles