Classical
Classical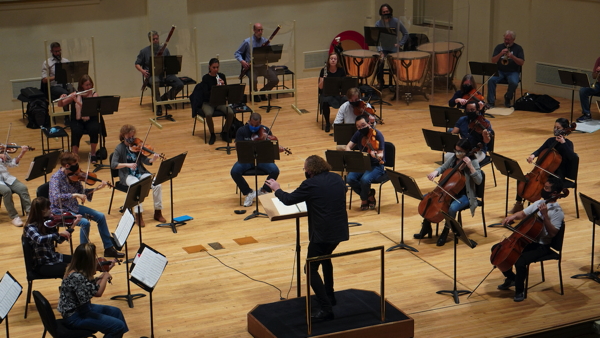 Symphony Preview: Against the fall of night
By Chuck Lavazzi
This weekend (March 26-28) the St. Louis Symphony Orchestra (SLSO) returns to live concerts at Powell Hall in a format very similar to the one they employed last fall. Details are available at the SLSO web site, but essentially it means a smaller, physically distanced audience and shorter programs with an emphasis on smaller ensembles.
Under the direction of Music Director Stéphane Denève, this weekend's program takes you on a musical journey from Bach's energetic Concerto for Two Violins in D minor, BWV 1043, to the contemplative "Vesper" by contemporary Estonian composer Ester Mägi and the carefully calibrated silences of the "Cantus in memoriam Benjamin Britten" by her fellow Estonian Aarvo Pärt, to Shostakovich's dark night of the soul, his "Chamber Symphony."
Stéphane Denève conducting the SLSO
"At this time," observes Maestro Denève in the program notes, "we need to have space to think, to meditate on loss, on life." That means there will be some sad songs sung. But that doesn't mean the music this week is all about lamentation. Far from it, in fact.
The Bach concerto that opens the concert, for example, is anything but sad, despite being in a minor key. Its first and third movements deliver what Richmond Symphony violinist Richard Judd calls a "high octane contrapuntal conversation" between the soloists in the former and "a snarling and playful game of musical 'tag'" in the latter that "explodes with ferocious, unrestrained energy." The Largo ma non tanto second movement slows things down, but the ambience is romantic rather than elegiac, as though the soloists were singing a love duet.
Those solo roles this weekend will be filled by two of the SLSO's own: Associate Principal Second Violin Kristin Ahlstrom and the orchestra's new Assistant Conductor, Stephanie Childress, who began her professional life as a violinist before moving to the other side of the podium. They'll have their work cut out for them, as you can tell by watching one of the many videos of Bach's concerto available at YouTube. Personally, I rather like this one by the Netherlands Bach Society.
Kristin Ahlstrom
Mägi's "Vesper" isn't particularly sad either. Scored for string orchestra, the piece is an ecstatic evocation of the sacred choral music of the Renaissance on the order of Vaughn Williams's "Fantasia on a Theme of Thomas Tallis," complete with an elaborate violin solo that soars like an individual voice above the choir. "I miss our Symphony Chorus," Maestro Denève reflects, "and our performance of 'Vesper' highlights the missing voices in our hall."
The feeling of loss begins to appear in Pärt's "Cantus in memoriam Benjamin Britten" for string orchestra and tubular bells. As the composer writes in his notes for the music, he had just begun to discover Britten's work when the English master died in December 1976:
Just before his death I began to appreciate the unusual purity of his music I had had the impression of the same kind of purity in the ballads of Guillaume de Machaut. And besides, for a long time I had wanted to meet Britten personally and now it would not come to that.
The "Cantus" is a brief (around 6 minutes) but intense outpouring of emotion that begins with the soft tolling of a bell and gradually builds to a massive final chord that is cut off abruptly, allowing the work to end with the last toll of the bell decaying into silence. Like much of Pärt's music, it suggests something ancient, timeless, and not fully explicable in words. You're better off just watching the 2010 London Proms performance by the BBC Symphony under Edward Garner.
Lamentation reaches its apotheosis in Shostakovich's "Chamber Symphony," Op. 110a. The work is an orchestration by violist Rudolf Barhsai of Shostakovich's 1960 String Quartet No. 8, Op. 110, done with the composer's full approval. Written in Dresden, when the city had yet to fully recover from the devastation of World War II, the quartet carries a dedication "to the memory of the victims of fascism and war," but as Phillip Huscher relates in notes for the Chicago Symphony the composer told a different story in a letter to his lifelong friend, the Leningrad literary critic Isaak Glikman:
I've been thinking that when I die, it's hardly likely that anybody will ever write a work dedicated to my memory. So I have decided to write one myself. The dedication could be printed on the cover: "Dedicated to the memory of the composer of this quartet."
Dmitri Shostakovich
Indeed, the composer want so far as to return from Dresden with a bottle of sleeping pills, talked openly of suicide, and referred to the Eighth Quartet as his last work. Fortunately for both the composer and posterity, the depression passed, and Shostakovich would continue to write until his actual death in 1975.
To anyone familiar with Shostakovich's music, the autobiographical intent is hard to miss, as there are multiple quotations from earlier works (most notably the First Cello Concerto) and frequent appearances by the composer's four-note "signature": D, S (E-flat in German notation), C, H (B natural). The sequence spells the first four letters of the composer's name in German: D. SCHostakowitsch. It's music of anger, despair, sarcasm, and finally, a kind of resignation. And it packs a big emotional punch, as you can hear in a livestreamed performance by the New England Conservatory Philharmonia last fall.
"People wonder why we play sad music," says Maestro Denève. "As humans we have the power for compassion—music can be like a river of tears that carries painful feelings away." Given the way compassion has been devalued and even despised by some in our nation today, I'd say that a dip in that river is long overdue.
The Essentials: Stéphane Denève conducts the St. Louis Symphony Orchestra in music by Bach, Mägi, Pärt, and Shostakovich Friday and Saturday at 7:30 pm and Sunday at 3 pm, March 26-28. The concerts take place in Powell Symphony Hall in Grand Center. Only 300 tickets will be sold for each concert. For more information, visit the SLSO web site.
Related Articles