Classical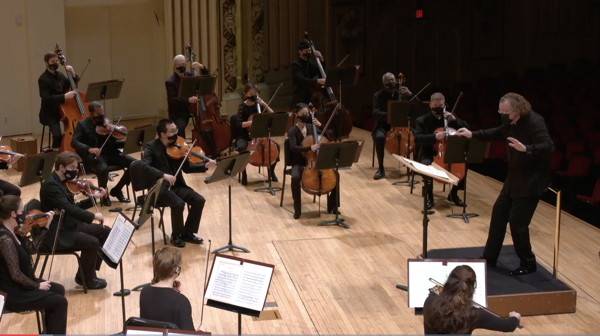 Review: The SLSO string section gets to the heart of the matter in a richly romantic digital concert
Written by

Chuck Lavazzi
The title of the fifth concert in the on-demand video series by the St. Louis Symphony Orchestra (SLSO), "The Heart of the Matter," reflects not only the powerful emotional content of the four short works for strings that make up the program, but also the fact that the string section is often regarded as the heart of the orchestra. Under the baton of Music Director Stéphane Denève, that heart beats with real passion in this concert, which is available through May 8th.
[Find out more about the music with my symphony preview.]
The concert opens with Elgar's "Serenade in E minor," Op. 20.  With two dance-like movements bracketing a sweetly amorous Larghetto, the "Serenade" was inspired by the composer's love for his wife Alice. The string sound is rich and warm, and Maestro Denève's interpretation brings out all the sweeping romance in Elgar's music. The Larghetto is an especially attractive mix of sentiment and nobility while the opening and closing movements gambol trippingly on the bows of the SLSO strings.
Stéphane Denève conducts the SLSO strings
Next is Tchaikovsky's "Andante Cantabile." Originally the second movement of his 1871 String Quartet No. 1, it was so touching that it soon had a life of its own as a work for string orchestra. Mr. Denève's take on it allows the composer's irresistibly melodic score to speak for itself, without either downplaying or overstating its lush Romanticism. Perhaps best known in an arrangement for solo cello with either piano or orchestral accompaniment, it works every bit as as well as an ensemble piece that, like the Elgar, shows off the rich sound of the SLSO string section.
The second half of the concert features what Mr. Denève, in his spoken comments, describes as a pair of "beautiful meditations on loss, love, and life." It begins with Puccini's 1890 "I Crisantemi" ("The Chrysanthemums"). Written in a single night in response to the news of the death of a close friend, this brief, beautiful work gets a typically nuanced reading from Mr. Denève and the band.
The concert concludes with Anna Clyne's "Within Her Arms." Like Puccini's "Crisantemi," it was composed in just 24 hours in response to news of a death—in this case, the passing of Ms. Clyne's mother in 2009. It begins with a soft, despairing sigh that slowly builds to a mix of anguish and even anger. About two-thirds of the way through, there's an abrupt break, like a pause for breath, followed by something that sounds like acceptance.
The scoring for 15 strings means that each individual player can be clearly heard, so there's no room for error. And there aren't any in this performance, which reaches out and grabs you by the heart, not letting go until the tranquil final notes. Assistant Concertmaster Erin Schreiber and her characteristic red violin lead the way here with some fine solo lines, but everyone in this ensemble is top notch.
In his comments, Maestro Denève asks why we enjoy listening to sad music these days. The reason, he suggests, is that works like "I Crisantemi" and "In Her Arms" "speak to that astounding capability that makes us all human, the power of compassion." If so, perhaps we need to hear a lot more sad songs these days, since our nation and, indeed, or world seem desperately in need of a compassion upgrade.
Performed and recorded at Powell Hall last November 20th, The St. Louis Symphony Orchestra's "Heart of the Matter" concert was originally intended to be performed for a live audience, but a rise in COVID-19 cases obliged them to perform without one. It runs around 45 minutes and is available on demand through May 8th. Information on upcoming SLSO concerts, both live and on-demand, is available at the orchestra's web site.
Related Articles