Classical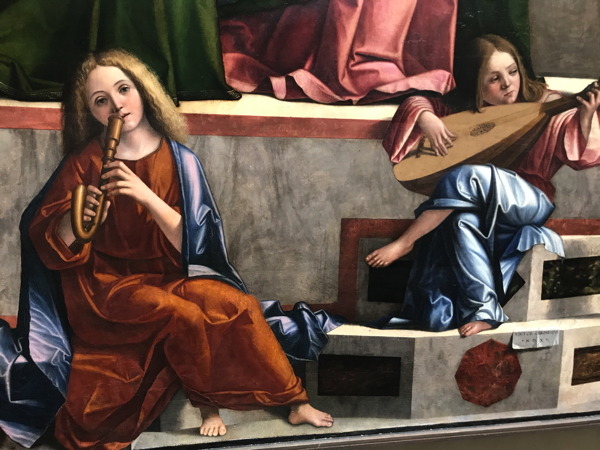 Symphony Preview: Spring songs, old and new
Written by

Chuck Lavazzi
This weekend (April 16-18) St. Louis Symphony Orchestra (SLSO) Assistant Conductor Stephanie Childress returns to the podium to lead the orchestra in yet another program of springtime music, from an animated 18th-century overture to an early 20th century suite based on courtly dances from the 16th and 17th centuries.
Boccherini by Pompeo Batoni -
Public Domain, Wikipedia
The concert opens with the local premiere of the Overture in D major, written in 1790 by Italian-born virtuoso cellist and composer Luigi Boccherini. Despite its brevity (around 5 minutes or so), it's sometimes referred to as a "sinfonia" because it consists of three interconnected movements played without pause:  Allegro con molto spirito, Andantino, Allegro come prima.
The opening and closing movements are essentially identical: lively (if not downright brash) with prominent parts for the winds. Which, in this case, means two oboes, two horns, and a bassoon. The middle section is more tranquil and could easily be an operatic aria. It's a pretty jolly way to start the proceedings, in any case. If you'd like to check it out in advance, Richard Egarr and the Academy of Ancient Music have a fine one for you on YouTube, performed on period instruments.
Boccherini is not an "A-list" composer, so if his name is familiar to you at all, it's likely because of the extremely popular minuet from his String Quintet in E, Op. 11, No. 5 or his  Cello Concerto in B flat major. My own favorite (if less well known) Boccherini work is his Guitar Quintet No. 4 in D. This piece has a bouncy fandango final movement that includes parts for castanets and a sistrum, a kind of rattle that dates back to ancient Egypt—which must have raised some eyebrows back in the late 18th century. His 1780 "La Musica Notturna delle Strade di Madrid" ("Night Music of the Streets of Madrid") is also worth a listen, reflecting as it does the many years he spent in Spain.
"But I digress," as Tom Lehrer would say.
The concerts continue with something that will probably be more familiar, the Sinfonia concertante in E-flat major for Violin, Viola, and Orchestra, K. 364, by Mozart. Written when the composer was touring Europe in 1779, the work is generally considered to be Mozart's most successful experiment in this form, which is essentially a symphony with a group (a pair, in this case) of instrumental soloists.
In writing a sinfonia concertante, Mozart was tapping into a popular trend. A Classical-era version of the Baroque concerto grosso, it was, as Tim Munro writes in his program notes, "all the rage" in Mannheim, where composers of the "Mannheim school" were cranking them out. The form also attracted the attention of both Haydn and J. C. Bach (one of Johann Sebastian's many composing sons). The former  wrote a 1792 sinfonia concertante that was a major hit in London while the latter, who also spent a good deal of time in the English capitol, wrote eighteen of them.
Mozart's contribution is much admired for the way it gives equal prominence to both of its solo instruments, the violin and the viola. Mozart was, as Thomas May writes in program notes for the Los Angeles Philharmonic, "an excellent violinist [who] loved to play viola in string quartet ensembles, enjoying the perspective of being 'in the middle.'" It's fortunate, then, that this weekend's soloists are not strangers brought together for the event but rather members of the SLSO: violinist Xiaoxiao Qiang and violist Shannon Farrell Williams.
That seems especially appropriate when you consider the way New York Philharmonic program annotator James M. Keller described the Presto final movement:
For a moment we are transported to the drawing room of an 18th-century aristocrat. The conversation is clever and cultured, but suddenly all heads turn as one of the assembled eminences—a Voltaire, perhaps, or a Franklin—imparts an observation that towers above the surrounding babble, and then brings the proceedings back to earth with an irrepressible chortle.
If you're going to have irrepressible chortles, you probably want them coming from folks who know each other, right? Anyway, if you want to eavesdrop on their party, there is a plethora of good performances on YouTube. I rather like this one by the New York Classical Players because of the sheer energy of the interpretation.
Respighi and Claudio Guastalla in 1932
by Archivio Storico Ricordi,
CC BY-SA 4.0, Wikipedia.org
The concerts conclude with the last of the three "Ancient Airs and Dances" suites by Ottorino Respighi. Although known for his trio of blockbuster tone poems celebrating his adopted city of Rome, Respighi wrote a wide range of music, including transcriptions of the works of Italian composers from the 16th, 17th, and 18th centuries. The "Ancient Airs and Dances" collections fall into that latter category, consisting of orchestrations of works originally written for that most intimate of string instruments, the lute.
Written over a period 14 years, the suites cover a lot of emotional territory. The third suite, which dates from 1931 (two years before Respighi stopped composing and five before his death), is the most dramatic and even melancholy of the three, and the only one written for string ensemble. The four movements and their sources, as given in the score, are as follows:
1. Italiana (Anonymous: Italiana (Fine sec. XVI) – Andantino): This is a combination of two galliards—the anonymous "Italiana" and "La Cesarina" by the 16th century Italian lutenist and composer Santino Garsi da Parma. The galliard was a lively dance, often paired with the more sedate Pavane. Respighi makes the entire movement rather stately.

2. Arie di corte (Jean-Baptiste Besard: Arie di corte (Sec. XVI) – Andante cantabile – Allegretto – Vivace – Slow with great expression – Allegro vivace – Vivacissimo – Andante cantabile): Yes, there are a lot of tempo indications and swift changes of mood here, mostly because this is a mashup of six "Airs de cœur" (love songs) written and/or collected  by the Burgundian lutenist/composer/anthologist Jean-Baptiste Besard  in his 1603 lute compilation "Thesaurus harmonicus." That far back in history, it's not always clear who was the composer and who was the collector.

3. Siciliana (Anonymous: Siciliana (Fine sec. XVI) – Andantino): As lutenist Paul O'Dette writes in the notes for his excellent collection of the original tunes Respighi adapted for his three suites, this piece was "commonly known as Spagnoletta throughout seventeenth-century Italy and Spain. Numerous settings of it survive for lute, guitar and various ensemble combinations." Respighi's transcription gives the tune an emotional range not present in the original.

4. Passacaglia (Lodovico Roncalli: Passacaglia (1692) – Maestoso – Vivace): The passacaglia is a dance based on a series of variations on a simple tune. Baroque giants like Bach used it as the foundation for massive examples of musical architecture, but even in its original form for Baroque guitar this one, from Count Ludovico Roncalli's 1692 "Capricci Armonici," covers a lot of expressive territory. "The wide variety of strumming and plucking techniques employed by Roncalli," notes Mr. O'Dette, "is mirrored by Respighi's colourful orchestration."
OK, maybe that's more than you really needed to know about this lovely work, which runs under 20 minutes. But I found it fascinating to hear the performances of the originals by Mr. O'Dette and his fellow musicians juxtaposed with Respighi's transformations. It gave me an added degree of insight into just how ingenious he was in his arrangements, while still respecting the originals. There's a fine performance of Respighi's work by the Chamber Orchestra of New York on YouTube if you want to make the comparisons yourself, since the link to the album by O'Dette and company includes excerpts of each track.
The Essentials: Stephanie Childress conducts the St. Louis Symphony Orchestra and soloists Xiaoxiao Qiang (violin) and Shannon Williams (viola) in Boccherini's Overture in D major, Mozart's Sinfonia concertante, and Respighi's "Ancient Airs and Dances," Suite No. 3. Performances are Friday at 11 am, Saturday at 7:30 pm, and Sunday at 3 pm, April 16-18, at Powell Hall in Grand Center. Only 300 tickets will be sold for each performance and strict health protocols will be in place. For more information, visit the SLSO web site.
Related Articles