Classical
Classical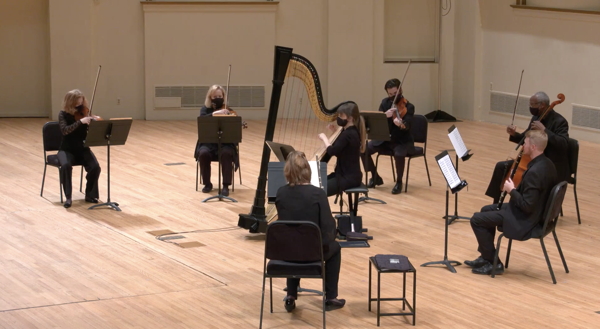 Symphony Digital Review: Members of the SLSO deliver the intimate joys of a mostly-French chamber music concert
By Chuck Lavazzi
Mostly French and mostly featuring music for flute and harp, the latest St. Louis Symphony Orchestra (SLSO) digital concert was recorded with a live audience at Powell Hall last fall. It's available for on-demand streaming at the SLSO web site through May 22.
[Find out more about the music with my symphony preview.]
L-R: Jennifer Nitchman, Chris Tantillo,
Allegra Lilly
It opens with a virtuoso performance by SLSO Second Flute Jennifer Nitchman of "Reflections" for solo flute by the late American composer and flutist Katherine Hoover. A series of variations on a Norwegian folk melody based on the composer's own improvisations, it's an episodic piece that uses the full dynamic and tonal range of the flute. This isn't flashy music, but it demands a high level of skill nevertheless. Ms. Nitchman does a flawless job capturing the work's "high lonesome" sound and meeting its challenges.
Up next is Debussy's 1915 Sonata for Flute, Viola, and Harp. It comes from a difficult time late in the composer's too-brief life when his personal and professional fortunes were a bit rocky. Given the turbulence of the life of its composer, it's perhaps not surprising that this is a work that, as Ms. Nitchman says in her spoken introduction, displays "lots of different moods and characters."
This is elusive, evanescent music with many shifts, changes, and pauses that require close communication among the musicians. Thanks to the intimate videography, you can see as well as hear that happening among the members of the ensemble who are, in addition to Ms. Nitchman, Principal Harp Allegra Lilly and violist Chris Tantillo. Ms. Nitchman says she loves this work. Judging from the quality of the performance, her fellow musicians seem to agree.
Allegra Lilly
Aside to whoever did the closed captions: the composer is Claude Debussy, not Clause Bedussy (whoever that might be). Just saying.
Ms. Lilly is in the spotlight next for the delightful 1953 Sonata for Harp by the unjustly neglected Germaine Tailleferre, the only female member of the group of French anti-Romantic composers known as "les six." Written for the famed Spanish harpist Nicanor Zabaleta, Tailleferre's Sonata is such a consistently entertaining and appealing work that I'm a bit surprised it's not better known. Lively, inventive, and melodically rich (including a little four-note motif towards the end that will make you think of either "merry Christmas" or "meet the Flintsones"), it is, past question, a real gem.
Ms. Lilly's expert performance gives that gem a brilliant polish. The opening Allegretto brims with bucolic joy, the Lento sways gently like a berceuse, and the Perpetuum mobile finale bubbles along like a champagne fountain.
L-R: Jennifer Nitchman, Ryan Toher
Allegra Lilly, Eva Kozma, Rebecca Boyer Hall,
Chris Tantillo, Alvin McCall
Here, again, videography adds an extra dimension to the experience, allowing one to see clearly the intimate dance that takes place between Ms. Lilly's hands and the instrument's strings while her feet work the pedals. A lot of effort goes in to producing that liquid sound we're used to hearing, but one rarely gets to see it from Powell Hall's seats.
The concert ends with Ravel's 1905 "Introduction and Allegro" for flute, harp, clarinet, and string quartet. It's a deservedly popular piece, with a short languorous introduction that quickly makes way for a lilting waltz theme, which in turn goes through some inventive melodic and harmonic changes. Ms. Nitchman, Ms. Lilly, and Mr. Tantillo are joined here by violinists Eva Kozma and Rebecca Boyer Hall, Ryan Toher on clarinet, and cellist Alvin McCall for the kind of elegant, vivacious performance that Ravel would probably have loved.
In her spoken introduction, Ms. Lilly points out that one of the remarkable things about the "Introduction and Allegro" is that way it shifts back and forth between a harp concerto and an integrated chamber piece. The performance by this fine septet deftly balances those two aspects of Ravel's writing
The St. Louis Symphony's mostly French chamber concert runs around an hour and is available on demand through May 22nd. Its considerable attractions are of the small, intimate variety, which makes the program ideal for the digital video format, with its ability to put the viewer right in the midst of the music. For information on this and other live and digital SLSO concerts, visit the SLSO web site.
Related Articles