Classical
Classical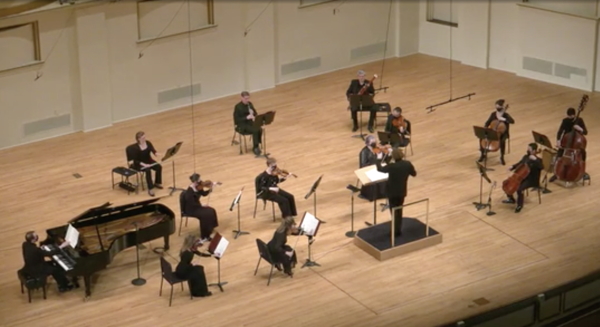 Symphony Digital Review: Franco-American fun with Denève and the SLSO
By Chuck Lavazzi
Through August 14th, the St. Louis Symphony Orchestra is offering on-demand video of a program originally performed live on April 1st through 3rd, 2021. Consisting of music by Aaron Copland, Arthur Honegger, and Camille Saint-Saëns, it offers what SLSO Music Director Stéphane Denève describes in his introductory comments as "music of rebirth, of sunrise, nature, expressing the hope of spring."
[Find out more about the music with my symphony preview.]
Appalachian Spring
As COVID-19 infections soar along with the temperature and humidity, that hope seems a bit more distant than it once did, but even so it's impossible not to come away from this inspiring and enchanting concert without a bit of hope and even joy.
The program opens with 1970 suite from Aaron Copland's 1944 ballet "Appalachian Spring," which sounds like it ought to be seasonal but actually isn't. When Copland began the score, his working title was simply "Ballet for Martha" because all he knew was that he was writing a ballet for legendary dancer/choreographer Martha Graham. "I was really putting Martha Graham to music," he would later recall. "I wasn't thinking about the Appalachians or even spring."
This is, in any case, music that is direct and uncomplicated in its appeal, telling the simple story of a young couple in rural Pennsylvania starting their life together and building their home with the help of their neighbors and the local preacher. Originally scored for a 13-member chamber ensemble, the ballet was arranged for full orchestra by the composer in 1954. Copland returned to his original scoring for his 1970 suite, and that's the version presented here.
The smaller ensemble loses none of the poetic appeal of the original, but it does put a lot more pressure on the individual players to be at their best. This is especially true of the wind section, consisting of only one bassoon (Principal Andrew Cuneo), one clarinet (Principal Scott Andrews), and one flute (Jennifer Nitchman). The three of them are frequently featured, both individually and as a trio, and Nitchman has an especially moving solo at the end. The last thing you hear is the sound of her flute, hanging in the air like a small bird before it glides off into silence; it's a transcendent moment, and Denève allows that silence to linger just long enough to keep it that way.
Pastorale d'été
Add in the flawless playing of the small string section and pianist Peter Henderson, and you have a pristine rendition of what Maestro Denève describes as "a poetic vision of an America of additions, open to all with humility and grace." We're a long way from ever achieving that, but at least a performance of the "Appalachian Spring" suite of this quality reminds us that we once had that dream, and not really all that long ago.
Up next is Arthur Honegger's "Pastorale d'été" ("Summer pastoral"). Composed in and inspired by a 1920 summer vacation in the Swiss Alps, it powerfully evokes the misty languor of a mountain sunrise, complete with shimmering strings, avian twittering from the flute, and a long, sensuous melodic line from the horn and oboe. Maestro Denève's description of it as "an undeservingly rarely performed piece" is right on the money; it is, to quote the old Robert Palmer song, "simply irresistible."
Principal Horn Roger Kaza brings a balmy warmth to his opening solo, segueing neatly to Xiomara Mass's limpid oboe line. The strings are radiant, and the entire performance radiates the kind of grace and subtlety that characterizes so much of Maestro Denève's work.
The concert concludes with a bit of pure fun in the form of Saint-Saëns's witty 1886 suite "La Carnaval des animaux" ("The Carnival of the Animals"). Maestro Denève calls it a "party piece," and it was, in fact, written primarily for the private amusement of the composer's musical friends. He explicitly banned its public performance during his lifetime, afraid that it might eclipse his more serious work in popularity—which, to some extent, it has.
Saint-Saëns has no one but himself to blame for that. What else could he have expected from a work that packs so much pure entertainment into 14 brief movements? The serene beauty of "The Swan" has made that movement a Greatest Hit of its own, but there are so many flashes of wit, elegance, and even outright music hall slapstick in "Carnaval" that no audience could be expected to defy its charms.
Alessio Bax and Lucille Chung in
La Carnaval des animaux
Scored for two pianos with orchestra, "Carnaval" has proven popular with many keyboard duos over the years. The soloists here are Alessio Bax and Lucille Chung, and I'd put the sophistication and sense of fun of their performance up there with the best of them. Bax even joins Denève for some physical comedy in "Pianists," who Saint-Saëns portrays as a form of wildlife that practices the C major scale endlessly and with no great skill. At one point Denève, in a fit of mock exasperation, switches places with Bax, who then takes over for him at the podium. Much hilarity ensues.
The work is also brimming with nifty solos, all delivered with serious and/or playful virtuosity (as the music warrants) by members of the band. Principal Cello Daniel Lee's "Swan" glides with sweet serenity, Jennifer Nichtman's flute flutters acrobatically around the "Aviary," percussionists Tom Stubbs and Alan Stewart enhance the watery ambience of the "Aquarium" and the satirical creepiness of "Fossils." Alec Belcher's double bass lumbers along cheerfully as the waltzing "Elephant," and Scott Andrews gets an astonishing amount of variety out of the simple two-note motif in the "Cuckoo in the Depths of the Woods."
There are many other delightful moments as well, but that should give you some idea of how much fun this performance is. Maestro Denève's direction brings out both the comedy and poetry in this musical candy box that's both a suite and a sweet at the same time.
Available through August 14th, this Franco-American fun fest runs around an hour and is available on demand through August 14th. If you missed it live, this is a golden opportunity to see it in the comfort of your own home. For information on this and other live and digital SLSO concerts, visit the orchestra's web site.
Related Articles