Classical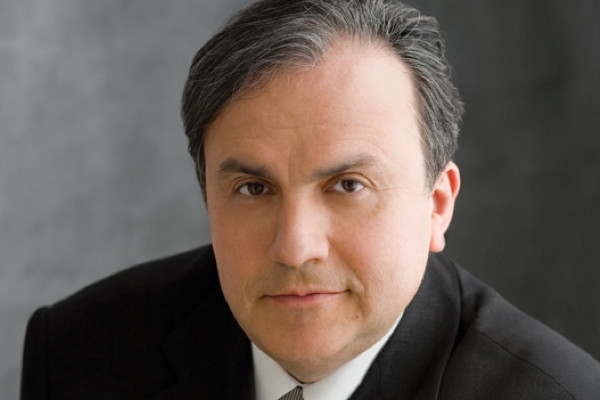 Symphony Review: Dawn and Stéphane's musical journey with the SLSO
Written by

Chuck Lavazzi
Last weekend (October 1 and 2), St. Louis Symphony Orchestra (SLSO) Music Director Stéphane Denève opened his concerts with a trio of pieces that worked remarkably well as a matched set, even though they spanned nearly a century and reflected three very different approaches to composition: the string orchestra version of Caroline Shaw's "Entr'acte" (2014), Charles Ives's "The Unanswered Question" (1908), and Christopher Rouse's "Rapture" (2000). "I was curious to see what happened if we played the first three pieces together, without a break," Denève says in the orchestra's program notes.
[Find out more about the music with my symphony preview.]

Caroline Shaw
Photo: Kait Moreno
We were there Friday morning, and what happened was the genesis of a brand new work that was both different from and more than the sum of its parts. Placed in this order and played without pause, the three pieces feel like a journey from sunset to deep night to a bright dawn.  I'd be tempted to call it "Nightride and Sunrise" if Sibelius hadn't already claimed that in the same year Ives wrote his contribution.
Shaw's "Entr'acte," in this context, feels like a sunset that gradually becomes a troubled and mysterious midnight. The orchestra rings multiple changes on a theme that calls to mind the 16th-century hymn Vaughan Williams used as the basis for his "Fantasia on a Theme of Thomas Tallis," resulting in music that is by turns ancient, modern, and eerie. The effect is enhanced by unusual bowing techniques, including softly scraping the strings without actually producing a tone. The original string quartet version (heard here last fall) does the same thing, but it all has more impact in the orchestral version.
Visual emphasis comes from a darkened stage, on which the only light comes from the players' music stands.
"Entr'acte" ends with a series of quiet, desolate arpeggios from the solo cello that resolve, harmonically and emotionally, into the serene chords of "The Unanswered Question." Now we're in what Ingmar Bergman called "The Hour of the Wolf," "when the sleepless are haunted by their deepest fears"—like the possible meaningless of life in an empty universe. Against the implacable string chords, an offstage solo trumpet plays a five-note theme that Ives called the "perennial question of existence." As the work's title implies, it goes unanswered.
Like the final arpeggio of "Entr'acte," the final chord of "The Unanswered Question" leads inevitably to the beginning of the work that provides the answer to Ives's question: Rouse's "Rapture." That answer, according to Denève, is "love—the ecstasy of love, the light of love."
Rouse paints this vivid sonic picture with an orchestra far larger than the one used for the first two works, including a massive percussion section. The quiet opening soon gives way to wild instrumental euphoria that calls to mind Scriabin's "Poem of Ecstasy." The stage lights fade up to full intensity, and the musical journey that began in darkness and doubt ends in a daylight and delight.
It was riveting. I'm not always the first person on their feet for a standing ovation, but I was for this one—not only for the composers but also for the orchestra. This was a solid half-hour of new and very demanding works (only "Rapture" has been played here previously, and that was 11 years ago) with a plethora of technical and interpretative challenges. The SLSO players did it all flawlessly, with outstanding solo and ensemble work and strong leadership from Maestro Denève on the podium.
I know I sound like a broken record (remember those, kids?) regarding the quality of the band, but the reality is that they all play so well so consistently that I haven't much choice. I'm especially impressed when they can do that at 10:30 in the morning.
Serge Rachmaninoff, circa 1936
The concert closed with a performance of Rachmaninoff's Piano Concerto No. 3 with soloist Yefim Bronfman that got everyone on their feet as well. It's a work so fraught with technical and artistic hurdles that for many years after its premiere, its only real advocate was the composer himself. Bronfman, however, has performed this concerto so often and with so many different orchestras that it flowed from his fingers with that illusory ease which conceals protean skill.
Bronfman gave us wonderful tonal variety in the massive first movement cadenza, near delirious romance in the Intermezzo-Adagio second movement (including many cross-hand passages played with pristine clarity), and volcanic energy in the third, especially in the energetic coda. He displayed, in short, formidable technique matched with what Denève, in his prefatory remarks, called a "rich, velvety, powerful sound."
All the while he and Denève were clearly in close communication that seemed almost telepathic at times—as one would expect from a pair of artists who have had a long-standing and close working relationship. Bronfman has been a frequent soloist here over the years as well.  He even helped select the SLSO's new piano in 2019, playing duets on the final candidates with Denève (who is no slouch at the keyboard himself).
The thunderous applause produced, inevitably, an encore—and it was a perfect choice: Chopin's Nocturne No 8 in D-flat major, op. 27. It has its own brand of emotional intensity and technical difficulty but operates on a far more intimate scale that gave us more of an opportunity to hear that rich and velvety sound of which Denève spoke.
Next at Powell Hall: Conductor Laureate Leonard Slatkin will be on the podium for Joan Tower's "Made in America," William Bolcom's Violin Concerto (with David Halen as soloist, originally scheduled for last April), and Bartók's "Concerto for Orchestra." Performances are Saturday at 8 pm and Sunday at 3 pm, October 9 and 10.
P.S.: My headlines are sometimes obscure reference to bits of cultural effluvia that my brain has accumulated over the decades. From now on I will footnote them if I think that's advisable. In this case, the reference is to "Dawn and Siegfried's Rhine Journey," a popular orchestral excerpt from Wagner's "Götterdämmerung".
Related Articles