Classical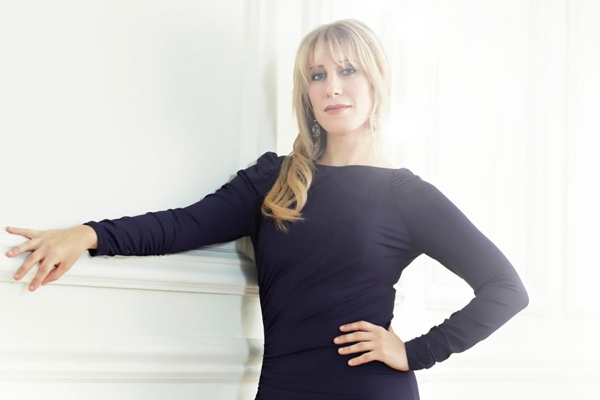 Symphony Review: Fliter showers glory on Schumann's Piano Concerto
Written by

Steve Callahan
How sweet it is to return to the blessing of live orchestral music!
[Find out more about the music with the KDHX symphony preview.]

The Saint Louis Symphony Orchestra (SLSO) presented an utterly gorgeous concert Friday and Saturday (October 29 and 30) under the baton of guest conductor Nikolaj Szeps-Znaider. It included Karim Al-Zand's "Luctus Profugis: Elegy for the Displaced", Schumann's Piano Concerto, and four tone- poems from Smetana's "Mά Vlast" ("My Homeland)". God, I was glad I came to this concert!
Maestro Szeps-Znaider, a Dane, is a long-time friend of and frequent collaborator with our own Stéphane Denève. He has built a reputation as one of the worlds finest virtuoso violinists, but has also become an internationally acclaimed conductor. His governance of this nicely varied concert was masterful.
•    Al-Zand: "Luctus Profugis"
'Tis common practice for an orchestra to introduce new, modern works early in the program. Any stuffy audience members are thus required to at least listen to a new work before they get their comfy old standards. But I think there was not a soul in the audience who was not captivated by this subtle, sensitive work by Karim Al- Zand.
Al-Zand was born in Tunis (in 1970), but he has spent most of his life in Canada and the U.S.
Luctus Profugis is a gently mournful elegy for the displaced—the emigrants from the world's troubled places. There is no flight here, no panic—just a sad, contemplative sense of loss. Think of Anatevka—but place it in those once-romantic, now troubled countries to the south and east of the Mediterranean.
We start with a touch of vibraphone—an instrument that will remain a persistent presence throughout the work. Then strings—haunting strings. Violins drift above, then celli and basses rise softly from below conveying a sense of anguish. The strings are many-layered and fiercely focused.
Always that soft vibraphone above and behind the orchestra—almost a hum, or a glow.
Then it all winds softly down.
The beautiful piece is painfully brief—a bit less than six minutes.
•    Schumann: Piano Concerto
When Sibelius presented his Violin Concerto he and the world recognized it as perfect; He had no need to write another. Thus with Robert Schumann. He had struggled for some time to produce his Piano Concerto, but when it finally appeared in 1845 he and the world recognized it as perfect; It is his only such work. (His wife Clara gave the premiere performance.)
 
The brilliant Argentine pianist Ingrid Fliter gave a quite stunning interpretation of the work.
Schumann had early-on invented two imaginary characters who often appeared in his music reviews, in his correspondence, and even in his romance with Clara. These were Florestan and Eusebius. Florestan—extroverted, passionate, forceful; and Eusebius—introverted, dreamy, restful. These contrasting traits appeared in Schumann's own personality: he was (what was later called) "manic-depressive". And these traits appear again and again in this concerto.
Ingrid Fliter gives wonderful expression to these two moods—passages of enormous power followed by placid, gentle, subtle ones.
After an initial brisk attack she led us into rolling, surging, swelling sections—always with graceful, articulate phrasing.
Then a solo oboe—pure, lyrically sad. (Kudos to Phil Ross!)
Once, while Ms. Fliter enjoyed a few measures of rest, the Maestro's poised hand aimed a finger almost at her nose, like a starter's pistol ready to fire her—BANG!— into the next frenzied passage, her hair tossing with the passion of her playing, the power and force of her chords—which often lifted her body from the bench.
The piano leads furiously, the violins follow with longer and longer up and down runs. Ms. Fliter's long high trills are impossibly fast—her fingers moving with the speed of a humming-bird's wings! Strident, triumphant, there are mad torrents of notes!
And ever and again that fierceness, then sweetness, then strength! Amazing!
At the end the audience instantly rose to its feet to shout their praise. (Or at least as instantly as we in this aged audience could manage.)
For an encore, Ms. Fliter gave us a small, elegant Chopin waltz. It was like a sherbet—light, lucidly clear, so simple, effortless. And with the slightest, precise rubato to touch our hearts.
•    Bedřic Smetana
We were given four of the six tone-poems from Mά Vlast, Smetana's nostalgic ode to his beloved homeland of Bohemia. For this the orchestra was enlarged with a vast swath of strings. These tone poems are so richly orchestrated!
"Vyšehrad" ("The High Castle") sweeps us up with romantic arpeggios from a pair of harps. (Fine work from Allegra Lilly and Megan Stout!) Some military trumpet, then the orchestra climbs and climbs aspiringly—then rolls heavily back down. It fades to near invisibility—then up afresh with woodwinds—then grand, brassy crashes.
"Vltava" ("The Moldau") is the most familiar and beloved section of Mά Vlast. It's ever-recurring swirling, eddying figures in the strings capture the life and beauty of this great river that flows through Prague. This music is so liquid. Pizzicati among the strings are clearly falling drops of sweet water. There's a brief peasant dance, then the river goes on—eddies breaking away from the main, then returning to the sweet familiar melody. There is a sense of mighty waters, then it swirls away into the distance.
 
"Šárka" ("Maiden Warrior") tells the legend of an Amazon warrior who, like Biblical Judith, seduces and conquers her foe. It's forceful and warlike. There's a lovely clarinet solo beautifully played by Scott Andrews. There's great power and threat from the low brass and tympani—and an almost cavalry feeling from the trombones.
"Z českých luhův a hájův"("From Bohemia's Woods and Fields"), the closing "poem" in the set. There's bold brass, with strings scampering above. Swift violin passages evoke a response from the lower strings. There's an echo of those swirling Moldavian waters, a hunter's horn in the forest. Again we find Florestan and Eusebius at play: soft mellow strings, then POWER, then lyrical dancing, whistling flutes, then the smash of dark power!
We are so blessed to have such a world-class orchestra as the Saint Louis Symphony in our town.
Next at Powell Hall: Nikolaj Szeps-Znaider plays alongside SLSO musicians in a program of Mozart's Clarinet Quintet K. 581 and the String Sextet No. 1 in B-flat major by Brahms on Friday, November 5th, at 7:30 pm. Stéphane Denève conducts the SLSO with Szeps-Znaider as violin soloist in the Violin Concerto of Sibelius along with Shostakovich's Symphony No. 5 and "Emotive Transformations" by James Lee III Saturday at 8 pm and Sunday at 3  pm, November 6th and 7th.
Related Articles