Classical
Classical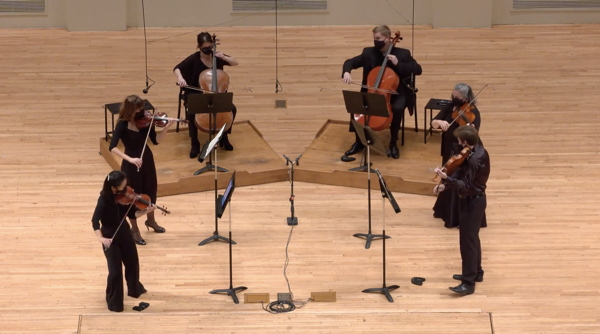 Symphony Preview: Daily double, part 1
By Chuck Lavazzi
The St. Louis Symphony Orchestra (SLSO) offers you a chance to double your listening pleasure this weekend with two very different performances: a chamber music evening on Friday, November 5th, and a program of orchestral works by Sibelius, Shostakovich, and James Lee III on Saturday and Sunday, November 6th and 7th.  The two programs are linked only by the presence of violinist and conductor Nikolaj Szeps-Znaider, who sets aside the conductor hat he wore last weekend (it's invisible but very fashionable, I'm told) and dons the mantle of violinist as both a collaborator and a soloist.
[Preview the music with my commercial-free Spotify playlist.]

For this article, we'll concentrate on Friday's chamber music concert, which shows him in his collaborator role with SLSO musicians Erin Schreiber (violin); Jonathan Chu and Chris Tantillon (viola); Melissa Brooks and Jennifer Humphreys (cello); and Scott Andrews (clarinet). The program consists of only two works: Mozart's Clarinet Quintet in A Major, K. 581 (1789) and the String Sextet No. 1 in B-Flat Major (1860) of Brahms.
The pairing offers an excellent opportunity to contemplate the degree to which a particular piece of music does or doesn't reflect the emotional landscape of the composer at the time of its creation.
Mozart, as drawn by Doris Stock, 1789
Mozart's quintet (scored for a standard string quartet plus the clarinet) sounds like the work of a happy man. There's a longing in the Larghetto second movement and even a bit of melancholy in a viola passage in the Allegretto con variazione finale, but overall this is music that radiates good cheer.  
And yet, Mozart's life at the time was anything but cheerful. He was living in Vienna by then and while he initially enjoyed great success there, by the late 1780s audiences, critics, and students were losing interest in him. His fortunes were at such a low ebb that he was reduced to writing letters begging for money from his fellow Mason, the prosperous textile merchant Michael Puchberg. "To Puchberg's honor," writes Donald J. Grout (in his "History of Western Music") "he always responded to Mozart's appeals."
A 1790 letter to his wife Constanze from Frankfurt (where Mozart was seeking employment to shore up his family's declining fortunes) reveals his mood at the time:
I get all excited like a child when I think about being with you again — If people could see into my heart I should almost feel ashamed. Everything is cold to me — ice-cold. — If you were here with me, maybe I would find the courtesies people are showing me more enjoyable, — but as it is, it's all so empty (from volume 1 of John C. Kirkland's "Love Letters of Great Men")
So, no, not exactly a joyful period. Indeed, only a year later Mozart would die in poverty, leaving his great "Requiem" to be completed by his student Franz Süssmayr.
Mozart subtitled the work "Stadler's Quintet," by the way, referring to his friend and fellow Mason Anton Stadler, for whom he wrote several works, including the K. 581 quintet. Many of them (including this one) were scored for the basset horn or basset clarinet, members of the clarinet family with extended low notes. Although championed by Stadler, these instruments are rarely heard today, and contemporary performers usually opt for the A clarinet. It's pitched a half-step lower than the more common B-flat clarinet and most professional musicians have one of each handy. I assume that's what Scott Andrews will be using this weekend.
Brahms in 1853
en.wikipedia.org
For Johannes Brahms, by way of contrast, things were going fairly well when he wrote his sextet in 1860. True, his Piano Concerto No. 1 had received a lukewarm reception the previous year and he had just broken off a brief engagement with one Agathe von Siebold (whose name he encoded in sextet with a theme using the notes A-G-A-D-E, according to the 1967 edition of Brockway and Weinstock's "Men of Music"). But he apparently enjoyed his new job as director of a women's choir he had founded in Hamburg. The income from the position, combined with earnings from the sales of his music, was enough to afford him a comfortable life and even allow him to travel. His relationship with Robert Schumann's widow Clara, while thoroughly Platonic, was nevertheless close and harmonious. And (as Tim Munro writes in the program notes he felt he was growing as an artist.
The String Sextet No. 1 is an example of his increased confidence. At the time, the format was relatively new and therefore somewhat risky, but the darker, richer sound that came with adding a second viola and cello to the conventional string quartet perfectly suited his writing style. This and the second string sextet four years later were, as Kai Christiansen writes at Earsense, "early but masterful works highlighting the bright, warm and noble side of Brahms in the manner of a serenade."
There are hints of darkness here and there in the sextet's four movements, especially in the minor key viola melody that is the basis for the theme and variations format of the Andante, ma moderato, but overall the feeling is one of contentment and hope for the future. Unlike Mozart's quintet, this is music that would seem to accurately reflect the composer's state of mind. It's as warm and cozy as a fluffy blanket—perfect for these brisk November nights.
The Essentials: Nikolaj Szeps-Znaider and members of the St. Louis Symphony Orchestra present an evening of chamber music by Mozart and Brahms on Friday, November 5th, at 7:30 pm at Powell Symphony Hall.
Related Articles