Classical
Classical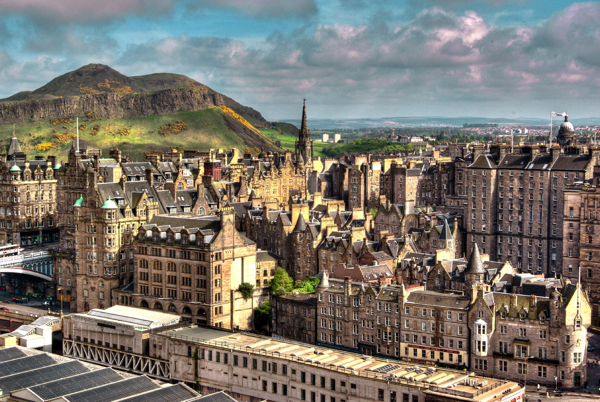 Symphony Preview: My heart's in the Highlands (or maybe Edinburgh)
By Chuck Lavazzi
Prior to the pandemic, my wife and I traveled quite a bit. We plan to hit the airports again next year, but meanwhile the St. Louis Symphony Orchestra (SLSO) concerts this weekend (November 19 and 20) bring back memories of one of our favorite places: Scotland. And, in particular, that unforgettable town once known as "Auld Reekie," Edinburgh.
[Preview the music with my commercial-free Spotify playlist.]

Edinburgh Castle
Our first sight of Edinburgh many years ago came after we disembarked from the Flying Scotsman overnight train, made our way up to Princes Street, and turned to look at the Old Town across from the deep gorge of the Princes Street gardens. In daylight the Medieval skyline, topped by the castle at the end of High Street, was like a real-life Escher painting. At night, with a light scrim of fog in front of it, the view took on the unreal quality of a stage set.
It was stunning, and I have never forgotten it. Both of the works in the first half of the program bring back memories of that experience.
This weekend's concerts open with a brand-new work by Anna Clyne (a name that should be familiar to SLSO audiences by now) inspired by the composer's experiences at the 2021 Edinburgh Festival Fringe, an annual celebration of the performing arts that takes place each August. It coincides with the legendary Royal Edinburgh Military Tattoo, a massive spectacle of sound, light, marching, and dance at Edinburgh Castle.
"I enjoyed an array of fantastic performances across the arts," writes Clyne of her experience:
It is this variety that I have tried to capture in PIVOT which, as the title suggests, pivots from one experience to another. The Pivot is also a former name of the 200-year-old folk music venue and pub in Edinburgh, The Royal Oak. PIVOT quotes fragments of The Flowers of Edinburgh, a traditional fiddle tune of eighteenth century Scottish lineage that is also prominent in American fiddle music and thus bridges between Edinburgh and St. Louis, where this music was premiered.
That last sentence refers to the fact that "Pivot" had its world premiere in Edinburgh on August 7th by the BBC Symphony Orchestra, and its USA premiere this weekend right here.
Anna Clyne
Photo: Christina Kernohan
That BBC Symphony performance was recorded by Linn for an album of festival highlights and is part of my custom Spotify playlist for this week. It's the kind of bouncy, toe-tapping piece that would not be out of place at a "pops" concert. As promised, it pivots from one lively tune to another while always sounding distinctly Celtic.  For more background on "Pivot" and Clyne, including her creative partnership with Stéphane Denève, check out Eric Dundon's conversation with her at the SLSO Stories site.
The Scottish influence continues with a larger-scale work that has not been played by the SLSO for since 2008: Max Bruch's 1880 "Scottish Fantasy." Essentially a four-movement violin concerto, the "Fantasy" dips into the well of Scottish folk tunes more deeply than "Pivot," despite the fact that Bruch's experience of Scotland was literary rather than literal. As Caitlin Custer points out in this week's program notes, Bruch prepared for the composition by "reading everything Scottish he could get his hands on: poetry by Robert Burns (of "Auld Lang Syne" fame), novels by Sir Walter Scott, and Scottish folk songs." He never set foot on Scottish soil.
Even so, he did a surprisingly good job of communicating the majestic windswept beauty of the countryside. There's dark melancholy in the Prelude and Adagio cantabile first movement and a wistful sadness in the Andante sostenuto third. But the second movement Allegro kicks up its heels in a classic Scottish cèilidh and the finale embraces the patriotic fervor of the folk tune on which it's based, "Hey Tuttie Tatie." When Robert Burns added lyrics to it, the song became "Scots Wha Hae". It was essentially Scotland's unofficial national anthem for centuries, although these days "Scotland the Brave" has somewhat overtaken it.
Bruch composed the work entirely in Berlin in the winter of 1879-1880, with technical assistance from the noted violinist Joseph Joachim. The closest he got to Caledonia was Liverpool, where he was the director of the Liverpool Philharmonic Society in 1881. The "Scottish Fantasy" has its first performance there with Joachim as the soloist. It would later be presented with great success by the more flashy Pablo de Sarasate (to whom Bruch dedicated the piece) and has since been embraced by an impressive list of high-profile violinists, including former SLSO Music Director David Robertson's brother-in-law Gil Shaham and Joshua Bell (whose recording with the Academy of St. Martin-in-the-Fields is part of my Spotify playlist).
Max Bruch
en.wikipedia.org
This weekend's soloist is Simone Porter, whose bio describes her as "an emerging artist of impassioned energy, interpretive integrity, and vibrant communication." That seems to be putting it mildly, since she made her professional debut in 2006 at the age of 10 with the Seattle Symphony, her international debut three years later with the Royal Philharmonic Orchestra in London, and her Carnegie Hall debut in 2016. This is her first appearance with the SLSO, but she has appeared with Denève at the Edinburgh Festival as well as with frequent SLSO guest conductor Nicholas McGegan.
Speaking of conductors, these concerts will also be the local debut of David Danzmayr, the newly appointed Music Director of the Oregon Symphony. He has also been the MD of the Pro Musica Chamber Orchestra Columbus for the past seven years and even has ties back to Scotland, where he launched his career as Assistant Conductor of the Royal Scottish National Orchestra in Glasgow. Danzmayr has gotten rave reviews for everything from Brahms to contemporary works like Javier Álvarez's "Brazos de niebla" ("Arms of Mist"). Like Porter, he is a young musician whose star appears to be in the ascendant.
Danzmayr will certainly have his work cut out for him in the second half of the program, which will consist entirely of Schubert's imposing Symphony No. 9 in C major, nicknamed "The Great" to distinguish it from his Symphony No. 6, the "Little," C major symphony from 1817-1818. Largely completed in 1825 but not fully scored until 1826, the symphony was never performed in its final version during Schubert's lifetime. He sent the score to Vienna's Society of the Friends of Music requesting a performance, but after a few rehearsals they deemed it unplayable (at least by them). It was rediscovered in 1838 by Robert Schumann (who wrote an ecstatic review of the score) and finally got its premiere in 1839 by the Leipzig Gewandhaus Orchestra under Felix Mendelssohn, who shared Schumann's high opinion of the work.
Still, many critics and musicians were unenthusiastic about the symphony. For many years it was seen as repetitive, difficult to play, and simply too long.
They had a point about the length. Clocking in at around 50 minutes if you take all the repeats (which not everyone does), the 9th would have seemed gargantuan at the time, dwarfed only by Beethoven's 9th. Still, it's hard to hear this now and not be completely captivated by the endless flow of irresistible melodies and rhythmic drive that runs throughout. As long as the conductor is able to maintain a sense of momentum throughout (as Roger Norrington does in the performance I selected for the playlist), this is an alluring work.
There's much more to be said about the Ninth (including the question of whether it really is the Ninth vs. the Seventh or Eighth), and you can take a deep dive with Peter Gutman's exhaustive article at Classical Notes as well as by listening to Joshua Weilerstein's fascinating discussion on his Sticky Notes podcast.
The Essentials: Conductor David Danzmayr makes his SLSO debut with Schubert's Symphony No. 9 ("The Great"), the USA premiere of Anna Clyne's "Pivot," and Bruch's "Scottish Fantasy" with violin soloist Simone Porter. Performances are Friday at 10:30 am and Saturday at 8 pm, November 19 and 20.
Related Articles