Classical
Classical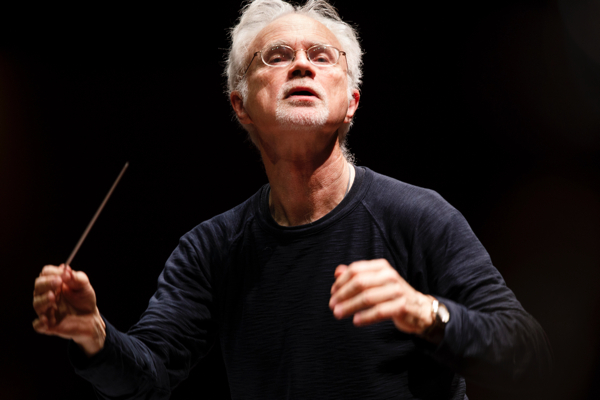 Symphony Preview: Adams family values
By Chuck Lavazzi
With COVID-19 numbers slowly trending down, some local performing arts organizations are returning to live performances, albeit with the usual vaccination and masking requirements. That includes the St. Louis Symphony Orchestra, which returns to Powell Hall this Friday and Saturday (January 28 and 29) with a program that features John Adams in the dual roles of composer and conductor.
[Preview the music with my commercial-free Spotify playlist.]

Pianist Jeremy Denk
Photo by Michael Wilson
Originally scheduled for the fall of 2020, "Adams Conducts Adams" features the local premiere of the composer's 2018 piano concerto "Must the Devil Have All the Good Tunes?" Commissioned for and first performed by pianist Yuja Wang, the concerto calls for a large orchestra with more than a few unconventional items in the percussion section. Those include a bass guitar, a set of tuned cowbells (insert Saturday Night Live reference here) called almglocken, and a "honky-tonk piano."
The latter is a normal piano detuned to make it sound more like the battered upright found in every bar in every Hollywood Western ever made. Copland used a similar effect in his "Rodeo" ballet, as did Gershwin in the "Piano Playin' Jazzbo Brown" sequence that opens "Porgy and Bess."
As the previous two paragraphs suggest, "Must the Devil Have All the Good Tunes?"  is an eclectic mashup of sounds, with the emphasis on jazz, blues, and other quintessentially American musical styles. The jazz and funk influences are clearest in the first movement, marked "Gritty, funky, but in Strict Tempo; Twitchy, Bot-like." It opens with an ostinato in the piano that, for listeners of a certain age, may be more than a bit reminiscent of Henry Mancini's theme for the hard-boiled private eye TV show "Peter Gunn" (1958-1961). That soon morphs into hard-driving motifs in the percussion and lower strings, over which the solo and barroom pianos layer an aggressive, almost motoric line that is, indeed, "twitchy" and "Bot-like."
After around 12 minutes, the wheels come off the machine as soft, hesitant orchestral chords lead without pause into the "Much Slower; Gently, Relaxed" second movement. The solo piano spins out a tender, sometimes elaborately ornamented melody that summons up the ghosts of Chopin and François Couperin over somewhat uneasy-sounding strings.
The peace doesn't last, though. The solo line becomes more syncopated, veering rather close to the version of "Heart and Soul" so popular with amateur pianists as it segues into the final movement: "Più Mosso: Obsession / Swing." Bells chime, the Sharks and the Jets rumble, the tempo quickens, and all hell generally breaks loose in wild, technically demanding music that sounds like it's going to end in a big, noisy finale. Adams has another trick up his sleeve, though. The soloist hammers out a series of three ascending chords with increasing ferocity and then abruptly stops as the concerto concludes with a single bang of the chime.
That description of the work, lengthy as it is, probably doesn't do it justice. Fortunately, my Spotify playlist includes the world premiere recording by Adams and Wang, so you can hear it all for yourself.
Gabriella Smith
This weekend's soloist is Jeremy Denk, who strongly impressed me with his Mozart Concerto No. 23 back in 2016. The Adams work will call for a very different type of virtuosity, but given that Denk once cited "the wonder of each moment" as an important part of his approach to Mozart I would think Adams's compositional habit of building big works out of small melodic blocks would be right in his wheelhouse.
Preceding the Adams concerto is another work making its first appearance here, "Tumblebird Contrails" by California-born composer/environmentalist Gabriella Smith. In a sharp contrast with the urban bustle of Adams's music, "Tumblebird Contrails" is a fanciful sonic evocation of, in the composer's words, "a single moment I experienced while backpacking in Point Reyes, sitting in the sand at the edge of the ocean, listening to the hallucinatory sounds of the Pacific." Violin harmonics suggest sea birds while irregular timpani strokes and trombone glissandos bring to mind winds and surf. It's all very trippy, and it's no surprise to learn that Smith describes the title as "a Kerouac-inspired, nonsense phrase I invented to evoke the sound and feeling of the piece."
It reminds me of nothing so much as the vivid musical landscapes of the late Alan Hovhaness who, like Smith, was strongly influenced by the natural world. There are no recordings of this 2014 work on Spotify but there is, happily, one by the Nashville Orchestra on YouTube.
This weekend's concerts conclude with Sibelius's Symphony No. 1, first performed in 1899. That might seem like a radical departure from what has gone before but Adams, as it turns out, is a great admirer of the legendary Finnish master. Quoted in this weekend's program notes, Adams confesses that he's "always been a little bit obsessed with the story of Sibelius" and has conducted almost all of his symphonies. He says he has ignored the Symphony No. 1 in the past but "once I started learning it, I became full of admiration. The material is so beautifully integrated and woven."   
Sibelius in 1890
Photo by Paul Heckscher
What Adams especially admires is Sibelius's ability to "find a melody or a motif, and create a larger form out of this atom." Given that this pretty well describes Adams's own compositional process, his affection for the composer is, perhaps, not surprising at all. Certainly some of Sibelius's greatest works—his Symphony No. 5 comes to mind—are imposing musical structures assembled from very simple material.
In the case of the Symphony No. 1, the building blocks are all there in the opening clarinet solo, which Baltimore Symphony Orchestra program annotator Janet E. Bedell has described as "a lonely song, bleak as Finland's rocky coast." That's a fitting description, since the four-movement work that unfolds from this is strongly redolent of the majestic, windswept Finnish landscape that rarely sees the sun for months on end. I have always found it irresistible, and the performance by Osmo Vänskä and the Minnesota Orchestra in the playlist is one of the best available.
The Essentials: Composer John Adams conducts the St. Louis Symphony Orchestra and piano soloist Jeremy Denk in Gabriella Smith's "Thunderbird Contrails," Adams's "Must the Devil Have All the Good Tunes?," and the Symphony No. 1 in E minor, op. 39, by Sibelius. Performances are Friday at 7:30 pm and Saturday at 8 pm, January 28 and 29, at Powell Hall in Grand Center. Saturday's concert will also be broadcast live on St. Louis Public Radio and Classical 107.3 both over the air and on the Internet.
Related Articles