Classical
Classical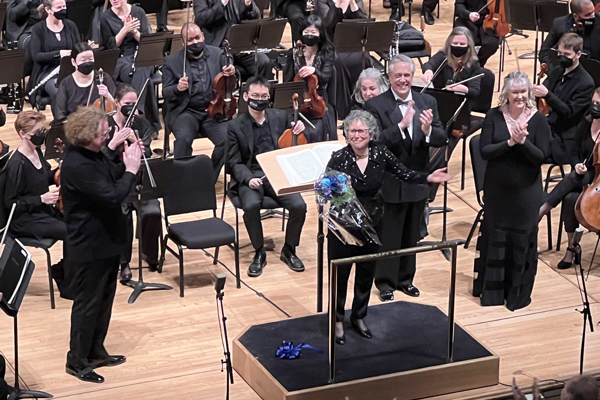 Review: The SLSO sets sail for Chorus Director Amy Kaiser's retirement with an opulent 'Sea Symphony'
By
At the top of the St. Louis Symphony Orchestra (SLSO) concert last Sunday, May 1st, SLSO CEO Marie Hélène Bernard and a representative from the office of Mayor Tishaura Jones took the stage to announce that forthwith, May 1st would be Amy Kaiser Day in St. Louis. And they handed retiring SLS Chorus Director Kaiser a sizeable proclamation to make it official.
[Find out more about the music with my symphony preview.]

Amy Kaiser (center) and her proclamation
Stéphane Denève celebrated the event by conducting a blockbuster concert that began with the local premiere of the full orchestra versions of Jessie Montgomery's "Starburst" and Debussy's "Nocturnes" and concluded with an opulent performance of Vaughan Williams's mammoth "Sea Symphony."
I'm not kidding about the "mammoth" part. Composed between 1903 and 1909 and first performed in 1910, The "Sea Symphony" calls for a massive orchestra (around 90 musicians last Sunday), a full chorus, and soprano and baritone soloists. Laid out in four movements and running over an hour, it might not be quite as gargantuan as Mahler's Symphony No. 8 (the "Symphony of a Thousand")—which premiered the same year—but it comes close.
Like the Mahler Eighth, it's a true choral symphony in which the chorus is not an add-on but rather an integral part of the ensemble. "The chorus gets very few breaks," writes Kaiser in the program notes, and what they're called upon to sing is at times fiercely difficult. The composer's overlapping vocal lines often combine to create a thick contrapuntal texture that sounds difficult to navigate, especially with the syncopation necessary to match the irregular stanzas of Walt Whitman's "free verse" poetry. Some small ensemble sections demand subtle transparency, and the third movement scherzo has a rapid main theme that rattles on like a Gilbert and Sullivan patter song.
L-R: Stephen Powell and Karie Van Kooten
It calls, in short, for a solidly professional ensemble of singers and direction that is both exacting and sensitive to the work's wide emotional range. Which is to say that it calls for the St. Louis Symphony Chorus and Amy Kaiser.
Let me not mince words: this was a bravura performance of a big, difficult work. The SLS Chorus has always been impressive, but they truly outdid themselves this time. From the bold, sweeping declamation of the opening "Behold the sea itself" to the final, pianississimo chords of "Oh farther sail," the singers captured the epic sweep of this music perfectly.
The many passages that linger in my memory include the moment in the first movement  where the women's chorus softly sings of "all intrepid sailors and mates, / And all that went down doing their duty" and the vast pantheistic hymn, "This vast similitude spans them", that forms the climax of the second movement. The full chorus put down their books and sang the passage from memory, giving it an extra theatrical kick.  There were also stretches of transcendent beauty in the episodic but ultimately profoundly moving final movement, with its elliptical meditation on death as the ultimate exploratory voyage to Hamlet's "undiscovered country from whose bourn no traveler returns."
Vaughan Williams doesn't give the soloists as much to do by comparison, but soprano Katie Van Kooten and baritone Stephen Powell more than did justice to their roles. Van Kooten's big, clear voice rang out in "Token of all brave captains" in the first movement and Powell showed impressive gravitas in the opening of the second movement, "On the beach at night alone."  Their duet in the final movement is essentially a love song for the sailor and his soul, and it was sung with a rapturous intensity.
As for the orchestra, their playing was nothing short of heroic. The expressive range of the instrumental writing is no less vast than that of the choral and no less challenging. Maestro Denève deserves a laurel wreath as well for keeping the composer's sprawling and sometimes discursive music on, if you'll pardon the expression, an even keel.
Stéphane Denève conducts the SLSO
Photo courtesy of the SLSO
The concert opened with Montgomery's "Starburst." When I heard the SLSO play it in 2020, I described Jannina Norpoth's string orchestra arrangement of "Starburst" as a delightful sonic explosion. Norpoth's expansion for full orchestra was a bigger explosion with brighter colors, and just as delightful.
In between Montgomery's high-flying pyrotechnics and Vaughan William's profound emotional depths came a luminous reading of Debussy's "Nocturnes." First performed in 1901, this set of three tone poems owes something to both the literary poems of Henri de Regnier and a set of paintings by James McNeill Whistler also titled "Nocturnes." Unlike Whistler's relatively realistic paintings (his "Arrangement in Grey and Black No. 1" is the one commonly referred to as "Whistler's Mother"), Debussy's "Nocturnes" are more akin to the paintings of Monet, which are less about photo-realism and more about producing an impression on the viewer. Hence the term "Impressionism."
The opening movement, "Nuages" ("Clouds") uses slow rising and falling motifs in the strings and a haunting mini-melody in the cor Anglais (played with great sensitivity by Cally Banham) to suggest drifting patches of gray in an overcast sky. A soft tympani roll at the end suggests a storm might be in the offing. Denève wisely held the first downbeat until he had total silence in the hall, allowing those first notes to emerge almost imperceptibly out of the ether.
"Fêtes" ("Festivals") chases the clouds away with bucolic dances and, after another of Denève's judicious moments of silence, a nocturnal procession that begins softly on muted trumpets against a backdrop of pianississimo harp and strings, as though approaching from a distance. That procession quickly builds to another whirling celebration.
Finally, with "Sirènes" ("Sirens"), we have a mysterious moonlit seascape over which is heard (in the composer's words) "the mysterious song of the Sirens as they laugh and pass on." Members of the women's chorus play the sirens, singing their wordless song with great clarity and superb breath control, in perfect balance with the orchestra, fo rwhich I must credit both Kaiser and Denève. In her program notes, Kaiser observed that Denève wanted "a very light, almost innocent sound…very fluid, like water flowing." He definitely got what he wanted, and it was lovely.
Most artists would prefer to retire with a performance that will be remembered for its excellence. Amy Kaiser has achieved that. Ave atque vale.
Next at Powell Hall: Stéphane Denève conducts the orchestra and Kevin McBeth's IN UNISON Chorus in the world premiere of Nathalie Joachim's "Family." Also on the program: Bruch's Violin Concerto No. 1 (with soloist Akiko Suwanai) and Mahler's Symphony No. 1. Performances of this final concert of the season are Friday at 7:30 pm and Saturday at 8 pm, May 6 and 7. The Saturday concert will be broadcast live, as usual, on St. Louis Public Radio and Classic 107.3.
Related Articles