Classical
Classical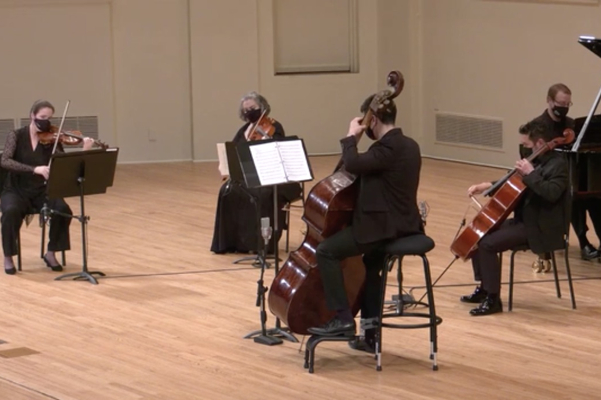 Digital Symphony Review: SLSO members delight in a concert of musical recycling
By Chuck Lavazzi
Available for on-demand streaming through August 31st, the fourth of five videos in the St. Louis Symphony Orchestra's digital series consists of performances recorded in an audience-free Powell Hall last spring. Both of the two works on this one-hour program engage in musical recycling but they do so in very different ways.
Till Eulenspiegel, einmal anders!
The video opens with Richard Strauss's popular orchestral tone poem "Till Eulenspiegels lustige streiche" ("Till Eulenspiegel's Merry Pranks") retooled by violinist/composer Franz Hasenöhrl  and retitled "Till Eulenspigel, einmal anders!) ("Till Eulenspiegel Another Way!)".  Hasenöhrl cut Strauss's piece to half its original length and reorchestrated it for five players, so hearing it is rather like viewing Strauss's big, splashy original through the wrong end of a telescope. Still, all of the composer's snarky, rambunctious fun survives intact, even if it does create a real workout for the five musicians.
The players are up for it, though. Associate Principal Second Violin Kristin Ahlstrom and bassist Sarah Hogan Kaiser impressively represent the entire string section while clarinetist Ryan Toher, horn player Victoria Knudtson, and Principal Bassoon Andrew Cuneo carry the flag for the winds. Knudtson knocks the infamously difficult opening solo right out of the park while Toher and Cuneo turn in equally praiseworthy performances of their many solo passages.  The performance was originally released as part of a live video broadcast, so it's good to have it available on demand. It deserves a wider audience.
The rest of the program is taken up with an example of musical expansion instead of contraction.  Schubert's Piano Quintet in A major, D. 667, was written in 1819 as a commission for Sylvester Paumgartner, a wealthy amateur cellist. The composer used the theme from his earlier song "Die Forelle" ("The Trout") as the basis for a series of variations in the fourth of the quintet's five movements and it has been known as the "Trout Quintet" ever since. Given that Schubert's original song runs only a little over two minutes vs. around 45 for the full quintet, it might seem odd to name the entire work after it, but the tune is a genuine "ear worm"—so jaunty and appealing that it's unforgettable.
The "Trout" Quintet
The performance by members of the SLSO is pretty jaunty and appealing as well. Kristen Ahlstrom, Principal Viola Beth Guterman Chu, Principal Cello Daniel Lee, Associate Principal double bass Aleck Belcher, and pianist Peter Henderson (who should, in my view, be Principal Keyboard but isn't) all work seamlessly as a team. The videography makes it easy to admire the way the string players stay in visual contact with each other as well as with Henderson, even though he's not facing the quartet directly. Closeups provide intimate glimpses of the emotional engagement of each player with Schubert's appealing score.
The frequent shifts between light and darkness that are so much a part of Schubert's style are expertly handled, although there are, perhaps, fewer of those in this mostly sunny and leisurely work than in the composer's other chamber music. Certainly the performance radiates good cheer, even in the more lyrical Andante second movement.
Unlike the Strauss/Hasenöhrl remix, this performance has not been publicly released, so this is your first chance to experience it. I think you'll find that it was worth the wait.
The St. Louis Symphony Orchestra's concert of chamber music by Schubert and Richard Strauss is available via on-demand video through August 31st. Visit the SLSO web site for more information.
Related Articles