Classical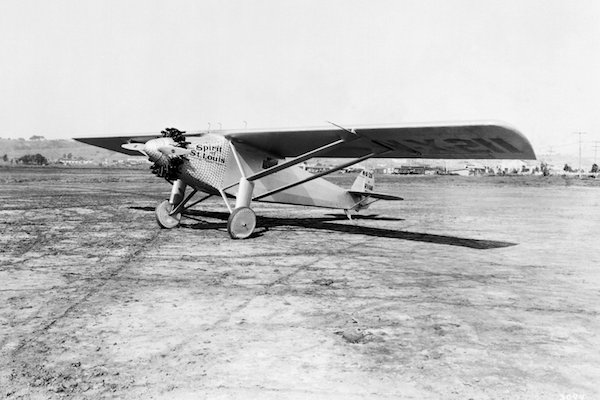 Casting a Bold Shadow: Weill, Brecht, Boulez and Debussy
Wind, rain, ice, fog, thunder, waves, light and shadow -- these were the elements woven together for the opening weekend presentation for the 2016-2017 season of the St. Louis Symphony at Powell Hall on September 16 and 17. But the human spirit was also well represented in the person of Charles Lindbergh -- who flew his historic flight across the Atlantic 90 years ago next May -- and Boulez' synthesis of a man and woman in dialogue with their combined shadow.
Kurt Weill (1900-1950) was one of many gifted composers forced to flee the cancer of Nazism in Europe. In 1929, while still residing in Germany, Weill collaborated with playwright Bertolt Brecht to pay homage to the monumental transatlantic flight of Charles Lindbergh. The two crafted a cantata for orchestra, chorus and male soloists, The Flight of Lindbergh, in which the thoughts, fears, hopes and dreams of an ambitious young man are mirrored. Tenor Clark Sturdevant sang the role of Lindbergh, assisted by bass-baritone Jeffrey Heyl and bass Mark Freeman. Sturdevant projects a strong, well-articulated masculine timbre that balanced perfectly with the orchestra and chorus. Likewise, Heyl and Freeman also turned in solid performances of the vocalized commentary embodied in the score. The SLSO shone strong as always. At this point in its history, the Chorus has acquired the polished sheen of experience; under the direction of Amy Kaiser they can always be counted upon to turn in a well-oiled, in-tune and sharply-honed performance. Again, balance between chorus and orchestra was excellent, admirably complementing the strong male soloists. And radio host Charles Brennan narrated the cantata, providing a spoken commentary reminiscent of announcers of Lindbergh's day.
Weill was a composer of broad range and adaptability. His hallmarks are catchy tunes and phrases that have a way of tweaking the ears of listeners. Yet despite the robust rhythms of this cantata and its energetic orchestration, there seemed to be few memorable melodies, which perhaps explains why the work has not been performed more often. However, the music packed a lot of spirit (pun intended) derived from Lindbergh's epic flight. In fact, the cantata beautifully evoked admiration of the very essence of the human spirit at its best, persevering and pursuing heroic achievement.
There is a sad irony in the fact that Weill, a Jew, and Bertolt Brecht, a free-thinker and opponent of Nazism, paid such tribute to the feat of Charles Lindbergh, whose own attitudes toward the Jews and Nazism were somewhat ambivalent. Lindbergh cannot be dismissed as a mere anti-Semite, since there is some evidence that he admired certain aspects of the Jewish culture and decried Nazi extremism, but the reverse is also true. In 1938 he even considered moving to Germany for the winter months, a rather ominous decision, although he was eventually talked out of the trip. To their credit, Brecht and Weill chose to focus on Lindbergh's bravery and devotion to his task rather than on his human failings.
Principal clarinetist Scott Andrews was the soloist on a work by the French avant-garde composer Pierre Boulez, Dialogue de l'ombre double (Dialogue of the Double Shadow), written in 1982-85 for solo clarinet and "live" electronics, so called because the electronic systems must dialogue with a live performance. Boulez' multi-movement work is based on the premise of a man and woman together whose combined shadow behaves as a single entity.
Like all truly great composers, Boulez expanded the capacity of his media. His unabated use of trills and tremolos for the clarinet in this work give the instrument a fluidity and bounce that we rarely associate with the sound of a woodwind. Andrews' consummate skill was put to a successful test as he dialogued with recordings of himself (as the double shadow), all skillfully monitored by sound technicians. Many audience members may have missed the fact that a microphone was also placed inside a grand piano onstage to catch the sympathetic vibrations of the strings to the sound of the clarinet, further enhancing the overall effect.
Although this work was superbly performed and engineered, and although it is a thoroughly accessible piece by a composer not known for the accessibility of his work, its bubbling originality seemed to wear off after the first several minutes of its 20-minute length. The concept of the piece is clever, yet runs a risk of petering out its originality; Boulez was clearly attempting to construct a representation of a fantastical dialogue, but the work could have benefited from more definition and variety of expression. 
The concert closed with Claude Debussy's monumental tone poem La Mer, a paean to the magnitude, depth, breadth and ever-changing character of the sea. Conductor David Robertson's talents displayed themselves as vividly as those of a captain of a ship on capricious waters as he guided the orchestra through a pictorial tribute of the might, and tenderness, of the open seas. Debussy was a master of orchestration--even when writing for a single instrument--and the orchestra seemed to come alive with the exhalations of his unquenchable imagination. This was a work truly worthy of an opening night.
Which brings us to a sad point, but one that should not be neglected. Opening weekend at the St. Louis Symphony should be a sold-out affair, but this one was far from that. There were simply too many rows of empty seats. We have to ask ourselves why. Boulez and even Kurt Weill were unable to grab the attention of the concert-going public. Is it because of our educational system and its marginalization of arts education? And if so, will more marching bands and more administrators and more money solve the problem? Contemporary composers do not seem to sway audiences as easily as their historical counterparts. Yes, all music was once new, but audiences seemed to connect more readily in the past than they do now. Performers and conductors who champion the cause of contemporary music must also accept the challenge of demonstrating its worth to a public that retains a high degree of skepticism. If we fail to accept this challenge, audiences will continue to dwindle. To blame the audience is a cop-out; listeners look to performers for insight and understanding. They also look to composers for inspiration and originality. Are they receiving it?
Related Articles