Classical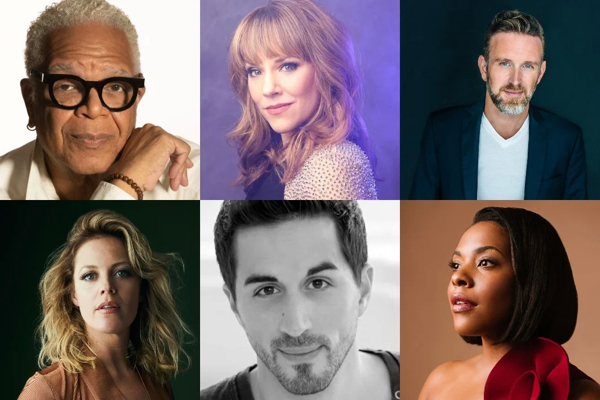 Symphony Review: The SLSO and The Muny join for a Sondheim Celebration
Written by

Chuck Lavazzi
In a 2008 New York Times interview, the late Stephen Sondheim was asked what he'd like his legacy to be. His answer: "I would just like the shows to keep getting done. Whether on Broadway or in regional theatres or schools or communities, I would just like the stuff to be done… You know, that would be the fun."
If Sondheim looked down on the St. Louis Symphony Orchestra's "A Little Sondheim Music" program yesterday (Sunday, October 2), I think he would have found this co-production with The Muny to be a great deal of fun indeed. I certainly did, and the large audience seemed to concur.
With Muny veteran Ben Whiteley at the podium and a killer cast of musical theatre stars, all of whom have Muny appearances in their resumes, "A Little Sondheim Music" was a Golden Ticket for musical theatre lovers in general and fans of Sondheim in particular. With over two dozen numbers culled from ten different Sondheim shows spanning over three decades of the composer's career, it was a good representation of what I'm going to call the "PG-rated" aspects of his output.
That means darker or complex shows like "Passion," "Sunday in the Park with George," and "Assassins" were left out. "Sweeney Todd" was represented only by "My Friends" which, while not one of the strongest numbers in the score, is one of the less creepy. That's not a complaint so much as an observation. When you're preparing an openly celebratory show, you probably don't want to hit folks with (say) "The Ballad of Sweeney Todd" or "The Gun Song."
"But I digress." – Tom Lehrer
The important point is that we got some of Sondheim's best stuff performed, either singly or in ensembles, by a first-rate cast. There were so many highlights I can't possibly list them all, but here are a few that will also allow me to say something about each one of those fine singers.
The title number from Sondheim's first show, "Saturday Night" (1957) was a great showcase for the five principal singers: Ben Davis, Bryonha Marie, Matthew Scott, Emily Skinner, and Elizabeth Stanley. Each one played a different character, so they all got a chance to shine individually, and the canonical final moments demonstrated how well they blended as an ensemble. They didn't perform as a quintet again until the very end, when their powerful rendition of "Our Time" (from "Merrily We Roll Along," 1981) sent everyone out on an inspired musical high.
Stand-out solo turns included (but were absolutely not limited to) Marie's warmly compassionate "Children Will Listen" ("Into the Woods," 1987), Stanley's "In Buddy's Eyes" ("Follies," 1971) with its unspoken tragic subtext, Skinner's big, bold "I'm Still Here" (also "Follies"), Davis's crystal-clear delivery of "Everyone Says Don't" ("Anyone Can Whistle," 1964), and Scott's wide-eyed "Giants in the Sky" ("Into the Woods").  
And let's not neglect St. Louis's own Ken Page, one of the few actors to whom Sondheim actually wrote a fan letter. In his special guest appearance, he delivered a deeply felt and intensely personal performance of the title song from "Anyone Can Whistle."  Accompanied only by Nicholas Valdez on piano, it was a true cabaret moment. Nicely done, Mr. Page.
Whiteley and the orchestra got a few opportunities to strut their stuff, as well, with the overtures to "Merrily We Roll Along" and "A Funny Thing Happened on the Way to the Forum (1962)," but for me their best moment was the "Night Waltz" from "A Little Night Music (1971)." Individual members of the orchestra had some spotlight time as well, including Associate Concertmaster Celeste Golden's duet with Marie in "Broadway Baby," Tzuying Huang's limpid bass clarinet solo in "Send in the Clowns," and Andrea Kaplan's flutes (standard concert and alto) in "Too Many Mornings."  
Michael Baxter's staging of the musical numbers often made good use of the limited space available in front on the orchestra. An example that stands out in my mind was "It Takes Two" ("Into the Woods") in which Davis and Stanley, as the baker and his wife, respectively, start out singing different melodies on opposite sides of the stage. As they begin to come together musically, they do so physically as well, until they're in a clinch center stage in a happy duet.
As he did in the last SLSO/Muny collaboration in 2018, Muny Artistic Director Mike Isaacson acted as narrator, introducing each set of songs with interesting and sometimes surprising historical tidbits on both Sondheim and his connections with St. Louis and The Muny. There were just enough of these, and they were of just the right length, to provide context without getting in the way of the music.
Were there aspects of the program that didn't work so well for me? Absolutely. How important were they overall? Well, I left them until the end of this review, so that should give you some idea. Most of the issues were technical, involving popping wireless body mics and the difficulty of balancing amplified sound (the singers and some of the softer instruments like the celesta) with an acoustic orchestra. Some of Sondheim's rapid-fire lyrics got swamped by the band at times, but not often enough to be truly annoying.
Mostly, though, "A Little Sondheim Music" was a delightful afternoon's entertainment and a fitting tribute to perhaps the greatest musical theatre composer of the 20th century. Thanks to the SLSO and The Muny for the experience. I hope there are more of these collaborations in the future.
Next at Powell Hall: Guest conductor Jonathon Heyward leads the orchestra and violinist Hannah Ji in a program of Kaija Saariaho's "Ciel d'hiver" ("Winter Sky"), Joseph Bologne's Violin Concerto No 2 (both local premieres), and Ravel's orchestration of Mussorgsky's "Pictures at an Exhibition." Performances are Friday at 10:30 am and Saturday at 8 pm, October 7 and 8. The Saturday concert will be broadcast live, as usual, on St. Louis Public Radio and Classic 107.3.
Related Articles