Classical
Classical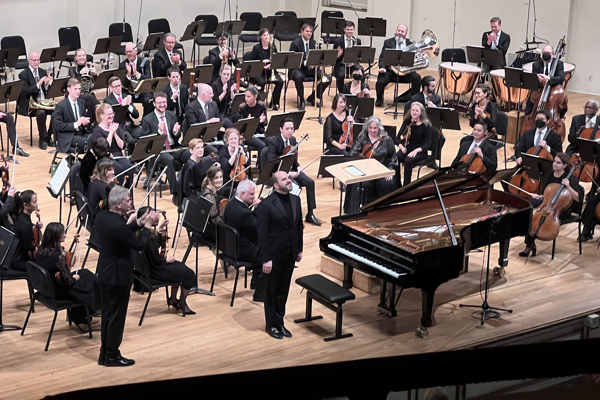 Symphony Review: Big band and bigger emotions in works by Rachmaninoff and Corigliano at the SLSO
By Chuck Lavazzi
You'd think that a pair of works that had their genesis in depression and loss might make for a glum St. Louis Symphony Orchestra (SLSO) program. But, as the concerts this past weekend (October 15 and 16) demonstrated, one of the things that makes great music great is the ability to turn tragedy into triumph—or at least into a moving and even exhilarating afternoon at Powell Hall.
[Find out more about the music with the KDHX symphony preview.]

That's what I experienced Sunday (October 16th) in the second of two presentations of Sergei Rachmaninoff's (1873-1945) Piano Concerto No. 2 and the Symphony No. 1 by John Corigliano (B. 1938). Piano soloist Kirill Gerstein and conductor Hannu Lintu—both familiar visitors to the Powell Hall stage—dished up a pair of performances that bristled with high drama and (particularly in the case of the Corigliano symphony) intense emotional depth.
Kirill Gerstein
Photo by Marco Borggreve
First performed in 1901, the Rachmaninoff concerto might never have been written at all had Dr. Nikolai Dahl not used hypnotherapy to bring the composer out of the black depression and artistic paralysis that had engulfed him after the hostile reception of his Symphony No. 1 four years earlier. The Concerto No. 2 has since become one of the composer's most popular works, and with good reason. Stuffed full of soulful tunes (one of which became a hit for Frank Sinatra in 1945), it's a work that can't fail to please.
That's especially true when it gets the kind of disciplined and yet grandly romantic reading that it got Sunday from Lintu and Gerstein. Hannu Lintu, as I have said many times in the past, is a commanding figure on the podium and whose interpretations are wont to combine excitement and intellectual rigor. Gerstein, for his part, is a consistently dynamic performer with a wide expressive range. Their collaboration produced a Rachmaninoff Second that had an ideal mixture of structural clarity and big-screen passion.
There was also a sense of irresistible forward momentum here that I have not always heard in the Second. I have always regarded the Concerto No. 3 as a more powerful work overall, but this performance might make me reconsider that.
Hannu Lintu
Photo courtesy of the SLSO
It helped that the orchestral playing was of such a high order. Associate Principal Horn Thomas Jöstlein's solos were exceptionally fine, as were those of Principal Clarinet Scott Andrews and Principal Flute Matthew Roitstein, who joins the SLSO roster for the first time this season after eight years with the Houston Symphony. Gerstein's pianism was as powerful and nuanced as always, including a second movement cadenza that was a model of clarity and sensitivity. A tip of the hat to all concerned.
Completed in 1988, John Corigliano's Symphony No. 1 (which closed the program) was the composer's response to the HIV/AIDS pandemic that was devastating the human race in general and the gay community in particular. Like so many of us in the arts community back then, both gay and straight, Corigliano lost far too many friends and family members to the epidemic. His anger and grief are powerfully displayed in this four-movement work.
Written for an orchestra of Mahlerian proportions (there were around 110 musicians on the stage Sunday), the Symphony No. 1 has an emotional range as big as its orchestration.  Indeed, the title of the opening movement—"Apologue: Of Rage and Remembrance"—might serve as a summary of the entire work. Throughout its four movements, rage "against the dying of the light" alternates with affectionate memories of absent friends. In the second movement ("Tarantella") they effectively fuse, as a tarantella Corigliano wrote for a friend who was an amateur pianist becomes increasingly chaotic and deranged, mirroring the mental deterioration his friend suffered as a result of AIDS. The movement ends in what the composer describes as "a brutal scream."
Corigliano's use of his large forces is frankly inspired. Passages of howling sonic assault are balanced by moments of chamber music-like delicacy. Rarely heard instruments such as the sub contrabassoon and the contrabass clarinet are given solos that were neatly executed by Hank Skolnik and Lina Phipps, respectively. A quartet of second violinists (Andrea Jarrett, Janet Carpenter, Asako Kubokil, and Shawn Weil) switched over to the mandolin for parts of the "Tarantella". And the third movement featured a lovely duet for Principal Cello Danny Lee and Assistant Principal Melissa Brooks.
Congratulations are due as well to pianist Peter Henderson for his prominent role in the work, both on stage and off. As a tribute to a concert pianist friend, the first movement makes extensive use of the 1921 Leopold Godowsky transcription of Isaac Albeniz's "Tango." It was a favorite of his late friend, and Corigliano has the pianist play it offstage, as though recalled in a dream. The piano part requires some technically thorny work on stage as well. Henderson did it all with aplomb.
Corigliano's big band
Photo by the author
There were also long polyrhythmic sections that Charles Ives would have loved. Taken together with the complexity of Corigliano's harmonies, the overall impression is sometimes that of a massive edifice on the verge of collapse. It's an illusion, of course, but a meticulously constructed one—which must make this one killer of a work to play and, more importantly, to conduct.
Corigliano's symphony has been played only once before by the SLSO, and that was 25 years ago under the baton of Marin Alsop. For many of the current crop of musicians that made it, in effect, a new piece—which might explain why it was the only other work on this unusually short program (around 75 minutes with intermission). A visiting conductor only has so much rehearsal time with an orchestra, and this particular work must have required a lot of rehearsal.
In any case, Lintu and the band were clearly more than up to the task. With impeccable calm and precision, he led his forces through the thorniest of passages and kept the entire massive musical machine on track. Rehearsals for this piece must have been arduous, given how wonderfully coherent the results were. Chalk this up as another bit of evidence of the high level of virtuosity on the part of the musicians of the SLSO.
The audience must have agreed, given the solid standing ovation that followed the slowly dying cello solo that ends the work. It's easy to get big applause from a slam-bang finish; not so much with a demanding piece like this that quietly fades away. Corigliano's symphony throws a lot of intense emotion at the audience; it was encouraging to see it so well received.
Next at Powell Hall: Stéphane Denève returns to lead the orchestra, chorus, and soprano soloist Jeanine de Bique in program of music by Poulenc, Florent Schmitt, and contemporary American composer Reena Esmail. Performances are Friday at 7:30 pm and Saturday at 8 pm, October 21 and 22.  The Saturday concert will be broadcast live, as usual, on St. Louis Public Radio and Classic 107.3.
Related Articles