Classical
Classical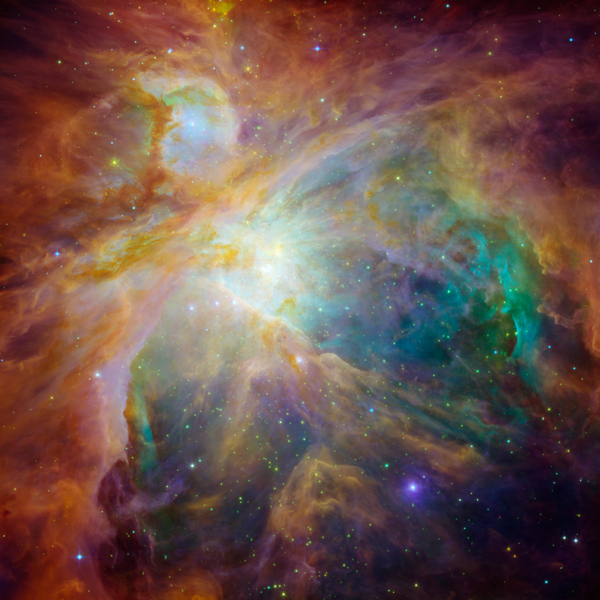 Symphony Preview: Starry, starry night
By Chuck Lavazzi
The St. Louis Symphony Orchestra concert Stéphane Denève will conduct this weekend (November 18-20) will consist of music inspired by something that has fascinated human beings for, I imagine, as long as there have been creatures that could be identified as human beings: the night sky.
[Preview the music with the SLSO's commercial-free Spotify playlist.]
"The first documented records of systematic astronomical observations," notes the European Space Agency, "date back to the Assyro-Babylonians around 1000 BCE. From this cradle of civilisation in Mesopotamia—in the southern part of present-day Iraq—astronomers had built up knowledge of the celestial bodies and recorded their periodic motions." We've learned a lot since then, and yet only one of the four works on this weekend's program actually deals with the physical reality of interplanetary space. The other three explore the more mythological aspects of the celestial dome.
Guillaume Connesson
Photo by Fanny Houillon
The concerts open with a world premiere of "Astéria" by contemporary (b. 1970) French composer Guillaume Connesson. Since it's a world premiere, I can't give you my impressions of the piece, so I will instead defer to Benjamin Pesetsky's program notes, which include extensive commentary by the composer. For now I'll just note that Asteria was "the Titan goddess of falling stars and perhaps of nighttime divinations such as oneiromancy (by dreams) and astrology (by stars)."
Maestro Denève is a great admirer of Connesson, having conducted three of his works with the SLSO (it would have been four had the COVID-19 outbreak not caused the cancellation of his Cello Concerto in 2020). Denève has often said that he wants to present newer works that musicians like to play and listeners are likely to want to hear more than once. Connesson's music, based on what I have heard of it in the past, certainly qualifies.
The next piece on the program—"Primal Message" by contemporary American violist/composer Nokuthula Endo Ngwenyama (b. 1976)—was also affected by the pandemic. Its November 2020 premiere by Xian Zhang and the Detroit Symphony took place for a "largely online audience."  You won't find that version on YouTube or on the SLSO's Spotify playlist, but there is a fine performance by the Northwest Sinfonietta on the former.
Nokuthula Endo Ngwenyama
Photo courtesy of the SLSO
I highly recommend a listen in advance to this ethereally entrancing work. It's one of the more purely beautiful bits of new music I have heard recently. There are ravishing melodies for the cello and viola and an overall sense of nostalgia-tinged serenity. There is also, at least to my ears, a very Celtic feel to the piece, even though the composer was born in Los Angeles of Zimbabwean-Japanese parentage. To me, that suggests a wide range of musical interests on her part.
"Primal Message" was inspired by the 1974 Arecibo Message, a "simple, pictorial message, aimed at our putative cosmic companions in the globular star cluster M13" by the Arecibo Radio Telescope in Puerto Rico. "I just started having fun with the idea of what a 'Primal Message' would sound like," said the composer in a 2021 interview for violinist.com. "What could we convey about our emotional intelligence? And are we really ready to connect to another life form, when we're having such a hard time connecting with each other?"
Given that M13 is 25,000 light years away, our message won't arrive until the year 26,974, by which time humanity will be greatly changed (if not long gone). It's nice to imagine that Ngwenyama's lovely work might still be around, though, as it paints a bucolic picture of contemporary humanity that would be wonderful legacy for posterity, should there be any.
The last work on the first half of the program is "Sukkot Through Orion's Nebula" by American composer James Lee III (b.1975). Lee's inspiration is Biblical, drawing on themes from both the Old and New Testaments as well as on the theology of Seventh Day Adventists, the religious tradition in which Lee was raised. Once again, there's a detailed description by the composer himself in the program notes, so I'll just note that Sukkot is a mid-October Jewish holiday that is "both an agricultural festival of thanksgiving and a commemoration of the forty-year period during which the children of Israel wandered in the desert after leaving slavery in Egypt, living in temporary shelters as they traveled." That shelter is a sukkah, hence the name.
James Lee III
Photo courtesy of the SLSO
The work also refers to Chapter 14 of Revelation, which "marks a different kind of metaphorical harvest, and Orion's Nebula, which is mentioned in the Book of Job." The musical result of this mix is a wildly colorful 10-minute tone poem about the Messiah descending to earth on Yom Kippur (The Day of Atonement) in a blaze of brass and percussion. A slightly less exuberant central section develops some of the initial themes in passages for harp and strings before the return of celebratory opening material.
It's exhilarating stuff, with a musical vocabulary that is unquestionably contemporary while remaining listener-friendly—another hallmark of the new music that Denève has been introducing to the SLSO audience.
This weekend's concerts conclude with "The Planets," Op. 32, by Gustav Holst (1874-1934). Last played by the SLSO in 2016 under David Robertson, Holst's suite is undoubtedly his greatest and probably his only hit. Singers are likely to know Holst's many choral works and recovering band geeks like yours truly are likely to be familiar with his two suites from 1909 and 1911, or his "Hammersmith: Prelude and Scherzo" from 1930. For everybody else, it's "The Planets."
This being a hectic week for me, I have elected to repeat what I wrote about "The Planets" back in 2016. Besides, that was all lost in the Great Revision of the KDHX web site later that year, so think of this as a bit of digital reconstruction.
Written between 1914 and 1916, "The Planets" was an immediate hit and made the previously unknown Holst something of a celebrity. This was not, as it turned out, a welcome development for the rather shy and retiring composer. Indeed, like many composers who became known for a single work, Holst eventually came to actively dislike his Greatest Hit. "Holst never wrote another piece like The Planets again," writes Kenric Taylor at gustavholst.info. "He hated its popularity. When people would ask for his autograph, he gave them a typed sheet of paper that stated that he didn't give out autographs."
Gustav Holst in 1921
Photo: Herbert Lambert
If you've never heard "The Planets" before, you're in for a treat. I remember my delight the first time I heard this wonderfully cinematic seven-movement suite performed by the Vienna Philharmonic under Herbert von Karajan on a 1961 London Records disc (a remastered version of which is available on Spotify). Back then my stereo wasn't much to brag about and the original recording itself was a bit murky, but even so, from the first aggressive measures of "Mars, the Bringer of War"—an alarmingly mechanistic march in 5/4 time—I was hooked.
Inspired by the mythological and astrological aspects of the planets, the seven movements turn the heavenly bodies into characters and provide musical portraits of each one. "Mars" is all futile violence and dissonant brass. "Venus, the Bringer of Peace" floats in on a gentle horn solo, wafted along by flutes and strings. "Mercury, the Winged Messenger" zips along its triplets tossed around by the harp, strings, woodwinds, and celesta. And so it goes. Pluto (which has since lost its planetary status) hadn't been discovered yet and Earth, of course, doesn't count in astrology, hence the seven movements instead of nine.
Holst actually got two hits out of "The Planets," as it happens. The big, noble second theme from "Jupiter, the Bringer of Jollity" proved to be so popular that Holst later used it as a setting for Cecil Spring-Rice's poem "I Vow to Thee My Country."  That version of the tune became a kind of second national anthem in England, along the lines of "America the Beautiful" over here.
The Essentials: Stéphane Denève returns to conduct the orchestra and members of the chorus in a celestial-themed program consisting of the world premiere of Guillaume Connesson's "Astéria," "Primal Message" by contemporary American violist/composer Nokuthula Endo Ngwenyama, James Lee III's "Sukkot Through Orion's Nebula", and Holst's ever-popular "The Planets." Performances are Friday at 7:30 pm, Saturday at 8 pm, and Sunday at 3 pm, November 18-20. The Saturday concert will be broadcast live on St. Louis Public Radio and Classic 107.3.
Related Articles