Classical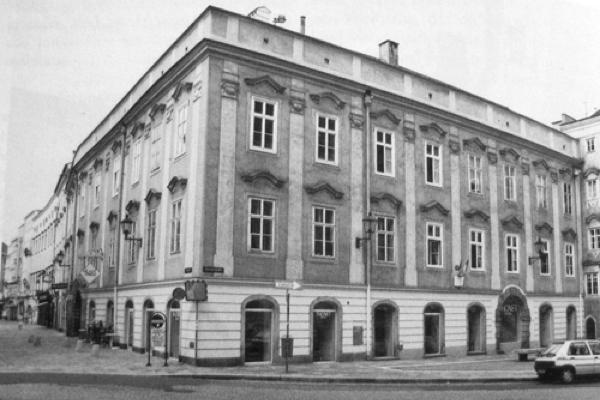 Symphony Preview: More notes, Mozart!
Written by

Chuck Lavazzi
History tells us that Handel's "Messiah," which the St. Louis Symphony Orchestra and Chorus performed last weekend (December 2–4), was written in only 24 days. This weekend (December 9–11), Dame Jane Glover conducts the orchestra in an all-Mozart program that opens with the Symphony No. 36 in C major, K. 425 ("Linz"), which was dashed off in 20 days less than that. And yet it, like "Messiah," is widely regarded as a masterpiece.
[Preview the music with my commercial-freeSpotify playlist.]
That old corporate cliché about having to choose between getting a thing done fast or getting it done right clearly does not apply to some of history's great composers.
Mozart, as drawn by Doris Stock, 1789
The Symphony No. 36 carries the nickname "Linz" because Mozart wrote it during a visit to that town in 1783, on his way back to Vienna after a visit to Salzburg with his wife Constanze. There they stayed with Count Thun and his wife, who were avid supporters of the arts. The countess had met Mozart back in 1762 (when he was seven and she was 18). By 1781 she had become a major patron.
The countess, it must be said, was a fairly accomplished musician. The noted English music historian and composer Charles Burney (in his "The Current State of Music in Germany," 1773) described her as "a most agreeable lady of very high rank, who, among other talents, possesses as great skill in music as any person of distinction I ever knew; she plays the harpsichord with that grace, ease, and delicacy which nothing but female fingers can arrive at."
But I digress.
"When we reached the gates of Linz," Mozart wrote to his father "we found a servant waiting there to drive us to Count Thun's…. I really cannot tell you what kindnesses the family are showering on us. On Tuesday, November 4th, I am doing a concert in the theatre here and, as I have not a single symphony with me, I am writing a new one at break-neck speed, which must be finished by that time."
Why a new symphony? There were two good reasons. First, it was common for audiences to expect new works on a regular basis. The preference for "decomposing composers" didn't become a thing until the mid-19th century.
The second good reason was that Mozart didn't learn about the November 4th concert until he arrived in town—on October 31st. He had brought no sheet music with him. So, as Joshua Weilerstein says in the episode of his "Sticky Notes" podcast on the Symphony No. 36, Mozart apparently decided that "rather than try to copy out parts from memory from one of his old symphonies, he would instead write something completely new."
    
This weekend's program notes have an excellent synopsis of the music. Between that and my Spotify playlist, you should be amply prepared to appreciate the way in which Mozart managed to stuff plenty of surprises and inventive ideas into what is, on the surface, a typical Classical-era work. As a bonus, the recordings of the two symphonies on the playlist are by Glover and the London Mozart Players, where she was the artistic director from 1984 until 1991.
One interesting tidbit about the "Linz": the original manuscript has been lost. This has resulted in what Weilerstein calls "a game of sheet music telephone [that] has resulted in many contradictions in this piece, over matters as trivial as a bowing or phrase marking, to matters as big as a tempo marking." For many years, for example, the second movement tempo marking was believed to be Poco Adagio, but copies of the score that Mozart sold to the Fürstenberg court at Donaueschingen in 1786 show the tempo as a slightly faster Andante, which imparts a more dance-like feel to the movement. These days, Andante is the preferred tempo.
The concerts will close with Mozart's next symphony, No. 38 in D major, K. 504 (there is no Symphony No. 37 as such). It, too, bears the name of the city in which it was first performed: Prague. It was written in 1786 and had its premiere on January 19, 1787, at the Nostitz Theater during a visit to the city by the composer, who was much admired by the Bohemian public. The score calls for an unusual number of winds (two each of oboes, flutes, bassoons, horns, and trumpets) which might or might not be an intentional tribute to the sterling reputation of Bohemian wind players in the late 18th century.
Maria Wilhelmine,
Countess Thun-Hohenstein
by Heinrich Friedrich Füger
Public Domain
Mozart would write only three more symphonies after No. 38. Taken as a group, symphonies 35¬–41 are, in the words of musicologist Theodore E. Heger (1939–1977), "among the great masterpieces of symphonic literature." Listening to these works now, it's clear that they simultaneously honor the Classical-era symphonic ideal while paving the way, intentionally or not, for the Romantic-era symphony that would be jump-started by Beethoven.
In between the two symphonies (and just before intermission) we'll hear the Violin Concerto No. 4 in D major, K. 218. Given Mozart's reputation as a pianist, it's easy to forget that he was no slouch as a violinist. His first real job in Salzburg was concertmaster at the court of Archbishop Colloredo and while his acrimonious departure from that gig is the stuff of legend, he nevertheless composed five highly regarded concertos for the violin: the first in 1773 and the other four in the space of only eight months in 1775.
Mozart himself played the Concerto No. 4 at an informal concert he had given in the Heiligkreuz Monastery near Augsburg in 1777. "In the evening at supper," he wrote to his father, "I played the Strasbourg Concerto. It flowed like oil: everyone praised the beautiful, pure tone."  This weekend's soloist, SLSO Concertmaster David Halen, has received his share of similar critical praise in the past. I look forward to seeing what the does with the concerto.
Footnote: The "Strasbourg" nickname refers, according to composer and former BBC radio producer Misha Donat, to the "musette-like episode" in the final movement which "closely resembles a popular tune used by [Carl Ditters von] Dittersdorf in the Ballo Strassburghese of one of his symphonies."
Next at Powell Hall: Dame Jane Glover conducts an all-Mozart program consisting of the Symphony No. 36, K. 425 ("Linz"), the Violin Concerto No. 4 (with Concertmaster David Halen as soloist), and the Symphony No. 38, K. 504 ("Prague"). Performances are Friday at 10:30 am, Saturday at 8 pm, and Sunday at 3 pm, December 9–11. The Saturday concert will be broadcast live on St. Louis Public Radio and Classic 107.3.
Related Articles