Classical
Classical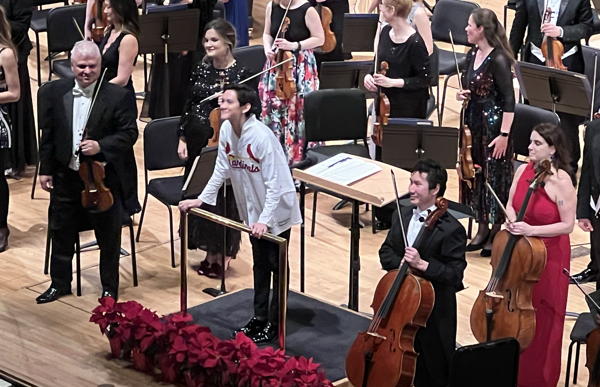 Symphony Review: Childress scores a palpable hit with her first New Year's Eve concert
By Chuck Lavazzi
Every Assistant Conductor of the St. Louis Symphony Orchestra goes through at least two rites of passage. The first and most obvious is their first regular season concert with the band. The second is the first New Year's Eve concert. Stephanie Childress, our current AC, got her first shot at the latter last Saturday and it was, to quote The Bard out of context, "a hit, a very palpable hit."
It's worth noting that while the New Year's Eve concert requires the same conducting skills as the regular season, it also demands the ability to take on the role of Master of Ceremonies. That's not necessarily a role with which all conductors are comfortable, and not all of the SLSOs previous ACs have been equally at home in it. Childress, however, was thoroughly engaging and won the audience over from the very start with a cheerful and unassuming stage presence. Coupled with the high-energy performance of the overture to Leonard Bernstein's 1956 operetta "Candide" that opened the proceedings, it got things off with a bang that no amount of ordnance could match.
Over the decades "Candide" has been revised more often than George Santos's biography but the overture has emerged unscathed, and with good reason. It's a certified rouser with lots of flash and some showy stuff for the horns, played with real relish by Roger Kaza and company. But then, truth be told, the whole band sounded great on Saturday.
Stephanie Childress
Photo courtesy of the SLSO
The "Candide" overture was one of three Bernstein works on a program that prominently featured American composers in general and American theatre composers in particular. That gave the proceedings more of a "pops" feel than has sometimes been the case in the past, but as a musical theatre lover I could hardly complain. Besides, any concert that includes such a virtuoso delivery of the rhythmically complex "Mambo" from "West Side Story" has my vote. Percussionists Alan Stewart, Kevin Ritenauer, Sasha Luthy, and Kim Shelley certainly distinguished themselves here. Ditto Principal Timpani Shannon Wood.
The Broadway orientation also gave the vocal soloists a chance to strut their stuff. Tenor Jeff Kready and soprano Mikaela Bennett (whom many of you will likely remember from her Muny appearances) have solid musical theatre backgrounds and put them to good use in both their solos and duets.
Kready's "Younger Than Springtime" (from "South Pacific") had plenty of naïve romance, Bennet's "I Could Have Danced All Night" (from "My Fair Lady") had a power and clarity that made her mic irrelevant, and both were appropriately rapturous in the "Tonight" balcony scene from "West Side Story." I also enjoyed their "You're the Top" from "Anything Goes," although I would have liked it even more had they sung more than just the first two of Porter's witty verses. Unfortunately, the staging of their duets had Bennett's face turned away from a good third of the audience, but her strong theatrical presence offered some compensation.
Let me not leave you with the impression that the usual classics were slighted, however. Childress's finely paced version of "On the Beautiful Blue Danube" included many subtle touches that made it more than simply a collection of dance tunes, and her performance of the "Nimrod" movement from Elgar's "Enigma Variations," taken at a tempo that was closer to Largo than the Moderato marked in the score, simply oozed with lush romanticism. I don't know whether or not that tempo would work within the context of a complete performance (Childress will be conducting one this April), but as a palate cleanser between "You're the Top" and a lively trio of dances from Tchaikovsky's "Eugene Onegin," it was spot on.
That trio consisted of the familiar "Polonaise" (taken at a brisk tempo that probably would have challenged dancers but provided no obstacle for the SLSO musicians) and the "Waltz" followed by the far less familiar "Écossaise" (a fast 2/4 number in the style of a Scottish country dance). I don't think I've ever heard it outside of the opera, which made it a nice surprise, especially when played with such brio and punch. The attempt to turn a secondary tune from the "Waltz" into a sing-along did seem a bit odd, however.
The concert closed with the "Galop Infernal" (more widely known as the "Can-Can") from the overture to Offenbach's "Orpheus in the Underworld" and the traditional sing-along of "Auld Lang Syne," played (as usual) in a key that's not friendly to us bass-baritones. But after a glass or two of Cava from the Met Bar, who cares, really?
Next at Powell Hall: Pianist Alice Sara Ott makes her SLSO debut with Ravel's Piano Concerto in G. Cristian Măcelaru is the guest conductor in a program that also includes the third of Saint-Saëns's three "Tableaux symphoniques" from his incidental music for the play "La foi," and Shostakovich's Symphony No. 1. Performances are Saturday at 10:30 am and 8 pm, January 14. The Saturday evening concert will be broadcast live on St. Louis Public Radio and Classical 107.3.
Related Articles