Classical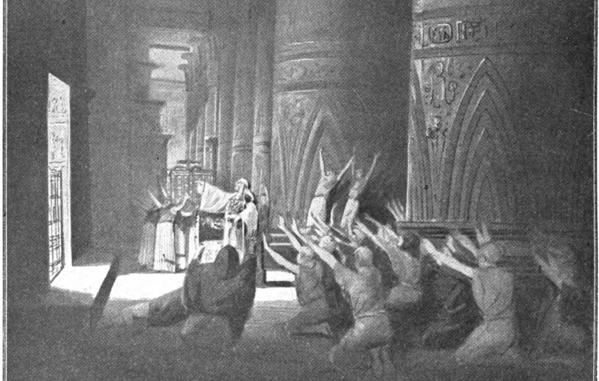 Symphony Preview: Keeping the faith
Written by

Chuck Lavazzi
Saturday, January 14, at Powell Hall, guest conductor Cristian Măcelaru takes the podium as the St. Louis Symphony Orchestra plays a program featuring the local premiere of a piece by Camille Saint-Saëns (1835-1921) that's over 110 years old, the wild and woolly Symphony No. 1 by Dmitri Shostakovich (1906-1975), and a popular piano concerto that was the result of a failed attempt at self-improvement by Maurice Ravel (1835-1937).
[Preview the music with my commercial-free Spotify playlist.]
Maurice Ravel birthday party, New York City, March 8, 1928
L-R: Oscar Fried, conductor; Eva Gauthier, singer;
Ravel at piano; Manoah Leide-Tedesco, composer-conductor;
and composer George GershwinOn
The Ravel work in question is the Concerto in G, written mostly between 1929 and 1932. It's one of only two piano concertos in his catalog (the other is the Concerto in D for the left hand, written at around the same time) and it represented an attempt by Ravel to improve his own less than stellar skill as a pianist.
Ravel, as Washington University's Hugh Macdonald has written, was not a virtuoso at the keyboard. "In his public appearances as a concert pianist," notes Mr. Macdonald, "he had preferred to play easier pieces like the Sonatine and was all too conscious that his technique was not up to his most demanding works, such as Gaspard de la nuit. But rather than write a piece within his own capacity, he decided to write a concerto of proper difficulty and simply acquire the technique to play it." Thus was born the Concerto in G.
The composition process was apparently long and difficult, having begun as early as 1911 with a holiday trip to the Basque region of France, where Ravel was born. There he started sketching a piano concerto based on Basque themes. The project was abandoned, only to resurface later as the Concerto in G. By then jazz was in the air and so, as MacDonard writes, the more energetic material in the first and third movements "emerge from Ravel's preoccupation with the brilliant percussive qualities of the piano itself" while "the languorous melodies betray his gift for giving a peculiarly sophisticated edge to the language of jazz."
In fact, Ravel got a taste of the real thing during a 1928 tour of the USA, so much is understandably made about the jazzy influences in the concerto; possible Basque influences, not so much. Regardless of the source of the concerto's inspiration, though, the result is characteristically Ravel: inventive, witty, and brilliantly orchestrated.
Ravel's attempts to bring his keyboard skills up to the level required by the concerto came to naught, unfortunately. He was already in his mid fifties—a time in life when learning new skills becomes more difficult—and his health was declining, resulting in memory problems and difficulty concentrating. So when it came time for the French premiere of the concerto, the solo role went to Marguerite Long, who taught piano at the Paris Conservatoire between 1906 and 1940. And even she found it a challenge.
"It is a difficult work," she observed in the posthumously published Au Piano avec Maurice Ravel, "especially in respect of the second movement where one has no respite."
Saint-Saëns in 1900
By Petit, Pierre (1831-1909)
Photographer Restored by Adam Cuerden
At the keyboard this Saturday will be the multi-talented Alice Sara Ott, whose latest project is a multi-media concert titled "Echoes of Life" that was created in collaboration with architect Hakan Demirel.  It's described as a "personal musical reflection on life, built around Chopin's Preludes op.28 and interspersed with seven works by the likes of György Ligeti, Nino Rota, Chilly Gonzales, Tōru Takemitsu, Arvo Pärt, Francesco Tristano, and Ott herself." Her ten albums for Deutsche Gramophon include music by Grieg, Chopin, and Liszt, among others.
Before we get to the concerto, though, we'll have the St. Louis premiere of the last of the three "Tableaux symphoniques d'après" La foi," Op. 130, by Camille Saint-Saëns. Written in 1909, the three tableaux were compiled from the incidental music Saint-Saëns had composed for the drama "La foi" (literally "The Faith," but usually translated as "False Gods") by playwright/polemicist  Eugène Brieux (1858-1932) Brieux was best known for writing controversial "realist" plays dealing with what would now be called "social justice" issues in a forthright manner that was guaranteed to cause massive pearl clutching among what Peter Weiss (in "Marat/Sade") called the "blinkered guardians of morality."
"La foi" seems to have triggered less outrage than earlier plays such as "L'Engrenage" (1894), which attacked political corruption, or "Les Avariés" (1901, banned because of its depiction of the ravages of syphilis), probably because its attack on organized religion and its corruption by the State is set in ancient Egypt. Brieux says as much in his preface, in which he acknowledges that the inspiration for the work was "the excited, suffering, and praying crowds of people" at Lourdes. "It was while on a trip to Egypt," he relates, "that I saw the possibility for discussing such questions in the theatre without giving offence to various consciences."
It is, in any case, highly melodramatic stuff. And when the disillusioned priestess Mieris brings down the final curtain declaring "I do not believe in gods in whose name men kill," it's hard not to see the relevance to contemporary events, both in 1909 and 2023.
The dramatic music we'll hear Saturday was written to underscore Act IV, in which the High Priest opens the temple of Isis so the people can witness the "miracle" of the god's stone image nodding its head, thereby promising that the annual flood, on which Egyptian agriculture was heavily dependent, will take place as usual and that, as the character of Zaya relates in Act I, "in the crowd there will be blind who shall see, and deaf who shall hear, and dumb who shall speak." It is, of course, a fake, activated by a hidden lever, but the combination of the crowd's hysterical pleas and the self-serving pontification of the High Priest, the Pharoah, and their minions probably delivered a serious theatrical wallop, especially with Saint-Saëns's score in the background.
Like his "Egyptian" piano concerto (last heard here in 2016), the music for "La foi" was influenced by the composer's visits to Egypt and Algeria in 1896. Unlike the earlier work, the Orientalism of "La foi" is relatively subdued. There's an obvious exotic (to Western ears) sound to the opening Allegro moderato e maestoso, for example, but for the most part this could easily be music from a Hollywood Biblical epic from the 1930s. It's so cinematic, in fact, that you could do worse than read along with the English translation  of Act IV at Project Gutenberg as you listen to the recording by Michel Plasson and the Orchestre Du Capitol de Toulouse in my Spotify playlist. If your French is up to it, the original version is available out there as well, complete with production photos and illustrations
Dmitri Shostakovich in 1935
In the introduction to his chapter on Shostakovich in the 1967 Penguin Books edition of The Symphony, British musicologist Robert Layton described the Russian symphonist somewhat dismissively as a "documentary composer, far more bound up with this time than...Prokofiev, or any other of his Soviet contemporaries."
These days that would probably be a minority view. Yes, Shostakovich was heavily influenced by the economic and political turmoil that characterized 20th century Russian history. How could he be otherwise? But even in the early Symphony No. 1, you can hear how he transmuted those external experiences into a sound that was uniquely his own.
Written as a Leningrad Conservatory graduation piece and first performed in 1926 (when the composer was only 19), Shostakovich's First Symphony is a remarkable study in contrasts, with chamber music–style solo passages cheek by jowl with the full-tilt bombast of the composer's more popular works. Perky melodies reminiscent of the stuff Shostakovich probably heard during his work as a cinema pianist pop up in the first and second movements, standing in stark juxtaposition to the brooding and sporadically anguished gloom of the third. There's a piano part that calls to mind Stravinsky's "Petrushka." And the final Allegro molto wraps everything up in a classic flourish of brass and percussion, reflecting the young composer's brash confidence while still retaining the sense of sarcasm that is always just below the surface.
It is, in short, a collage of external influences unified by Shostakovich's particular sensibility. It's not a documentary; it's art, even if it's a bit rough around the edges.
The Essentials: Pianist Alice Sara Ott makes her SLSO debut with Ravel's Piano Concerto in G. Cristian Măcelaru is the guest conductor in a program that also includes the third of Saint-Saëns's three "Tableaux symphoniques" from his incidental music for the play "La foi" and Shostakovich's Symphony No. 1. Performances take place at  10:30 am 8 pm on Saturday, January 14. The evening concert will be simulcast on St. Louis Public Radio and Classic 107.3.
Related Articles