Classical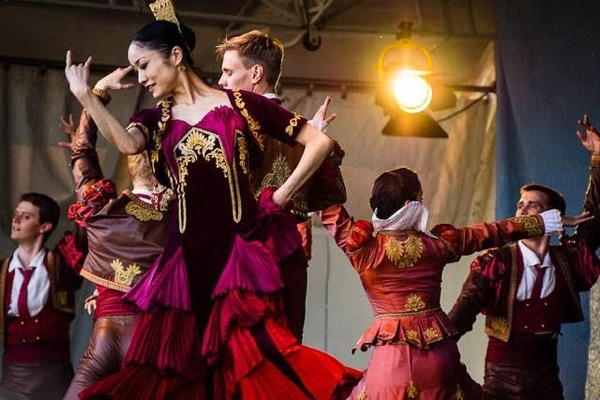 Symphony Preview: French connections
Written by

Chuck Lavazzi
"O Fortuna / velut luna / statu variabilis / semper crescis / aut decrescis" (O Fortune, / like the moon / you are changeable, / ever waxing / ever waning"). Thus opens Carl Orff's popular "Carmina Burana," based on the collection of 13th century Latin poems of the same name. It's a reminder of the role sheer blind luck plays in human affairs—something too many people these days seem determined to deny.
[Preview the music with my Spotify playlist.]
The changes in the St. Louis Symphony Orchestra programs this weekend and last are a prime example. The illness of the violinist Nicola Benedetti, who was scheduled to play both programs, forced the orchestra to drop the local premieres of contemporary violin concertos by James MacMillan (last week) and Wynton Marsalis (this week).
Last weekend the SLSO elected to substitute Mendelssohn's "Hebrides" Overture rather than engage a new soloist on such short notice. This weekend we have a replacement soloist—the Grammy-nominated Tessa Lark—and not one but two works for violin and orchestra: the "Poème" Op. 25 by Ernest Chausson (1855–1899) and "Tzigane" by Maurice Ravel (1875–1937). Add in the originally scheduled pieces by Ravel and Claude Debussy (1862–1918) and you have a program that's all French, but with an international flair.
It all begins with a Debussy bijou that the SLSO hasn't performed since 1925, the "Marche écossaise sur un théme populaire" ("Scottish march on a popular theme"). Originally written for two pianos, it was, As Stephen Walsh writes in Debussy, a Painter in Sound, "one of a brace of salon pieces composed in 1890 with a view, presumably, to a quick sale to a publisher, the Choudens brothers." The march was composed on a commission from "General" Meredith Read, who wanted a setting of a march tune associated with the Ross clan, of which he claimed to be a descendant.
I say "claimed" because a little digging into history reveals that Read (not "Reid," as his name has been misspelled by nearly everyone) was neither Scottish nor an actual General—at least in the military sense. He was, in fact, J. Meredith Read (1837—1896), an American diplomat who was the former consul-general for France and Algeria. Despite having lived in Paris for years, Meredith spoke no French and so, as Marie Rolf writes in the summer-fall 2012 issue of the Musical Quarterly, "his meeting with Debussy allegedly required the translation skills of Alphonse Allais at the nearby Bar Austin." Whether Read misrepresented himself or Debussy simply misunderstood because of the way Read's words were translated is unknown.
In any case Read was, according to Tim Munro's program notes, not especially happy with the result, but Debussy apparently liked it enough to create the 1908 orchestral version we'll hear this weekend. It's certainly a bit of an odd duck, with the Highland sounds of the march, the composer's shimmering orchestration, and what Walsh calls "some mild whole-tonerie" all blended into a kind of Gallic/Caledonian fantasy.
By way of contrast, Chausson's 1896 "Poème" is purely French and lavishly Romantic. Inspired by Turgenev's 1881 novella The Song of Love Triumphant, the "Poème" originally had the same title as the book, but Chausson changed it before the piece was published, apparently to avoid associating it too closely with the novel. I think it was a wise decision; this music has a haunting beauty that doesn't need any extra-musical references.
The "Poème" has been massively popular with violinists ever since it was first performed by the great composer/violinist Eugène Ysaÿe, who commissioned the piece and may have helped with some of the details of the violin part. "When Ysaÿe introduced the Poème in Paris," writes Michael Steinberg in The Concerto: A Listener's Guide, "the applause rang on and on. Chausson's friend the novelist Camille Mauclair recalled that the bewildered composer kept repeating, 'I can't get over it.'"
Sadly, it wouldn't last; only two years after the work's 1897 premiere, Chausson died when he lost control of a bicycle and smashed into the wall of his country villa. He was only 44. Chausson is a composer whose music does not, in my view, get quite as much attention as it deserves. His Symphony in B flat (1890) is a particular favorite of mine, but live performances seem to be rare.
Next, it's Ravel's 1924 high-wire act "Tzigane."  The title is French for "gypsy," and while this fiercely difficult piece for violin and orchestra doesn't use any actual Hungarian folk tunes, it certainly conjures up the feel of that kind of music. The slow, smoldering romanticism of the opening eventually gives way to a wildly energetic finale that will test the skill of the best violinists.
Ravel was inspired to write the work after hearing the Hungarian-born violinist Jelly d'Arányi in a private performance of Ravel's Sonata for Violin and Cello. Although she was a classically trained performer, Ravel asked her to play some "gypsy" music. She responded with what William E. Runyan calls "a dazzling informal improvisation in the Gypsy style," and Ravel was hooked.
Tessa Lark does not appear to have recorded the "Poème," but she did record the Ravel, albeit in its original violin and piano form rather than the orchestral version we'll hear this time. My Spotify playlist includes both her recording as well as Nicola Benedetti's recordings of both "Tzigane" and the "Poème."
Debussy returns in the second half of the evening with a more famous and much more substantial work: "Ibéria," the second of his three "Images" for orchestra (the other two, "Gigues" and "Rondes de Printemps," are heard less often). Walsh calls it "an almost cinematic stretch of musical footage, a twenty-minute travelogue that depends for its effect on the multiple layering of different colours and the rapid intercutting of quasi-visual images and slices of musical life."
As capsule descriptions go, that's a winner. The three short movements of "Ibéria" do, in fact, feel like the musical equivalent of the mid-20th-century school of French cinema known as "La Nouvelle Vague" ("The New Wave") with its odd mix of realism, subjectivity, and fragmented narrative. Themes appear and  disappear, and then emerge once more in subtly altered forms, sometimes when you least expect them. For a more detailed description, allow me to recommend Michael Steinberg's excellent program notes for the San Francisco Symphony Orchestra.
This weekend's concerts will conclude with Ravel's "La Valse," a work that began in 1911 with the title "Wein" ("Vienna"). And, in fact, a bit of it shows up in a piece from that same year, the "Valses nobles et sentimentales." Before it could be completed, however, World War I (in which the composer served as an ambulance driver) intervened, and by the time "La Valse" was submitted to (and foolishly rejected by) Diaghilev for the Ballets Russes in 1919, it had become something far more profound.
"At the close of World War I," writes Carl E. Schorske in Fin-De-Siecle Vienna: Politics and Culture, "Maurice Ravel recorded in La valse the violent death of the nineteenth-century world. The waltz, long the symbol of gay Vienna, became in the composer's hand a frantic danse macabre." Ravel himself, though, resisted anything that specific. "It is a dancing, whirling, almost hallucinatory ecstasy," he said in a 1922 interview for a Dutch newspaper, "an increasingly passionate and exhausting whirlwind of dancers, who are overcome and exhilarated by nothing but 'the waltz.'"
That said, I can't hear it without envisioning a huge, ornate machine spinning faster and faster until it hurls itself to pieces—as the complex structure of 19th-century Europe did in the so-called "war to end all wars". The piece is, needless to say, brilliantly orchestrated, and its crashing finale is thrilling—but also a bit unnerving. It reminds me of the old joke about the problem with history being that every time it repeats itself, the price goes up.
So there you have it: a program of musique très française that's also part Scottish, Russian, Spanish, and Viennese. Now if only they had some actual French wines at the bar….
The Essentials: Stéphane Denève conducts the St. Louis Symphony Orchestra and violin soloist Tessa Lark in music by Debussy, Chausson, and Ravel Saturday at 8 pm and Sunday at 3 pm, February 18 and 19. The Saturday concert will be broadcast live on St. Louis Public Radio and Classic 107.3. There will also be a special "Crafted" happy hour performance of Debussy's "Ibéria" and Ravel's "La Valse" on Friday, February 17. Doors open at 5:30 pm for drink samples and snacks from local vendors, with the concert starting at 6:30.
Related Articles