Classical
Classical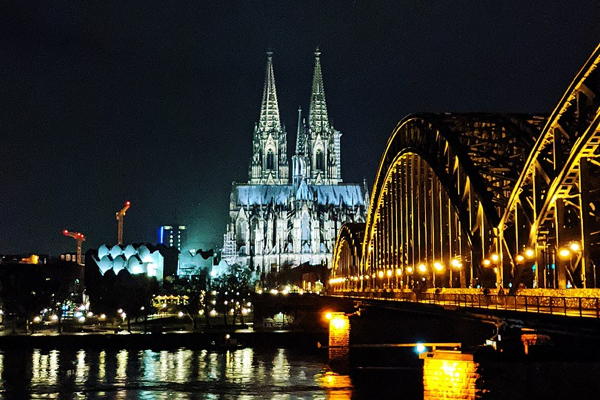 Symphony Preview: The three ages of man
By Chuck Lavazzi
This weekend, March 3 and 4, Stephanie Childress conducts the St. Louis Symphony Orchestra  in a program of music from three different centuries written by composers at three very different stages of their lives and careers. It's just as varied as you might expect.
[Preview the music with the SLSO's Spotify playlist.]
Oswald Huỳnh
Photo: Allison Davis
The concerts open with the premiere of "Gia Đình" ("Family") by Oswald Huỳnh (b. 1997), one of three composers chosen for the 2021–2022 Mizzou New Music Initiative, a joint project of the University of Missouri and the SLSO. Written in collaboration with Childress and members of the orchestra, "Gia Đình" is described in Skyler Dykes's program notes as a reflection of the Vietnamese diaspora that "draws from a sampling of Vietnamese folk melodies and religious texts and plays with experimental techniques, such as chant and improvisation."
In that respect, it sounds very much like the "Ngū Hành (2022) and "Frequent Wind" (2021), the only other works by Huỳnh that I have been able to find online. Both combine Vietnamese traditions with innovative performance practices. "Frequent Wind," for example, uses an amplified music box. "Gia Đình" is scored for a conventional orchestra of winds, strings, and percussion, but even so I'd expect some unusual sounds in performance.
From new music by a 21st century composer at the beginning of his career, we leap back in time to a popular concerto by a middle aged 18th-century master. Franz Joseph Haydn (1732–1809) composed his Keyboard Concerto No. 11 in D major, Hob. XVIII (referring to its position in the catalog of Haydn's works by Dutch musicologist Anthony van Hoboken) in 1784 or thereabouts. He had just inked a new contract with his long-time employer, the House of Esterházy, that allowed the composer to sell his own works on the open market, and the D major concerto was one of them. Its lively and genial style has made it a favorite of audiences and performers alike.
Haydn circa 1770
Painting by
Ludwig Guttenbrunn
It was also, in its own way, something of a cutting-edge piece. Haydn's earlier keyboard concertos were, according to the Grove Dictionary, likely composed for organ and often played on the harpsichord. The D major concerto was written with a relatively new instrument in mind: the fortepiano. This forerunner of the modern concert grand was smaller (a range of four or five octaves, depending on the maker) and lighter, both in tone and weight, due to the fact that the frame was wooden rather than the cast iron of the modern instrument. Not as radical as an amplified music box, of course, but fairly "with it" for Haydn.
Like many keyboard concertos of its time, Haydn's D major assumes a lot of latitude for the performer. The score is short on expressive and dynamic indications and while Haydn wrote of a couple of his own cadenzas for it, most performers feel free to improvise their own. That means the soloist this weekend—our own trusty and well-beloved Peter Henderson—should have plenty of opportunities to put his own stamp on the work.
After intermission, it's time for the Big Event of the evening, the Symphony No. 3 in E-flat major, op. 97 ("Rhenish"), by Robert Schumann (1810–1856). It was composed and orchestrated in just one month in 1850, the year in which Schumann arrived in Düsseldorf to assume the position of Music Director.
Schumann had been strongly recommended by Ferdinand Hiller, the outgoing MD, despite the former's lack of conducting experience. This was a bit surprising, since the job would put Schumann in charge of the orchestra and chorus (Gesangverein) of the Allgemeiner Musikverein and oblige him to oversee the music on major feast days at St. Maximilian and St. Lambertus, Düsseldorf's principal Catholic churches as well.
Still, Schumann accepted the job because the salary would lessen the financial strain on Clara (whose concertizing was the family's principal source of income) and because Düsseldorf's location on the Rhine just north of Cologne placed it, as Judith Chernaik writes (in Schumann: The Faces and the Masks), in "one of the most beautiful and poetic regions of Germany."
Schumann in 1850
en.wikipedia.org
Celebrated in German song, story, and (thanks to Wagner) opera, the Rhine held a particular fascination for Schumann. "Schumann had taken a steamboat down the Rhine in his youth," writes Chernaik, "and the great river had magical associations for him." He was especially taken with the great Gothic cathedral at Cologne. When we saw it last year as part of a Rhine River cruise the cathedral's exterior was in the midst of a massive clean-up and restoration project, but even so it was awe-inspiring both inside and out. I can only imagine how stunning it must have been over 170 years ago (even though it was still under construction). Not surprisingly, the cathedral gets its own musical selfie—marked feierelich (solemnly)—in the fourth of the symphony's five movements.
Although Schumann was, at the time, only four years away from the crippling mental illness that would confine him to an asylum and eventually lead to his death at the age of 46, the "Rhenish" shows no sign of any weakening of his musical powers. Quite the opposite, the work's bottomless well of melodic invention and logical construction mark it as the product of a mind overflowing with creative energy. "Schumann certainly took on a new lease off life when he wrote it," observes Julius Harrison in The Symphony Vol. 1: Haydn to Dvorak. "Its form is classical and the music itself developed with inspiration and great skill…[H]ad he lived ten years longer, what might he not have done in the world of the symphony?"
We'll never know the answer to that question, of course, but we at least appreciate the wonderful legacy he left us. From the dramatic rising E-flat major chords of the first movement (often seen as an homage to Beethoven's "Eroica") to what Harrison accurately describes as "the imposing ending full of joie-de-vivre" of the last, this is music guaranteed to grab you by the lapels and not let go.
The Essentials: Stephanie Childress conducts the orchestra and piano soloist Peter Henderson in Haydn's Keyboard Concerto No. 11 in a program that also includes "Gia Đình" ("Family") by Oswald Huỳnh and the Symphony No. 3 in E-flat major, op. 97 ("Rhenish"), by Robert Schumann. Performances are Friday at 7:30 pm and Saturday at 10:30 am, March 3 and 4, at Powell Hall in Grand Center. The Saturday concert will be recorded live and broadcast at 8 pm the same day on St. Louis Public Radio and Classic 107.3.
Related Articles