Classical
Classical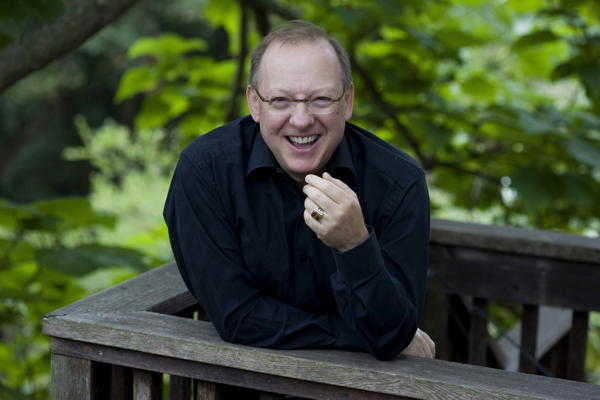 Symphony Review: McGegan conducts a pair of dramatic hits at Powell Hall
By Chuck Lavazzi
As our little group approached Powell Hall Friday night (March 10th), a tour bus pulled up with what appeared to be a group of students who were there to take in a St. Louis Symphony Orchestra concert. If so, their chaperones made a good choice.
[Find out more about the music with my symphony preview.]
With early music guru Nicholas McGegan (who has a long association with the SLSO) at the podium, this fast-paced and entertaining pair of works for orchestra and chorus by Beethoven and Mendelssohn would certainly have made for an ideal introduction to classical music and the whole SLSO experience. At just over 90 minutes (including intermission), it was a bit shorter than the typical evening at the symphony (normal run time is around 2 hours or so) and the music was listener friendly. No experience was required, and a good time was had by all.
Sarah Price
The evening began with the Beethoven's "Selections from Egmont," op. 84, composed on commission for an 1810 revival of Goethe's 1788 tragedy. The play is a fictionalized account of the execution of Lamoral, Count of Egmont, Prince of Gavere (1522–1568), who was beheaded for resisting Spanish rule and the imposition of the Inquisition on the Netherlands. Running around a half-hour, Beethoven's Op. 84 consists of a noble and emotionally charged overture along with two songs (for the fictional character of Clärchen, Egmont's love interest), four entr'actes (scene change music), two bits of underscoring, and a final "Victory Symphony." That last bit is essentially a repeat of the final 90 seconds of the overture and follows Egmont's call for independence.
McGegan approached all this with that combination of unbridled joy and meticulous attention to detail which has characterized his work here in the past. The opening of the overture set the tone for the performance overall. Marked Sostenuto ma non troppo ("Sustained, but not too much," literally), it was majestically slow—which made the gradual build to the main theme all the more commanding. The two-note "execution" violin motif just before the Allegro con brio coda was striking decisive and the coda itself was stirring, with nice accents by Ann Choomack on piccolo.
After a long pause for latecomers (who had, perhaps, not noticed that the concert started at 7:30 rather than 8) soprano Danielle Yilmaz gave a defiant performance of "Die Trommel gerühret" ("Beat the drums"), in which Clärchen declares her love and support for Egmont in militaristic terms. Clärchen's other song, "Freudvoll und leidvoll" ("Full of joy, full of sorrow"), got an equally strong performance from soprano Sarah Price. She let us hear the emotional ambiguity of the lyrics, which move from waver between doubt (Andante con moto) and ecstasy (Allegro assai vivace) before finally settling on the latter.
Enrico Lagasca
Photo: Jiyang Chen
The entr'actes and underscore pieces were all neatly done, with some fine oboe solos by Jelena Dirks and excellent playing by the horns, especially in "Clärchen's death." The "Victory Symphony" brought it all to an electrifying finish.
The second half of the concert belonged to Mendelssohn's 1843 revision of his setting for chorus and orchestra of Goethe's 1799 dramatic poem "Die Erste Walpurgisnacht" ("The First Walpurgis Night"). In what was, surprisingly, the work's first performance here, McGegan led the orchestra and chorus in a real barnburner of a performance. It was sung in English, as many of Mendelssohn's choral works were even in his day. The multi-lingual composer knew he was a Hot Property in Britain and made sure his music would work just as well in English or German.
The story deals with a group of German Druids who prefer to celebrate Beltane eve in the old-fashioned way, without interference from Christian authorities. Their solution is to scare the Christian forces away by disguising themselves as assorted imps, devils, and demons. The opportunities for high drama here are obvious, and Mendelssohn made the most of them in a score filled with big, commanding choruses and an orchestra unusually rich in brass and percussion parts. "It's very high energy music," observed McGegan in an interview for my video blog. "Mendelssohn lives in the era before decaf."
The sturm und drang gets off to a rousing start with the turbulent "Overture: bad weather." The "dark and stormy night" tone painting is reminiscent of the "Hebrides" Overture—not exactly surprising, since it was written at around the same time—and McGegan's reading was so vivid you could almost feel the wind and rain. His entire podium presence, in fact, was a wonderful mix of precise cueing and physical enthusiasm.
There are a few solo numbers in "The First Walpurgis Night," but the chorus is the real star of the show. Under the direction of Webster University's Trent Patterson, the SLSO singers displayed just the right mix of power and precision that's called for here. Their enunciation was admirably crisp, although it wasn't obvious just how good it was until I heard the Saturday night broadcast, since Powell Hall's acoustics can muddy things a bit.
That said, the soloists were impressive as well. Tenor Thomas Cooley was a radiant Druid welcoming the spring as well as a comically petrified Christian soldier who decided "onward" is not his preferred direction. Bass-baritone Enrico Lagasca was an imposing Priest, although he was having a bit of trouble with his high notes on Friday (I suspect allergies might have been the issue). In any case, he sounded fine in Saturday night's broadcast.
The SLSO Chorus
Photo: Dilip Vishwanat for the SLSO
For my money, though, the most impressive performance was that of alto Victoria Carmichael (of the SLSO Chorus) as "An aged woman of the people" warning of the violence that can be expected from the Christians if the Druids are discovered: "On their ramparts they will slaughter / Mother, father, son, and daughter!" That's potent stuff that calls for exactly the kind of forceful delivery it got from Carmichael.
It was good to see and hear the chorus in action again, especially in music that gives them a chance to display their strength as an ensemble. And I have always found McGegan to be a welcome presence on the podium. His association with the SLSO goes back a long way—to a 1986 "Messiah" in fact—so his rapport with the band has, by now, a kind of cozy familiarity.
Next at Powell Hall: Stéphane Denève conducts the St. Louis Symphony Orchestra and pianist Vikingur Ólafsson in a one-night-only preview of the program they will take on the orchestra's March European tour. The concert consists of Prokofiev's The Love for Three Oranges Suite, Grieg's Piano Concerto, and Rachmaninoff's "Symphonic Dances." The concert takes place on Thursday, March 16, at 7:30 pm. Stephanie Childress will conduct the SLSO Youth Orchestra and Concerto Competition winner Ayan Amerin in the Allegro non troppo from the Violin Concerto in D major by Brahms and the Symphony No. 5 by Shostakovich on Sunday, March 19 at 3 pm. The regular concert season resumes in mid-April.
Related Articles