Classical
Classical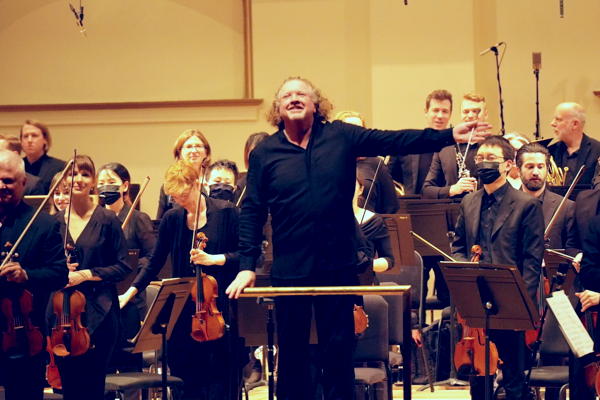 Symphony Review: The SLSO says 'bon voyage' with an evening of orchestral showpieces
By Chuck Lavazzi
It was a veritable love fest at Powell Hall last Thursday, March 16th. Stéphane Denève professed his love for pianist Víkingur Ólafsson. Ólafsson declared his love for the musicians of the St. Louis Symphony Orchestra and the audience. And the audience demonstrated their love for all of them with multiple standing ovations. To top it off, the opening work on the program was Prokofiev's "Love for Three Oranges" suite.
[Find out more about the music with my symphony preview.]
Denève conducts the SLSO
Photo courtesy of the SLSO
The occasion for this outpouring of affection was a special "bon voyage" concert in which Denève and the band presented the program that they and Ólafsson will be playing on their four-country, five-city European tour March 21 through 31. In addition to the Prokofiev, that program consists of Grieg's Piano Concerto, Rachmaninoff's valedictory "Symphonic Dances," and encores by Bernstein and Bizet. If it goes as well on the tour as it did Thursday night, St. Louis will be well represented on the other side of the Atlantic.
 
Denève said that he chose the suite Prokofiev created from the score for his 1921 opera "The Love for Three Oranges" because it was a showcase for the excellence of the SLSO musicians. He then proved that point with a performance of this wildly colorful score that reflected all its many eccentric moods. The second movement, "Magician Celio and Fata Morgana Play Cards," was a perfect combination of menace and mock pomposity, with great crashes of sound from the brass and percussion. The fourth movement "Scherzo" was light, fleet, and a striking study in contrasts. And in "The Prince and Princess" (the fifth movement) the voice of the strings was both romantic and uneasy.
Prokofiev composed both the opera and the suite with an American audience in mind, which may be one reason why the music sounds like a cross between a circus and a lunatic asylum. It is, in any case, flashy and entertaining and gave every member of the band a chance to show why the SLSO can be fairly described as an orchestra of virtuosos.
Vikingur Ólafsson plays the Grieg Concerto
Photo courtesy of the SLSO
Up next was Grieg's enormously popular Piano Concerto. This dependable old warhorse is so well known that you'd think it would be difficult to find anything new in it. But Icelandic pianist Víkingur Ólafsson demonstrated that it can still be done.
When Ólafsson last played the concerto with Denève and the SLSO in 2021 I was struck by the originality and energy of his approach. This was especially true in the first movement cadenza, which was something of a microcosm of the performance as a whole. Both then and this past Thursday, it was a study in extremes, nearly coming to a complete halt before building steadily to the boiling power of the big restatement of the main theme.
Ólafsson was less physically demonstrative than he was when he made his debut here in 2021, but no less artistically and technically solid. The near-capacity house rewarded him with warm applause, and he reciprocated with a subtly beautiful encore: Ólafsson's own arrangement of the "Ave Maria" by his fellow countryman Sigvaldi Kaldalóns (1881–1946). Those of you keen on hearing it again can find it on Ólafsson's 2022 album "From Afar" on Spotify.
 
The concert concluded with Rachmaninoff's "Symphonic Dances," another large-scale work that also showed off the band to good advantage. Unlike Prokofiev's frenetic suite, though, this was not a soundscape drenched in bright primary colors. The sonic world of the "Symphonic Dances" is one of encroaching shadows and nocturnal imagery. Not surprisingly, it was the last thing Rachmaninoff wrote.
Denève conducts the SLSO
Photo courtesy of the SLSO
Denève last conducted this in 2019. At the time I felt that he had brought a wide variety of expression to the work, with tempos on the slow side, a feeling of intense emotional commitment, and recognition of the way the composer used silence as a musical element. That was still true this time around, although there were some tweaks here and there. The Non allegro first movement, for example, got off to a brisker start than I recall, but that could just be my memory playing me false.
No matter: it was still a grand performance with important solo moments finely rendered. That includes, among many others, Michael Weiss-Holmes's melancholy alto sax solo in the first movement and Concertmaster David Halen and English horn Cally Banham in the second. There was some darned fine playing throughout by Peter Henderson on piano, Principal Harp Allegra Lilly, and the flutes under Matthew Roitstein. Congratulations to all.
But, wait: there was more!  The orchestra is bringing along a pair of high-energy encores: the overture to Leonard Bernstein's 1956 opera/operetta/musical (it has been through multiple revisions over the years) "Candide" and the "Farandole" from Bizet's incidental music for the play "L'Arlésienne." The latter, with its insistent percussion and quotes from the Provençal Christmas carol "La Marche des rois," is always a guaranteed rouser. They both got an enthusiastic reception Thursday night, despite coming as surprises at the end of a long concert.
More information about the SLSO's upcoming tour is available at the orchestra's web site, including pictures from Thursday's concert.
Next at Powell Hall: Powell will be dark while the band is away, except for a concert by bluegrass banjo virtuoso Béla Fleck on Friday March 31 at 7:30 pm. St. Louis Speakers Series presents Anthony Ray Hinton on Tuesday, April 11 at 8 pm. One of the longest-serving death row prisoners in Alabama history, Hinton was released after 30 years of time for a crime he did not commit.
Regular concerts resume in mid-April. Note, however, that the Powell Hall lot will be closed as of March 20th as the renovation and expansion of Powell Hall begins. More information about parking is available at the SLSO web site.
Related Articles