Classical
Classical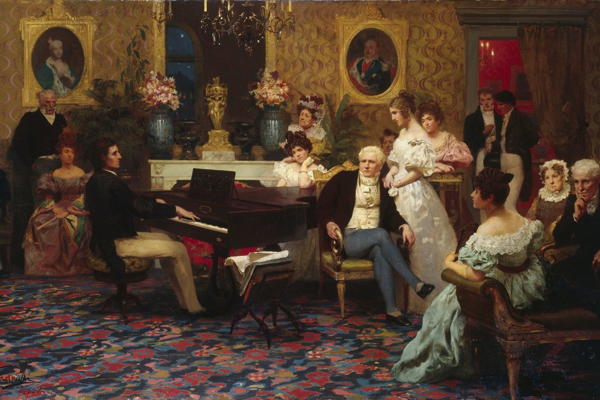 Symphony Preview: Traditional values
By
Back home from its first European tour since 2017, the St. Louis Symphony Orchestra continues the current season this weekend (April 14–16) with a mix of works from early 19th century Poland, late 19th century England, and WW II USA—all of which use composition techniques that go back to at least the 18th century.
[Preview the music with the SLSO's Spotify playlist.]
Samuel Barber, photographed by
Carl Van Vechten, 1944
Public Domain
With Assistant Conductor Stephanie Childress at the podium, the orchestra opens the concerts with the Second Essay for Orchestra, written in 1942 by Samuel Barber (1910–1981) and last heard at Powell Hall back in 2009 with former Assistant Conductor Ward Stare at the helm. Like its literary namesake, Barber's Essay presents a thesis (i.e., a musical theme) and then elaborates on it by altering the theme's mood and orchestral dress and generally expanding on it in a freer version of the traditional theme and variations form.
In Grove Music Online, Barbara B. Heyman writes that this and Barber's other two Essays "employ a rich orchestral palette and are characterized by well-crafted formal design, fluent counterpoint, and haunting themes–often assigned to solo woodwind instruments–that reflect a strong vocal orientation." In the Second Essay, the theme is first stated by the solo flute, which is soon joined by the bass clarinet, English horn, and oboe. It has an uncertain feel, as if the composer were beginning his essay with a musical question.  Soon the rest of the orchestra joins in, and the theme begins to undergo a series of transformations. The work builds to the first of several climaxes as rapidly changing time signatures (6/8, 9/8,3/4, etc.) create a sense of restlessness—a feeling emphasized in a contrapuntal central section that prominently features the woodwinds, brass, and percussion.
This is music that clearly reflects the anxiety of a world at war. It ends with a sense of serenity and hope for the future—something that probably felt as uncertain then as it does now.
When Fryderyk Chopin (1810–1849) composed his 1829 F minor piano concerto (officially the Concerto No. 2 because, even though it was written before the Concerto No. 1 in E minor, it was published six years later) he was also experiencing a profound mix of anxiety and hope. In his case, though, it was heavily seasoned with what Alan Walker, in a 2018 biography of the composer, describes as "his first sexual awakening."
The cause of all that hormonal uproar was one Konstancja Gladowsky, the manager of an apartment building in Warsaw and possessor of an impressive mezzo-soprano voice. Chopin saw her perform in a concert on April 12, 1829, and was immediately smitten. Alas, Konstancja did not lack for male admirers and Chopin was so painfully shy that instead of pouring his heart out to her, he unburdened himself in a series of increasingly steamy letters to his friend Tytus Woyciechowski. We'll never know what Tytus made of it all since no letters from him to the composer have survived, and Konstancja went on to marry the wealthy diplomat Józef Grabowski. So the only real product of Chopin's repressed passion was the Larghetto of the F minor concerto.
Ah, but what a heartbreakingly beautiful thing that Larghetto is. "It reaches such expressive heights," writes Walker, "that the roulades and grace notes with which it is adorned become virtually indistinguishable from the melody those ornaments were meant to decorate." Indeed, the entire concerto is steeped in the composer's characteristically decorative Romanticism while staying true to Classical-era structures like sonata form (in the first movement) and the rondo (in the finale). The latter is also heavily informed by the Polish mazurka, a folk dance that so entranced the composer that he wrote close to 60 of them. There's no cadenza as such in the first movement (although the piano plays such a prominent role that one could regard the whole movement as a cadenza), but Chopin makes up for it with plenty of virtuoso flash in the concluding minutes of that last movement.
This weekend's soloist will be the young French pianist Lise de Salle (b. 1988), who began performing in public at the age of 9 and won First Prize at the Seventh International Contest in Ettlingen, Germany, at the age of 12. A native of Cherbourg, de la Salle comes (not surprisingly) from a musical family. Her mother sang with the chorus of L'Orchestre de Paris, her grandmother taught piano, and her great-grandmother was a concert pianist in Russia where she "rubbed shoulders" ("oú elle côtoya") with Tchaikovsky.
Finally, it's back to the theme and variations format with the "Enigma Variations (Variations on an Original Theme)," op. 36, composed between 1898 and 1899 by Edward Elgar (1857–1934). Effectively a musical family album, the fourteen variations are vivid little sound portraits of Elgar, his wife, and his friends. Even a pet bulldog puts in an appearance in a comical variation (number 11) that portrays the dog tumbling down a grassy bank into the river Wye and then, according to the composer, "paddling up stream to find a landing place (bars 2 and 3) and his rejoicing bark on landing (second half of bar 5)."
My personal favorite, in terms of pure orchestral inventiveness, is variation 13, dedicated to an unnamed friend on a sea voyage. The solo clarinet (presumably Principal Scott Andrews this time around) plays a phrase from Mendelssohn's "Calm Sea and Prosperous Voyage" over an eerie pianissimo roll played on the tympani (Shannon Wood) with the wooden drumsticks instead of the usual mallets.  Elgar meant the sound to suggest "the distant throb of engines of a liner." It's an effect that can be hard to appreciate on recordings but has a truly eerie quality in a live performance.
The "Enigma" of the title, according to Elgar, refers to "another and larger theme" which is "not played". The composer never revealed what that theme might be, and speculation has been lively ("most convincingly Auld Lang Syne," according to the late British musicologist Robin Golding). I'm inclined to go along with the school of thought that the "theme" to which Elgar referred wasn't musical at all but rather the common thread of friendship and good humor that pervades the music.
The Essentials: Stephanie Childress conducts the St. Louis Symphony Orchestra and piano soloist Lise de la Salle in Chopin's Piano Concerto No. 2, along with Barber's "Second Essay for Orchestra" and Elgar's "Enigma Variations." The full program will be performed Saturday at 8 pm and Sunday at 3 pm, April 15 and 16. The Saturday concert will be broadcast live on St. Louis Public Radio and Classical 107.3.
There will also be a special Crafted Series performance of the "Enigma Variations" only on Friday, April 14, at 6:30 pm. Doors open at 5:30 pm for "happy hour" with local drink samples and complimentary snacks from Soul Burgers, Perennial Artisan Ales, Switchgrass Spirits, The Popcorn Bar, and All Rolled Up. Seating is on a general admission basis.
Related Articles