Classical
Classical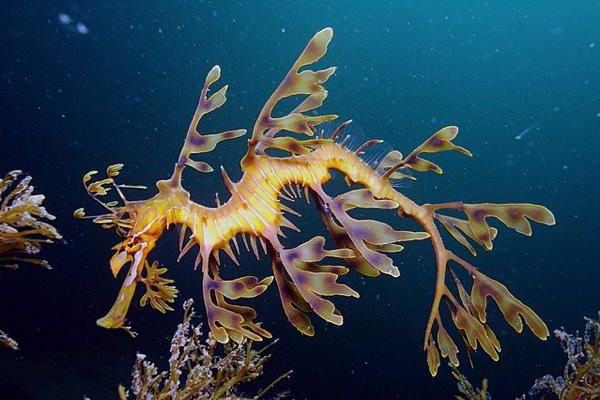 Symphony Preview: Pure imagination
By Chuck Lavazzi
When Conductor Laureate Leonard Slatkin makes one of his regular return visits to the St. Louis Symphony Orchestra podium this weekend (Saturday and Sunday, April 22 and 23), he'll be conducting a trio of works that have one thing in common that's obvious and another that might be less apparent.
[Preview the music with the SLSO's Spotify playlist.]
The obvious link is geographical and linguistic: Spain and the Spanish language. The concerts open with the lively "España," composed in 1883 by Emmanuel Chabrier (1841–1894) and inspired by an extensive tour of Spain the previous year. Next is the "Anthology of Fantastic Zoology" by Mason Bates (b. 1977), based on the "Book of Imaginary Beings" by one of the previous century's premier Spanish-language writers, Jorge Luis Borges. Finally, we have another work inspired by Spanish literature, "Don Quixote (Fantastic Variation in a Theme of Knightly Character)" by Richard Strauss (1864–1949).
Less obvious is that all three works share another common thread: fantasy and imagination.  The inhabitants of Borges's literary zoo are just as unreal as the serio-comic adventures of Miguel de Cervantes's befuddled "Caballero de la triste figura" ("knight of the woeful countenance"). And while Chabrier's inspiration was real enough, it was his vivid imagination and command of orchestral color that made his modest work a massive hit with both the public and a wide range of important composers, from Mahler to Manuel de Falla.
If Emmanuel Chabrier's name is not immediately familiar, by the way, that should not be surprising. He's a composer who, in my view, has been unjustly neglected. Part of the problem was that, despite his skill as a pianist (Vincent D'Indy ranked him with Liszt and Anton Rubenstein) and taking private lessons in harmony and composition as a young man, Chabrier had no real formal musical training. He was essentially an amateur who, for most of his life, made his living as a civil servant. As a result, his output was limited.
Even so, much of what he did publish is well crafted and appealing. His "Suite Pastorale," "Marche française," and "Fête polonaise" deserve more attention, as do his many piano miniatures. And the wildly Wagnerian overture to his opera "Gwendoline" demonstrates that nothing succeeds like excess. In any case, "España" is a true toe-tapper that only a curmudgeon could fail to love. This engaging little work even inspired at least two "borrowings": Emil Waldteufel's "España Waltz" in 1886 and the pop song "Hot Diggity (Dog Ziggity Boom)," which was a bit hit for Perry Como in 1956.
Mason Bates
Photo: Ryan Schude, courtesy of the SLSO
Imagination is practically the middle name of Mason Bates, who says that the "magical intersection between music and technology" is "a central tenet" of his work. A self-described "DJ and curator" as well as a composer, Bates writes music that pushes boundaries while still remaining eminently listenable. His opera "The (R)evolution of Steve Jobs," which I saw in Santa Fe back in 2017, impressed me with its novel mix of pop, electronic, and traditional sounds. His 2022 "Philharmonia Fantastique" combines live music and film animation to create a contemporary equivalent of Britten's "Young Person's Guide to the Orchestra," giving it a sense of whimsey that's equally apparent in "Anthology of Fantastic Zoology."
Bates describes the eleven-movement suite as "a kind of psychedelic Carnival of the Animals" in which "[i]maginative creatures provoke new sounds and instrumentation, with a special focus on spatial possibilities using a variety of soloists" and "a variety of onstage spatial effects." Sounds intriguing, no? It's certainly fun to listen to. I'm looking forward to seeing what it looks and sounds like live.
Strauss's "Don Quixote" also has its share of whimsy and even special effects, such as the use of a wind machine in Variation VII to depict Don Quixote and Sancho Panza's imaginary "Ride Through the Air" while a pedal point (sustained low note) in the double basses reminds us that they haven't actually left the ground. Flutter-tonguing in the horns and woodwinds imitates the bleating of sheep in Variation II, in which the Don imagines that the panicked animals are the army of an evil emperor fleeing from his heroic attack. And the inglorious result of the Don's battle with the windmills in the first variation is comically depicted by a descending harp glissando followed by an undignified thump on the tympani—after which the Don slowly stumbles to his feet (halting motifs in the cello) and tries to regain his dignity.
Richard Strauss, age 24
It is, in fact, the cello that plays the leading role of Don Quixote. His is the titular "theme of knightly character," although the supporting roles of Sancho Panza and Dulcinea also have their own melodies and instrumental counterparts. Sancho is portrayed mostly by the viola (sometimes assisted by the tenor tuba and bass clarinet) and Dulcinea by the oboe. Both, like the Don, have their own themes, but only Don Quixote has his own solo instrument. This weekend, Don Quixote will be played by the young (b. 1983) Oklahoma-born cellist Joshua Roman who, like Mason Bates, includes "composer and curator" in his self-description. The loyal Sancho will be played by SLSO Principal Viola Beth Guterman Chu.
I could go on, but the best way to get ready for the concert is to listen to the complete program on the SLSOs Spotify playlist. My only quibble is with the version of "Don Quixote" they have chosen, Leonard Bernstein's 1970 recording with the New Your Philharmonic and soloist Lorne Munroe. It's not generally considered one of the best. For that, I'd go with Rudolph Kempe's 1958 recording with the Berlin Philharmonic and cellist Paul Tortelier.
The Essentials: Conductor Laureate Leonard Slatkin leads the St. Louis Symphony Orchestra and cello soloist Joshua Roman in Richard Strauss's "Don Quixote" along with Chabrier's "España" and the 2015 "Anthology of Fantastic Zoology" by Mason Bates. Performances are Saturday at 10:30 am and Sunday at 3 pm, April 22 and 23. The Saturday morning concert will be broadcast that night at 8 on St. Lous Public Radio and Classical 107.3.
Related Articles