Classical
Classical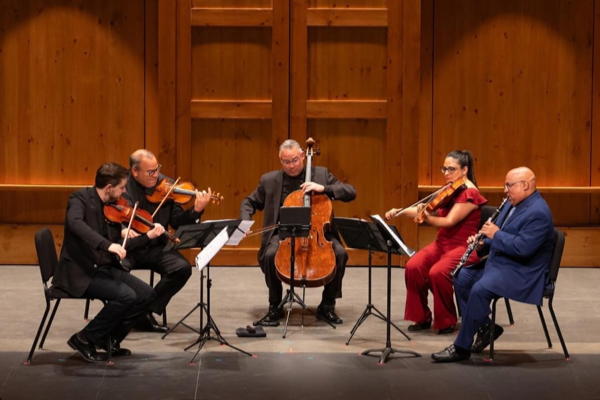 Bravo! Vail, Episode 1: Rocky mountain hydrate
By Chuck Lavazzi
By Chuck Lavazzi
[Being the first in a series of dispatches from the 2023 Bravo! Vail Music Festival.]
"Hydrate" was the word of the day as yours truly and a group of seven other members of the Music Critics Association of North America arrived in Vail, Colorado, on Tuesday July 11th for a week at the Bravo! Vail Music Festival.
It was the word of the day not because of Vail's pleasantly low humidity (hovering around 20% during the day) but rather the fact that, at around 8,000 ft. above sea level, this popular resort town is high enough to cause altitude sickness for some of us flatlanders.
For most of us (including me) it's pretty mild and one adjusts quickly. Personally I found myself breathing hard after a couple of flights of stairs for the first 24 hours.
For musicians, though, the adjustment can be a bit more tricky. Playing an instrument (regardless of the type) is, believe it or not, a form of aerobic activity, and a hydration break may be necessary now and then during a concert.
That's what happened at our first concert of the week, a rouser of an evening of works by Haydn, Revueltas, Piazzola, von Weber, and Paquito D'Rivera by the Dalí Quartet and clarinetist Ricardo Morales . The break came right after a stunner of a performance of Haydn's 1772 String Quartet in F minor, Op. 20 No. 5 but given the high level of physical involvement these performers (especially violinists Ari Isaacman-Beck and Carlos Rubio) have with their music, I'm surprised they didn't need one more often.
Tuesday night the Dalí Quartet threw themselves into their program with reckless abandon, close communication, and a degree of sheer virtuosity that was a joy to behold. Whether it was von Weber's bubbly Clarinet Quintet in B-flat major, Op. 34 or the fiery String Quartet No. 2, "Magueyes," written in 1931 by the short-lived (1899 – 1940) Mexican composer/violinist Silvestre Revueltas, the Dalí Quartet radiated a sheer delight in music making that was, as the lyric goes, "simply irresistible."
The Revueltas quartet was particularly striking. Dating from a time in the composer's life when he was particularly interested in highlighting the urban soundscape and popular music of Mexico City, the work in characterized by rhythmic complexity along with frequent and abrupt transitions between atonal violence and haunting lyricism.  Subtitled Ocho por Radio ("Eight for Radio")—which as an Old Radio Guy, I rather appreciate—this is music that called for and got that mix of precision and passion I mentioned earlier.
It was followed by a bit of a palette cleanser in the form of Astor Piazzola's "Tango Ballet," written as the soundtrack for a 1956 film that has since disappeared. The seven movements were classic Piazzola, with seductive dance rhythms evoking a world of smoky bars, strong liquor, and sinuous dancers.
Perhaps the biggest hit of the evening was the von Weber quintet. It took the composer three years to complete it (1812 to 1815, but who's counting?) and it was worth the wait. It's likely you have heard it at some point either in concert on the radio—the "rippling rhythm" of the clarinet and cello interchange in the third movement Menuetto capriccio is a genuine ear worm—but if this was your first experience with it, I hope you loved as much as we did in the audience.
Soloist Morales (brother of Dalí cellist Jesús Morales and a member of the Philadelphia Orchestra) has a seamless, fluid tone throughout his register—a crucial skill for a work which pushes the clarinet to its limits. The standing ovation that followed this final work of the evening was spontaneous and heartfelt.
The concert closed with the spiky Latin jazz of Paquito D'Rivera's brief but provocative "Preludio y Merengue."
The Dalí Quartet champions Latin American music, as both first violinist Ari Isaacman-Beck and violist Adriana Linares noted during a brief post-concert talkback with Bravo Festival Artistic Director (and accomplished pianist) Anne-Marie McDermott. Isaacman-Beck added that the experience of mixing European classics with newer music from Latin America has made the newer works feel more familiar the familiar classical feel new.
They certainly did that last night with the von Weber and the Haydn, which took on added degrees of depth and passion without ever straying from the classic framework. The fact that the quartet dates from Haydn's sturm und drang period helped, but even so this was a remarkable performance.
Next: Prokofiev in chiesa, Tchaikovsky and Price al fresco.
Related Articles