Classical
Classical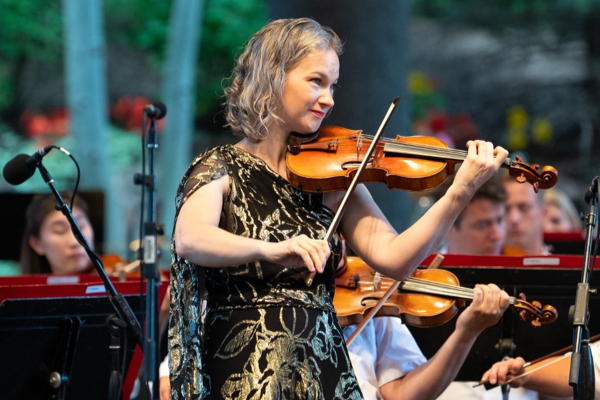 Bravo! Vail, Episode 2: Prokofiev in chiesa, Tchaikovsky and Price al fresco
By Chuck Lavazzi
By Chuck Lavazzi
[Being the second in a series of dispatches from the 2023 Bravo! Vail Music Festival, attended by yours truly as part of a delegation from the Music Critics Association of North America (MCANA)]
"It's all there in the score" was a phrase I heard twice at Bravo! Vail. And both times it was spot on.
The first time was from Bravo! Vail Artistic Director (and much-admired concert pianist) Anne-Marie McDermott in response to a question from the audience towards the end of her "deconstruction" of Prokofiev's Piano Sonata No. 6 on Wednesday, July 12th. The question was, more or less, "how much of your performance is what's in the music and how much is your own interpretation?"
Anne-Marie McDermott
Photo courtesy of Bravo! Vail
It's all in the score in much the same way an actor's performance of, say, Hamlet or Willy Loman is in the script. What the performer brings out is, as we say in the theater, the "subtext."
McDermott's presentation was part of the festival's "Inside the Music," a regular series of performance lectures at the Vail Interfaith Chapel that take deep dives into classical works from a performer's perspective. I've heard the Piano Sonata No. 6 many times, but McDermott's one-hour lecture/performance offered insights that only a pianist who has immersed herself in the score could deliver. I'll never hear it the same way again.
After the audience left, McDermott gave us MCANA members another deep dive, this time into the saga of Bravo! Vail, from its beginnings as a small jazz festival to its current status as an important venue for major orchestras like the New York Philharmonic, the Academy of St. Martin-in-the-Fields, and this week's guest ensemble, the Philadelphia Orchestra with its Music Director Yannick Nézet-Séguin. It was a remarkable story and, as McDermott wryly observed, a major learning experience for her.
The second time I heard a version of that phrase was during a "meet and greet" for our MCANA group with Nézet-Séguin on Thursday. One of us (Gary Lemco, who writes for Audiophile Audition and hosts a weekly radio show at Stanford University station KZSU) asked him why he and soloist Hilary Hahn had opted for the uncut version of the final movement of Tchaikovsky's Violin Concerto in D major Op. 35 the previous evening. "I felt that a lot of what she did was rooted in the score," he replied. Don't second-guess the composer, in short. I couldn't agree more.
Hilary Hahn and Yannick Nézet-Séguin
Photo courtesy of Bravo! Vail
Which brings me, finally, to Wednesday's performance of the Tchaikovsky concerto.  The first (and last) time I had seen Nézet-Séguin live was at a concert with the Rotterdam Philharmonic at the Théâtre des Champs-Élysées in Paris back in 2018. I remembered that the concert concluded with a passionate Tchaikovsky Symphony No. 4, but additional details had weathered away over the years. So I approached the evening as if not a tabula rasa, then at least as a quasi tabula rasa.
My state of mind notwithstanding, it was a pretty fascinating performance. Hahn and Nézet-Séguin were clearly in constant and friendly communication during the performance, and both were quite clearly enjoying themselves. That sort of thing always spreads to the audience and increases our engagement with the music.
And a good thing, since this was a highly personal performance. Hahn and Nézet-Séguin made free use of rubato, i.e., slight variations in tempo that, in this case, served mainly as a way to highlight transitions. Dynamic contrasts were sometimes extreme, which given the surprisingly high background noise in the outdoor Ford Amphitheater, sometimes meant that bits of the music were lost in the hum of traffic. This was most obvious to me in Hahn's cadenza—a shame since it was so perfectly executed.
She was, in any case, a palpable hit with the audience, and the inevitable standing ovation was followed by an encore. Written for Hahn by classical saxophonist and composer Steven Banks, "Through My Mother's Eyes" is based on a lullaby the composer's mother sang to him. Banks dedicated it to Hahn's own children and if that suggests to you that it's a sweet little thing, you'd be right. It was a charming way to end the first half of the evening.
The Ford Amphitheater
Photo courtesy of Bravo! Vail
The second half of the program was taken up with the Symphony No. 3 in C minor by African American composer Florence Price (1887-1953), who is just now getting the kind of attention she deserves. Nézet-Séguin, who very much admires Price's music, recorded Price's Third along with her Symphony No. 1 in 2021 for Deutsche Gramophon, and that admiration was clearly on display at this performance. His deep involvement with the score was both audible and visual, since Nézet-Séguin is one of those conductors who favors a full-body approach to his art.
That said, Price's approach to traditional structures like sonata form can be disconcertingly episodic, as can her cheerful mixture of traditional African American elements (including spirituals) with modernist dissonances, whole-tone passages, and even a somewhat ominous brass chorale that sounds like might have escaped from Siegfried's funeral music in "Götterdämerung."   It takes a bit of mental retooling on the part of the listener, but for me at least it's worth it. I now find myself returning to the work, both in Nézet-Séguin's reading and in John Jeter's somewhat different recording with the ORF Vienna Radio Symphony. Their contrasting approaches to the work can be highly illuminating.
Price also composed the encore that concluded the concert: "Adoration," a 1951 composition for organ which has become popular in a 2021 arrangement for solo violin and string orchestra by conductor Thomas Taylor Dickey. Like the Banks work, it's brief, romantic, and got an appropriately loving treatment by PO Associate Concertmaster Christine Lim.
Next: Rhythm and snooze with Higdon and Rachmaninoff.
Related Articles